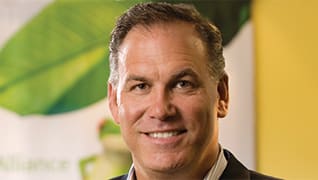 Photo by: Gary Kessler
An Appealing Practice
Chiquita's James Thompson on the complexities of global trade
Published in Corporate Counsel Edition - January 2010 magazine
By Josh Karp on December 7, 2009
In 1986, after graduating from the University of Michigan Law School, James Thompson packed his bags for the European Court of Justice in Luxembourg, where he became the first American stagiaire—which translates to trainee—under Justice Thomas O'Higgins of Ireland and Advocate General Sir Gordon Slynn of England.
During his yearlong tenure, the European Commission debated the concepts of federalism, pre-emption and the elimination of trade barriers among member states. "For a young American lawyer, it seemed like a real-world re-enactment of some of the key constitutional and legal debates from our own history," he says.
The experience launched a career that, two decades later, landed Thompson at Chiquita Brands International Inc., a $4 billion produce business that spans 80 countries and territories. As general counsel, senior vice president and secretary, he oversees the legal arm of a corporation that "faces issues and legal risks that other domestic companies don't," he says, "with the complexity of a business four to five times its size."
From Chiquita's Cincinnati headquarters, Thompson, 49, travels to any number of countries, several times a year. "I love to immerse myself in a culture and in different ways of viewing the world," he says. "I have yet to visit any place that I don't find fascinating."
The son of a coastguardsman, Thompson is familiar with a life in transition. His father moved the family from Illinois to California, several Michigan cities and two small Wisconsin towns. It was a lifestyle, Thompson says, that inspires people like him to react in one of two ways: some plant roots in a community and never leave. Others embrace the transitory nature of their youth. "I knew there was a big world out there," he says. "I wanted to see it."
He would accomplish this, he decided, by becoming a lawyer or a diplomat. As an undergraduate at the University of Michigan, Thompson studied Russian and Eastern European history. After law school and his year in Luxembourg, he moved to Washington, D.C., to join Jones Day's antitrust and competition law practice group. During his first week on the job, the firm sent out a newsletter highlighting the new associates, and Thompson's bio indicated that he had spent the previous year "backpacking across Europe." It was, of course, quite the understatement.
Three years later, when Jones Day merged with a Brussels firm, Thompson was transferred overseas, where he worked alongside attorneys from Belgium, Germany, Ireland, Portugal and France.
"James really distinguished himself in that environment," says Joseph Winterscheid, a former Jones Day colleague. "He was great at assimilating the best of the different disciplines and not viewing them on a qualitative basis, but recognizing that each system has its own attributes and strengths. He was very good at working in a comparative law environment without any preconceptions."
When dealing with merger control regulations, for example, Thompson was able to quickly understand the topic by blending his background in antitrust law with knowledge of the new European legal system. He did the same in a matter regarding complex air transport regulations that combined elements of both a treaty and new European Commission competition laws. Throughout, he was attuned to the different sensitivities of the EC representatives with whom he often had to deal.
"You need to have a totally multicultural and diplomatic approach," he says. "There is that 'I'm American' arrogance. You lose it, or you won't succeed."
Although he enjoyed his work abroad, Thompson couldn't pass up the opportunity to take an associate general counsel post with Alticor Inc., the parent company to Amway, based in Grand Rapids, Mich. He was offered the job in 1995, when the company was moving aggressively into the Indian, South American and Eastern European markets.
"Amway is a local business in every market where it operates," says Craig Meurlin, former general counsel of Alticor. "The relationships in that business are incredibly important and very culturally specific. James could transcend those things and work across those cultures."
Of equal importance, Meurlin says, "[Thompson] had that combination of not just being willing, but really wanting to jump into a crisis and enjoying it, while being able from an intellectual perspective to do well at it, be creative and bring things to a favorable resolution."
Furthermore, as the head of compliance and development, Thompson coordinated the company's response when it was facing both litigation and a regulatory investigation in Belgium. Thompson, Meurlin says, had to "come to a coherent strategy that included government regulation and oversight of local counsel. We had to create a communications strategy with both distributors and the public. He took a multidisciplinary approach to that challenge and made sure that it all fit together. And he did it dramatically well."
In 2002, after nearly eight years in Grand Rapids, Thompson moved to Cedar Rapids, Iowa, where he took the helm of the legal department for telecomm provider McLeod USA. It was a complicated time for the industry, which was still suffering from the dot-com bust. Most of Thompson's time and energy was dedicated to setting the company on a road to reorganization.
He left McLeod for Chiquita in 2006, joining the company for, among other reasons, "the complexity of the opportunities that it presented."
That complexity included a very difficult and very public controversy arising from protection payments the company had made to a right-wing Colombian paramilitary force as a way to secure the safety of employees in the region. According to Department of Justice documents, Chiquita began making payments in 1997 through a local subsidiary. When the U.S. placed the group, the United Self-Defense Forces of Colombia (AUC), on a list of global terrorist organizations in 2001, it made those payments a federal crime.
Thompson says he quickly became comfortable with Chiquita's management of the situation. The banana plantation was in a highly volatile part of the country, where employees had been executed on the grounds, and payments had been made to protect lives. In 2003, when the company became aware of the designation of AUC on the terrorist list, says Thompson, Chiquita executives self-disclosed the payments to the Department of Justice and ultimately pleaded guilty in 2007, agreeing to pay a $25 million fine and tighten compliance measures.
"We worked toward a resolution that was fair for everyone," he says. "It was very difficult from a legal, policy and moral perspective. Chiquita executives made extra-difficult decisions to save lives."
With 23,000 employees around the globe, the company deals with different regulations and food safety laws in nearly every market. "From a legal perspective we have five or six stand-alone businesses integrated into a single model," Thompson says. That requires awareness of "developments in food safety, Food and Drug Administration regulations, the complexity of maritime law and international laws."
The keys to staying on top of things, he says, include communicating with local counsel in various markets to understand developing issues that may come down the pike; remaining calm and not overreacting to problems; and accepting that there are limitations to predicting the future.
"We have a deep understanding of what we know and a sensitivity to what we don't know," he says. "There are moments when you don't sleep very well. But it's fun. My career was serendipitous. I couldn't have designed it any differently." 
Search attorney feature articles
Helpful links
Other featured articles
Litigator Jennifer Tomsen first learned how to win over an audience on the ballet stage
A talk with rising stars who will take the legal profession into the 2050s
Three Vegas attorneys on bringing women into gaming law
View more articles featuring lawyers
Find top lawyers with confidence
The Super Lawyers patented selection process is peer influenced and research driven, selecting the top 5% of attorneys to the Super Lawyers lists each year. We know lawyers and make it easy to connect with them.
Find a lawyer near you