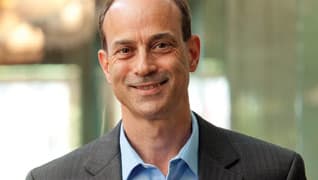 Photo by: Ross Van Pelt
Citizen of the World
How Martijn Steger created a top-rated international law practice based in an unlikely locale
When Martijn Steger proposed launching a global law practice in Columbus, Ohio, some laughed at the idea.
Steger is the one smiling now. The senior partners at Kegler, Brown, Hill & Ritter saw the potential in Steger's idea 27 years ago, hiring him two years out of law school and supporting his efforts to build the firm's global reach.
At the time, Kegler Brown's 30-some attorneys were devoted to litigation and business/government relations. Since then, the firm has doubled in size, and global law is part of nearly every practice area. Steger says about half the firm's attorneys have worked on projects for international clients within the last year.
"It's just a blast," Steger says.
To understand how Steger built a Midwest-based international law team, it helps to know where he comes from. His mother grew up in the Dutch town of Vianen during the Nazi occupation; then her family moved to Indonesia. Meanwhile, Steger's American father went to Indonesia in 1949 to become manager of engineering for Goodyear International. Steger's parents met at an expatriate party, married in 1954, and Steger came along two years later.
"My heart is in three places," says Steger. "Those were incredible years in Indonesia—I have some strong memories. I grew up in a very flexible, adaptive environment." He also fondly remembers visiting his grandparents in the Netherlands ("an incredibly beautiful place," he says), and recalls having to adapt to wearing shoes in school when he entered the third grade in Ohio.
When he was 6 years old, Steger—who spoke English, Dutch and Sundanese as a child—learned to read (in English) during a lengthy hospitalization for rheumatic fever. His mother would sit by his bedside, reading him books in English. But that wasn't the only lifelong lesson he picked up from the ordeal. "I also learned a lot about social skills by talking with other patients," Steger says. "It was a great experience—scary at first, but it turned out to be life-changing."
By the early 1960s, the power struggle between Indonesia's Communist party and its military had Steger's parents worried. His mother had the family hide under the dining room table when she heard planes overhead, just as she had done as a child. The Stegers decided to move with their five children to Uniontown, Ohio, near Goodyear's world headquarters in Akron.
Steger recalls the trip to the States: "We went by boat from Singapore to Naples, then over land in Europe, and by boat to New York Harbor. As we sailed into the harbor, Dad got us up on deck. The fog lifted, and there was this magnificent city with skyscrapers. It was unbelievable."
Law was a natural outlet for Steger's keen sense of curiosity and problem-solving skills. "It's one of those funny things," he says. "I can remember so much about my life, but not the trigger that made me choose law—I know the reasons, but not the trigger. I know it was because it was a service profession and I enjoy serving other people, but can't remember a particular event."
He earned a bachelor's degree at Miami University, where he studied criminology, biology, biochemistry and recombinant DNA. Planning a career in juvenile justice, he attended The University of Sheffield School of Law in England as a Rotary Graduate International Fellow. His faculty adviser, prominent criminologist Sir Anthony E. Bottoms, was one of his major influences.
Though his desire to help kids sparked Steger's interest in juvenile justice, attorneys in the field advised him against it. If helping children was his motivation, they told him, he would quickly become frustrated by the system. He ended up getting his law degree at Ohio State University Moritz College of Law and worked as a judicial clerk for two years with U.S. District Judge John D. Holschuh.
"I realized the thing I really love is working with people from other cultures," Steger says. During his job search, he found no international law firms in Columbus, "but plenty of companies that needed one."
His unique talents were put to the test building an international business team that partners with a network of firms in business centers throughout the world. "That's the greatest hit of my professional career—the thing that I've enjoyed the most," says Steger, 55.
Steger and his team have helped U.S.-based companies invest in businesses in regions as far-flung as India and Germany, and have advised U.S. universities undertaking global expansions. They recently helped a U.S. manufacturer of health care products negotiate an alliance with a Chinese company, expanding sales dramatically and leading to a collaboration on research and development.
Other projects include helping New Albany-based Commercial Vehicle Group Inc. with overseas negotiations, including acquisitions in the Czech Republic in 2006 and 2007; and negotiations for a joint venture with a partner in India. "We have operations in Eastern and Western Europe, the United States, Mexico, Asia and Australia," says company CFO Chad Utrup. "Martijn has a vast knowledge of local regulations and the legal system in these various regions. His network around the globe is second to none."
James Williams, executive vice president with Commercial Vehicle Group, says his business relationship with Steger has grown into a friendship. "He is honest, ethical, a sensitive family man, and always has time to listen, whether it is business or personal. He is truly a person who earns your trust."
Jennifer Myers is a longtime client. "His firm is the best-kept secret in our region," she says. "They are smaller, yet recruit and retain amazing talent. Every one of his colleagues is cut from the same mold. … The international team he has put together has been invaluable to us as we have expanded from operations only in the U.S. and the U.K. in early 2001 to more than nine countries across Europe and the Pacific Rim in 2011."
Steger says he has not only built a team of lawyers who enjoy working with "a mélange of cultures," he also mentors younger attorneys with an interest in international business law.
"I learned from him a lawyer's role is not limited to providing analytical legal advice but [includes] being a trusted adviser to the client," says Vinita Mehra, who leads the Asia-Pacific practice at Kegler Brown. "Watching him deal with numerous international clients and projects, and working on different time zones, confirms that if a person is passionate about what they are doing, it makes the job easier."
Over the past quarter-century, Steger has expanded his network of legal partners and friends all over the world. An early connection was Graeme Menzies, a lawyer in the United Kingdom who coordinates his firm's international practice. He has worked with Steger on a number of international projects during the past 20 years.
"Many law firms think they have an international practice if they open a few foreign offices," Menzies says. "Martijn is unusual in building a convincing international practice in Columbus by spotting market opportunities—for example, in China, India, Mexico, the U.K. and the Eastern Mediterranean—and building and nurturing excellent relations with businesses and partners in those places, amongst others, and by getting to know the cultural and business issues there. He has also hired great lawyers from other jurisdictions and has built an impressive international team."
Gerhard Manz, a partner with the German law firm Friedrich Graf von Westphalen & Partner, teamed up with Steger on a transaction for a U.S. company that wanted to buy divisions of a German company located in the Czech Republic and the Ukraine. The challenge was to coordinate a multinational team of lawyers and accountants on one side and the in-house team of Manz's client on the other side. At the same time, they had to manage negotiations with the German seller and its advisers.
 "During endless conference calls [Steger] never lost his patience," says Manz, "nor his goal to get the deal done to the fullest satisfaction of the client."
Steger follows the example set by his parents. "My dad immersed himself in whatever we were interested in," he says. "My mom was a real caregiver, which translates to client service. And both of my parents taught me how to look at the world through other people's eyes."
He remembers his grandfather taking him one summer to see a sign on his Dutch town's hall. It read: "Listen to both sides."
"If my family had a motto, that would be it," says Steger, who has two grown daughters of his own. "That's how I look at the world. I have my own biases, but everyone else has their own as well. I need to be able to look at things through their eyes."
That philosophy is not only helpful in building a global practice from Columbus; it also helps during bureaucratic annoyances incurred while building such a global practice.
During a business trip to Europe a few years ago, Steger found himself stranded at an airport in Basel, Switzerland. He had been bumped from his flight and was getting the runaround.
Rather than yell at the airline employee, he said, "'Take a moment and walk around your desk and stand here in my shoes. What would you do if you were me?' She looked at me for about 10 seconds, picked up the phone, called the airline in London and got my reservation reinstated. It makes such a difference when we step into someone else's shoes."
Search attorney feature articles
Helpful links
Other featured articles
Mark Prothero knows it's a label that will stick
Organizations like The Trevor Project are confronting legislation that prevents trans students from joining teams that align with their gender identity
Family attorney Justin Crozier was an Army mental health specialist
View more articles featuring lawyers
Find top lawyers with confidence
The Super Lawyers patented selection process is peer influenced and research driven, selecting the top 5% of attorneys to the Super Lawyers lists each year. We know lawyers and make it easy to connect with them.
Find a lawyer near you