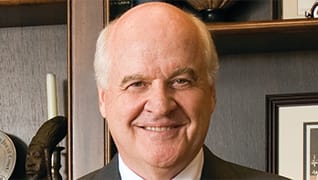 Photo by: Gary Kessler
From Courtroom Observer to Pete Rose's Lawyer
Robert Pitcairn Jr., whose clients have also included the Cincinnati Bengals, doesn't do anything halfway
Some lawyers were inspired to go into the profession by a relative, a family friend or Atticus Finch. For Robert Pitcairn Jr., it all began with the mob.
When Pitcairn was a teenager, his father had to testify at a tax evasion trial of Mayfield Road Mob member Peter "Tito" Carinci, and brought his son along to observe. The law-abiding Robert Pitcairn Sr. had nothing to do with the Cleveland crime syndicate that was operating in Newport, Ky., but he had written a personal check to cover a friend's gambling debt at the Glenn Hotel. Carinci happened to be the hotel's manager.
That check to help out a friend landed Pitcairn Sr. a subpoena to testify at the gangster's trial, which the younger Pitcairn watched with great interest. "I thought it was fascinating, something I'd enjoy doing. I was really taken with it—it was just a terrific experience," he recalls.
After this first glimpse of trial law, Pitcairn was hooked. He attended the College of Wooster in Ohio for his bachelor's degree, then earned his law degree at the University of Cincinnati in 1973. He is now a commercial litigator at Katz, Teller, Brant & Hild.
"Bob is recognized as one of the top business litigators in our region," says Grant S. Cowan of Frost Brown Todd, who got to know Pitcairn as opposing counsel at a trial 10 years ago and developed a healthy sense of respect for his opponent. "He is extremely comfortable in a courtroom and is at the top of his game during cross-examination, particularly of difficult witnesses."
Mark J. Jahnke, president and CEO of Pitcairn's firm, has worked side-by-side with Pitcairn for more than 25 years. Some lawyers with Pitcairn's level of experience and professional success might "round corners," Jahnke says. "Bob does not ever round those corners. He doesn't do anything half-way." Even when it comes to his hobbies, such as wine-collecting and riding motorcycles, he says, Pitcairn "is not a dabbler. He thoroughly researches and becomes very knowledgeable about them. He immerses himself."
Take motorcycles. Pitcairn has been riding them since high school, starting out with a small Honda. ("You meet the nicest people on a Honda," he says, quoting the old campaign slogan.) Now he owns a Harley-Davidson and a vintage BMW, and rides them to work at his downtown Cincinnati office when the weather permits.
Or take wine. Pitcairn keeps a collection in his wine cellar, mostly red Bordeaux varieties, and he and his wife travel to winemaking areas on vacations.  Most recently, in 2008, they visited Stellenbosch, South Africa, about 30 miles east of Cape Town.
Pitcairn is a "lawyer's lawyer," says Jahnke. "The number of times Bob gets retained by lawyers or law firms is remarkable. And that's about the biggest endorsement you can get."
Famous namesake
Born and raised in Pittsburgh, Pitcairn is related to his 19th-century namesake, the Scottish-American railroad executive. "We call him R.P.," says Pitcairn. "He was the first cousin of my great-great-grandfather, William Pitcairn. He was quite a character." The railroad executive was a lifelong friend of Andrew Carnegie and ran the Pittsburgh Division of the Pennsylvania Railroad during much of the late19th century. During his tenure, he ordered the construction of a rail yard along Turtle Creek near Pittsburgh that would become the largest rail yard in the world. "I think, but am not sure, that my father was named after him. R.P. died in 1909, and my father was born in 1922," Pitcairn says.
Pitcairn Sr.'s market-research job brought his family to Cincinnati in 1966. "My dad wanted to be a lawyer, but his education was interrupted by World War II," says Pitcairn. He thinks his father always regretted not becoming an attorney.
As a young lawyer, Pitcairn settled in Cincinnati with his high school sweetheart, Marian. The couple recently celebrated their 40th wedding anniversary by visiting San Francisco and walking across the Golden Gate Bridge. Together, they raised two children. Their daughter, Jessica, is a costume designer in New York City; son, Alex, is an aspiring actor in Chicago.
At age 62, Pitcairn has been practicing law for 37 years and counting, almost exclusively focusing on business and commercial litigation.
He has been sole or lead trial counsel in hundreds of civil lawsuits, including antitrust, civil rights, patent, probate, products liability, securities and tax cases.
James B. Helmer Jr. of Helmer, Martins, Rice & Popham, has known Pitcairn for most of his career. "I consider him a student of the law, a formidable adversary, and a loyal ally," Helmer says. "But it is not his proficiency and success as a trial lawyer that is his most substantial asset. Rather it is the fact that he always obtains the best possible result for his clients. He remains at the top of his craft."
Pitcairn's most famous client was probably Pete Rose. Shortly after joining the Reds as a player in 1963, Rose hired one of the founders of Katz, Teller, Brant & Hild, Reuven J. Katz, to represent him. Pitcairn became part of Rose's legal team in the 1980s when Rose pleaded guilty to filing fraudulent tax returns. Pitcairn represented Rose when Major League Baseball began investigating the Hit King in 1989 over gambling accusations.
Baseball commissioner A. Bartlett Giamatti got involved with plea deals, writing to a sentencing judge to vouch for the credibility of the witnesses lined up against Rose. Rose and his attorneys argued that Giamatti, who acted as baseball's "judge" in such matters, had prejudged the case. "We were arguing that Pete hadn't gotten a chance at due process," Pitcairn says. Judge Norbert Nadel issued a preliminary injunction preventing the league from banning Rose, but Giamatti successfully fought to get the case moved to federal court, after which he and Rose entered settlement negotiations. As a result of those, Rose voluntarily accepted permanent ineligibility from Major League Baseball.
"From a lawyer's perspective, the case with Commissioner Giamatti was fascinating," Pitcairn says. "It was certainly an amazing experience. I remember going home every night and my answering machine was full. There were reporters hanging out on the fire escapes of our buildings. You learn a lot about the media, what they're interested in and why. We wound up having a pretty good relationship with them."
Pitcairn once again found himself in the realm of high-stakes professional sports when he represented the Cincinnati Bengals from 2003 to 2007. The Hamilton County Board of County Commissioners sued the team, the National Football League and its 31 other teams, claiming the defendants violated federal antitrust laws by using a monopoly over professional football to obtain a heavily subsidized lease for the Bengals' new football-only stadium.
Eventually, Pitcairn won the case because of the statute of limitations. The county waited too long to file suit, and the judge found in favor of the defendants, as upheld by the 6th U.S. Circuit Court of Appeals, which, Pitcairn says, is an entertaining read even for nonlegal types. One section reads: "This case presents the latest twist in the relationship between the city of Cincinnati and professional football, a relationship that spans 86 years and at least three stadiums—the third of which is the subject of this controversy."
Pitcairn also represented the estate of Austin E. "Dutch" Knowlton, a wealthy businessman who died in 2003, and whose estate included a 30 percent ownership in the Cincinnati Bengals. In his will, Knowlton bequeathed his share to the charitable Austin E. Knowlton Foundation Inc. Knowlton's children contested, accusing Knowlton's longtime lawyer and trusted adviser Charles D. Lindberg of having "undue influence" over him as well as a conflict of interest. Lindberg was co-executor of Knowlton's estate and a minority shareholder of the Bengals. His firm—Taft Stettinius & Hollister—represents the Bengals.
Pitcairn found the case interesting to try because of the high stakes and "larger-than-life" people involved. Trial lawyer Stan Chesley represented Knowlton's children. With so many expert witnesses on each side, it was "one of the most thoroughly litigated cases I've ever tried," he says. In the end, Pitcairn prevailed—the court found no conflict of interest and Knowlton's wishes were carried out.
"Charlie Lindberg is a person of the utmost integrity, and his actions relating to Mr. Knowlton were completely vindicated by the jury," Pitcairn says.
Lindberg calls Pitcairn the best trial attorney in Ohio. "[He's] immediately responsive to the twists and turns of the trial proceedings, conducts cross-examination with thoroughness but without personal hostility, never makes himself the issue in a case, and understands and applies the highest ethical standards to his practice."
In addition to his regular trial work, several years ago Pitcairn served as chair of the Volunteer Lawyers for the Poor Foundation, which provides legal services to low-income citizens, connecting indigent clients with private attorneys. The organization was launched by the Cincinnati Bar Association and the Legal Aid Society of Greater Cincinnati. "I found it quite rewarding," he says. "I saw how important the Legal Aid Society is for a lot of people who can't afford representation. I'd like to do more [community service] as my career starts to wind down."
Not that winding down is synonymous with getting bored. "You always keep learning—every case presents challenges," says Pitcairn. "That's one of the nicest parts of what I do. It never gets stale."
Search attorney feature articles