GOOOAAAL!
How Brock Denton, Kelley Brandstetter Tracy and their KMK colleagues helped Cincinnati soccer make it to the majors
Published in 2019 Ohio Super Lawyers magazine

on December 5, 2018
In a town where professional baseball and football have long reigned supreme, a new soccer team, Futbol Club Cincinnati, shook up the local sports scene right from its first kickoff in 2016. And among the orange-and-blue sea of fans at the University of Cincinnati's Nippert Stadium, you'll almost always find Brock Denton.
So when he heard that FC Cincinnati was looking to join Major League Soccer, Denton reached out to the team's majority owner, Carl H. Lindner III, whose family Denton has represented in various legal matters for a decade.
"I let him know that, if there was ever a way I could be helpful to FC Cincinnati, I would certainly be happy to help," says Denton, who practices mergers and acquisitions, as well as sports law, at Keating Muething & Klekamp. "FC Cincinnati is a great startup success story that started in [former Cincinnati Bengals executive] Jeff Berding's kitchen. It was something I thought would be fun to be a part of."
In January 2017, just after the team's first season ended, Denton got his shot. Lindner brought in KMK to help with raising initial funds for the team's MLS bid, as well as to represent the club in matters relating to the expansion and MLS down the road.
"FC Cincinnati was one of 12 teams vying for two available MLS clubs that were anticipated to be awarded at the end of 2017," Denton says. "Obviously, in order to win that award, you needed financing, you needed a stadium site where you could build an MLS soccer-specific stadium, and you needed a leadership team and ownership group that was going to support the club." 
The attorneys at KMK got to work, lining up investors willing to commit $300 million to fund an expansion club. Throughout 2017, Denton partnered with Berding, Lindner and others to get investors on board. Meantime, KMK corporate partner Jim McGraw and senior partner Dick Spoor worked with the city, county and state to get public incentive money for the stadium infrastructure. In December 2017, the team made its final pitch to MLS for one of the two expansion spots. In May 2018, FC Cincinnati got the word: GOOOAAAL! 
The next step was deciding where FC Cincinnati would build its new home. The parties had narrowed down a list of possible stadium sites to three, and eventually settled on a location in Cincinnati's West End. 
KMK partner Dan Utt led the effort to acquire 12 parcels for the stadium site, which proved to be "quite tricky," Denton says. "You were basically negotiating with 12 different owners to convince them why they should agree to sell their property." 
"My house overlooks where the stadium is being built," says KMK attorney Kelley Brandstetter Tracy, who is handling FC Cincinnati's stadium financing. During the property-acquisition process, Tracy says, her neighbors asked if the team was really looking out for their best interests. 
"My response to them was, 'Yes, I do honestly think that. At its core, this team wants to make improvements to the community and benefit everyone.'" FC Cincinnati also plans to build a $30 million state-of-the-art training facility in Milford, with two grass fields, a synthetic turf field and a 30,000-square-foot building.
Tracy says the RFP process for the stadium transaction was very competitive, with participation from many regional and local banks, as well as large national lenders who have worked with other major league sports teams. "One thing that surprised me, which is exciting, is that there really is buy-in from the banks," Tracy says. "People are really bullish on soccer in general, and MLS and FC Cincinnati in particular. So all the financial institutions really brought their best terms forward and they wanted to be part of the process." 
The attorneys at KMK have a lot of work before FC Cincinnati plays its first season as an MLS team in 2019 and opens its new stadium in 2021. That's why they're planning to continue a team-focused strategy, Denton says. "There's no question that it's been a team effort by a lot of people here in a lot of different legal areas. Like us, FC Cincinnati wants to win."
Other Featured Articles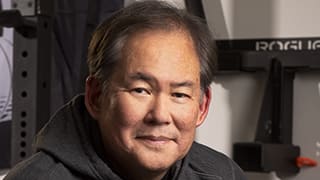 Heavylifting
Russell Aoki has built a reputation for taming terabytes—and set a record in deadlift Featuring Russell M. Aoki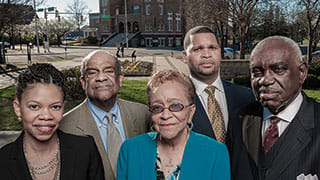 'We've Come a Rather Remarkable Way'
An oral history of civil rights and the African-American bar 60 years after Montgomery Featuring Kendall C. Dunson, G. Courtney French, Fred D. Gray, , Derrick A. Mills, Kenneth O. Simon, Stephanie Mays, Danielle Ward Mason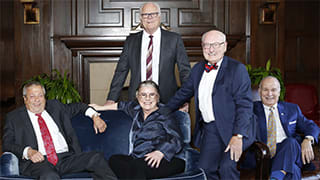 Law & Practice
Six pillars of the legal community look back on three decades of law Featuring Nancy Zalusky Berg, Michael V. Ciresi, Joseph S. Friedberg, Earl P. Gray, Kathleen M. Newman, Lewis A. Remele, Jr.