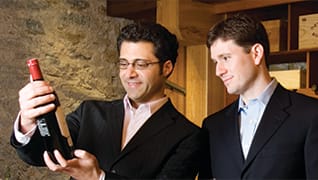 Photo by: Gary Kessler
In Vino Veritas
Ashley Hess and Kevin Ghassomian raise their glasses to worthy causes
When Ashley Hess and Kevin Ghassomian moved to Cincinnati a few years ago, the two recent law school grads had a few things in common. Working at the same law firm, Greenebaum Doll & McDonald, both men were in their late 20s; both had grown up in the South and recently relocated to Cincinnati for their jobs; and both were looking to expand the social scene for young professionals.
"Neither of us knew anyone," Hess says. In a big city with a small-town community vibe, Hess and Ghassomian got the feeling that, as Hess puts it, "people are siloed, and don't branch out of their immediate circles." The pair tried meeting new people at the "usual places" — popular bars and clubs in trendier parts of the city — and by joining some professional organizations. "It's nice and it helps, but all you end up doing is hanging out with other lawyers," Ghassomian says. "We wanted to branch out."
Late one night at the office, Hess and Ghassomian hatched a plan to extend their social network: Start a wine-tasting society. In 2002, the two lawyers and their business analyst friend, Todd Fisher, invited friends and friends of friends to meet at the University Club of Cincinnati. Everyone had to bring bottles of wine, with the end goal to taste and rate each wine — and, of course, meet a few new friends. And so the Bacchanalian Society was born.
Though wine is the centerpiece of the society's gatherings, its founders never claimed to be aficionados. In fact, they refer to themselves as "Neanderthals of the wine world" and their tastings as the "NASCAR of wine drinking."
"We're not snooty," Hess says. "We joke about the fact that we don't know anything about wine." The society's lack of pretension, he adds, puts people at ease, allowing them to try out different wines in an inclusive environment. At a time when wine consumption is at an all-time national high — nearly 3 gallons per capita a year — this kind of environment offered broad appeal.
While the society's first few events attracted 50 to 60 people, word about the tastings quickly spread. By 2003, more than 150 people were showing up. The three co-founders decided to "do something more constructive" with the society's growing popularity, and turned their social wine club into an official non-profit organization. In November 2003, with the help of dedicated volunteers, they hosted their first wine tasting to benefit a charity: the Newport Aquarium's WAVE Foundation. "That's when it just exploded," Hess says. "We caught the crest of a wave — when young professionals were very interested in getting involved — and we just opened a door."
Instead of hosting bimonthly parties in members' homes, the Bacchanalian Society began holding quarterly wine tastings, teaming up with a different charity each time. Each event drew bigger crowds, up to nearly 1,000 attendees, and the society's e-mail list of members ballooned to more than 6,000. Now the society boasts some of the city's largest wine-tasting events.
Each wine tasting's formula is simple. Invitees in "teams" of one to three people must bring three bottles of the same wine, according to the specific event's featured varietal (chardonnay, merlot, etc.), along with a suggested donation of $10 per person. Two of the three bottles are wrapped to conceal the wine's identity, while the third bottle is left unopened. The two wrapped bottles are assigned random numbers and set out for tasting. Hosts hand out cards for everyone to choose their favorite and least favorite wines. Toward the end of the evening, the hosts collect the cards and tally the votes. Those who brought the top five favorite wines get to take home all the bottles of unopened wine that were set aside earlier. Whoever brought the least favorite wine gets the dubious honor of keeping that unopened bottle.
So which wines have topped the list? Surprisingly, the swanky vintages aren't guaranteed top billing. Some invitees bring $100 bottles of wine in hopes of taking the night's prize, but they may be better off with more popular and inexpensive brands, such as Charles Shaw (better known as "Two-buck Chuck"). At the most recent Bacchanalian Society tastings, the following wines were among the favorites: Chianti Classico Riserva 2002, Cloudine Pinot Noir 2004, Valdagil Pinot Grigio 2003, Genesis Merlot and Charles Shaw Shiraz.
Since 2003, the society has hosted four events each year, totaling more than $100,000 in donations to local charities, including the Cincinnati Opera, the Cincinnati Ballet, the University of Cincinnati's College Conservatory of Music, Enjoy the Arts/START, the Tri-State Parkinson's Wellness Chapter, the Cincinnati Zoo's Conservation and Research of Endangered Wildlife and the Young Professionals of the American Cancer Society.
"What I love about these guys is that they are totally without pretension about the whole thing. They are sincerely committed to helping the organizations with whom they work," says Nancy Henry Chadwick, executive director of The Carnegie Visual and Performing Arts Center in Covington. "It is incredible how tightly organized these events are. I think that's one of the main reasons they've had such success. If you're not organized when you have 700 people together drinking wine, it's going to be chaos!"
Hess and Ghassomian point out that the society doesn't just donate to worthy causes. "We're good fundraisers, but we're great friend-raisers," Hess says.
Adds Ghassomian: "Unlike the Army, our goal is to leave a man behind. We want to populate these organizations with people who come to our wine tastings," he says, referring to the large numbers of young professionals who get involved in the nonprofits featured at society events. The Carnegie, for example, got enough interest at its event to start an Associate Board for young professionals. "Hosting the Bacchanalian Society put us on the map for young professionals in Cincinnati," Chadwick says. 
The founders also take pride in how the organization does so much with so little. "Our events are 100 percent volunteer-run, and we give all the money to charity," Hess says. Ghassomian adds, "Everything is donated — we don't have any overhead. It's nice, because our business is so dollars-and-cents oriented. All too often [as lawyers], we see people at their worst. With the society, we see people at their best." Both men praise Greenebaum Doll & McDonald for its strong support of their efforts. "Our firm really supports employees getting out in the community and helping, participating to make things better," says Hess.
The Bacchanalian Society produced an unexpected windfall for Hess and Ghassomian. As a result of their newfound friendships and networking at society events, their law practices are booming. "We are the unworthy beneficiaries of our society's success," Ghassomian says. "The more you give of yourself, the more you get. If your concern is doing the right thing — for clients or the community — you'll be taken care of." As a result of this professional success, both lawyers were recently named partners in their firm.
Hess, who received his law degree from Washington and Lee University School of Law in 1998, specializes in corporate law, mergers and acquisitions, corporate governance issues and advising corporate directors. He works with privately held businesses and public corporations, including such clients as Toyota and Humana. "I analyze issues to help them manage and grow their business," he says. Since founding the society, Hess has been recognized as a young leader in the Cincinnati community by the Cincinnati Business Courier's "Forty Under 40" awards and is a fellow of the Cincinnati Academy of Leadership for Lawyers. He's had more than a few clients come in the door as a result of his work with the society. "People meet us, they know us, they start to trust us … and we get their business," Hess says. Hess also met his future wife at a society event — the two are set to marry in October.
Ghassomian has experienced similar growth in his law practice, which concentrates on estate planning, tax-exempt organizations, business succession and asset protection. "I work with a lot of donors in my practice," he says, which spills over into his charity fundraising through the society. "My job is the coolest thing in the world — I get to work with people who are trying to help." Ghassomian received his law degree from Vanderbilt University Law School in 1998, and then practiced as a trial lawyer for two years in Las Vegas. He went on to get his LL.M. degree in taxation from the University of Miami School of Law in 2001. His work with the Bacchanalian Society and numerous other civic and charitable organizations earned him recognition from the Cincinnati Paralegal Association and the Cincinnati Business Courier's "Forty Under 40" awards.
The founders aren't the only ones whose careers benefit from contacts made at the wine tastings. "For everybody who walks away from our events, it's a win-win," Ghassomian says. "There are a lot of people who have gotten business. A lot of networking goes on." He says the venues that host the events end up booking weddings and rehearsal dinners; the chefs who donate the food get catering gigs; and even the local wine stores see a boom in business.
Perhaps the most telling sign of the society's success is imitation — other young professionals in towns across America who want to create their own Bacchanalian Societies. Hess says they've been asked for help from groups in places such as Louisville, Lexington, Dallas, Las Vegas, Denver, Atlanta and even as far as Bermuda. Ghassomian adds that as they advise others who want to start a society, they say the important thing to remember is "you have the ability to do a lot of good."
To learn more about the Bacchanalian Society and sign up for email updates about events, visit the society's website at www.oncincy.com/bacchanaliansociety.
Search attorney feature articles