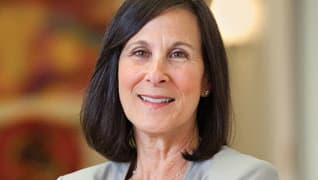 Photo by: Ross Van Pelt
It's All Personal
When family law gets complicated, it's good to have Phyllis Bossin in charge
Family law can get messy, complicated and hurtful—and not just for the clients.
"When you see people who hate each other more than they love their children, it's painful," says Phyllis Bossin, who's been practicing family law in Cincinnati since 1977.  "You care about your clients—and their kids. There are definitely cases that just keep you up at night."
No surprise that the custody cases are usually the hardest. Bossin lists the factors that come into play: mental health issues, relocation, addictions, anger, vindictiveness.
"You have to pour your heart and soul into them—you have to believe you're doing the right thing," says Bossin, who speaks deliberately and passionately about her work.
Family law attorney Guy Hild of Katz, Teller, Brant & Hild says, "From my dealings with [Bossin] over the years, I would describe her as one of the very best custody lawyers in Ohio. Phyllis is focused and tenacious with a deep understanding of the law, and her trial skills are on par with the finest of trial lawyers." 
Bossin is known for her skill in handling difficult cases, including cross-border situations. "Frequently, when I have a case come in that's going to require some kind of international expertise, I send it immediately to Phyllis," says Anne Flottman, family law attorney and partner at Wood & Lamping.
In 2010, Bossin represented a woman fighting to keep her four children from being sent to Saudi Arabia with their father, whom she was divorcing. The client feared that if her children, ages 6 to 14 at the time, moved away, she could lose all access to them.
If the father took the children to Saudi Arabia, there would be no way to enforce custody orders, since the country is not a party to the Hague Abduction Convention. And there was another issue: Bossin suspected the husband had stashed away significant funds in Saudi Arabia to prevent his wife from getting her share.
It was a complicated case, but that's just the kind Bossin likes.
"She knew exactly how to do it," says Flottman. "She is fearless. There is no one that she's afraid to take on."
Bossin got ready for an aggressive courtroom battle. "Our expertise," she says, "was in preparing the case for trial, bringing in a vocational expert to address the issue of job availability and earning capacity; a forensic psychologist to address the custody issues and what was in the best interests of the children, as there was severe alienation occurring; and in bringing in a renowned international law expert who could educate the court about the international law implications of the case."
In the midst of all this, events turned dramatic. "We had been searching for proof that he had secreted the funds in Saudi Arabia since we got on the case," says Bossin. "When we finally found the specific evidence that he had done this, he fled the country."
He took the couple's $500,000 in assets with him, but Bossin's client was awarded full custody. 
Practicing family law wasn't always Bossin's ambition. During law school, she worked full time for the city of Cincinnati's development department (she has a master's degree in public policy), then spent time at the public defender's office and worked briefly as a law clerk. After getting her J.D., she opened her solo practice, handling criminal defense work and employment-discrimination litigation before changing her focus.
"It's hard to do more than one thing well," she says. "I found family law to be the most interesting and satisfying."
Bossin practiced for 12 years before hiring her first associate. Today, Phyllis G. Bossin & Associates remains small—which is how Bossin prefers it—with four other attorneys on staff. 
Her first client was referred to her by a lawyer she knew, Tom Waldron, now a retired federal judge. The client had fled her home after being abused by her husband. Two weeks into her practice, Bossin represented the woman at a court hearing—her first in a long line of domestic-violence cases.
In 35 years of handling family law cases, Bossin has seen many changes in her practice area. When she started out, mothers usually got custody of children without much discussion. During the 1980s, shared custody became more common. In Ohio, there is no presumption for either parent unless domestic violence or sexual abuse is involved.
"People work very hard to work out shared-parenting agreements," Bossin says. "Everybody wants [shared custody] these days—but the struggle is, sometimes you're trying to put a square peg into a round hole. A lot of psychologists would say, in high-conflict cases, custody shouldn't be shared.
"Kids are often the victims—they're stuck in the middle. … The horrifying thing to people who do [family law] work is the willingness of some people to try to turn their child against the other parent."
As far as Bossin is concerned, that's a form of child abuse: "The destruction of the parent-child relationship damages them for life."
The outcomes are better, she says, when parents work out their own custody arrangements than when they're forced into them.
"The goal is always to have people resolve conflicts with their attorneys," she says. "People are going to be happier if they solve their own problems."
Bossin is a good problem-solver to have on your side, says William S. Abernethy, a shareholder at Strauss Troy Co. "She is a zealous advocate on behalf of her clients, yet fair-minded and magnanimous in negotiations. She is an excellent litigator."
Bossin is a diplomate in the American College of Family Trial Lawyers, and a past president of the Ohio Chapter of the American Academy of Matrimonial Lawyers. She currently sits on the American Bar Association Commission on Domestic & Sexual Violence. In 2003 to 2004, Bossin chaired the family law section of the ABA, which brought her before the U.S. Senate Judiciary Committee to testify about a proposed constitutional amendment to ban same-sex marriage.
She told the committee that the ABA opposed any Constitutional amendment that would take away the rights of a group of people, noting that "the Constitution has historically been amended to expand the rights of groups of people."
Looking back, she describes that experience as "a thrill … a wonderful opportunity." In the years since, neither the House nor the Senate has passed such a marriage amendment.
A lifetime fellow of the American Bar Foundation, Bossin believes in going beyond helping her clients. She has made it her mission to give back to the Cincinnati community by assisting domestic-violence victims. "Domestic violence is still a huge issue, and there's still a lot of work to be done," she says.
As a young attorney, she attended a public hearing on spouse abuse at the YWCA auditorium in Cincinnati; soon afterward, she became involved with the Y's efforts to combat domestic violence. A few years later, Bossin joined the YWCA's board and became an original founder and board chair of the Alice Paul House, Cincinnati's first battered-women's shelter, which opened in January 1978. 
"It's still one of the things I'm proudest of," she reflects.
Over the years, Bossin found that family law was a good option for anyone trying to balance a family with career, because it often involves less travel and more flexibility than other areas of law.
When her own children (now in their 20s) were growing up, she worked four days a week. "You don't have a lot of time for yourself during those years. When I was home, I was home." She currently employs a part-time associate with three young children.
Bossin, who lives in Cincinnati with her second husband, maintains a firm stance on work-life balance. "I am not available 24/7. I'm not a workaholic," she says. "It's definitely more difficult to have boundaries with computers, iPads, BlackBerrys, etc. But it's [also] nice, because you can be out of the office and still working."
For those times when she's out of the office, Bossin turns to some of her favorite  activities, such as spinning, doing Pilates and Zumba, traveling, golfing, hiking and scuba diving. She visits Italy every year. Bossin also occasionally escapes to a second home in New Hampshire that has been in her husband's family for years. 
The extracurricular activities help combat the emotional toll of her work.
"Most people [practice family law] because they care," says Bossin. "This is a human being who has a problem in their life and they need help. It's a very personal practice. We're with clients for a long time. You have to care about what's happening."
Search attorney feature articles