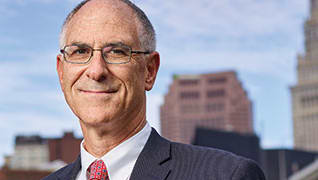 Photo by: Roger Mastroianni
Mike Ungar's Town
The business litigator is part of a Cleveland legal community that punches above its weight class
Published in 2019 Ohio Super Lawyers magazine
By RJ Smith on December 5, 2018
You can see a lot of Cleveland from the 11th-floor conference room at Ulmer & Berne. There's a man dipping an elbow into the Cuyahoga; a rusted tugboat navigating the bend in the river. Here in the heart of the city, modern structures surround the office—but so do the old riverfront commercial buildings that look like they could have come straight from an antique postcard.
This is Mike Ungar's town. He grew up here, left for college, then did something slightly unexpected. "Not too many of us are coming back to Northeast Ohio," says Ungar, 59, who chairs his firm's litigation department. "I think Cleveland is a unique and amazing place to practice law. The Cleveland legal community, as a whole, punches way above its weight class."
Case in point: On a recent morning, Ungar navigates the hallway, juggling tasks that include work as co-counsel for one of the distributor-defendants in a lawsuit brought by cities, counties and towns across the U.S. against makers, distributors and retailers of opioid painkillers. It's the kind of case he's made his name on: a massive lawsuit with a daunting homework load.
Ungar has been a part of Ulmer & Berne for more than three decades, and the firm has been a part of Cleveland since 1908. When Ulmer & Berne moved to its current office tower in 2005, it built its floors out of wood reclaimed from lumber that sank in Lake Superior 150 to 200 years ago.
The industrial base that boomed for generations shaped a city with a lively culture that suits Ungar's taste. Cleveland may have lost its greatest athlete to a bigger city last summer, but from the 11th floor, Ungar has this to say about bigger places: "You can be a business litigator in New York, Boston, Chicago, D.C., and you can go your entire career arguing against people on the other side who you may never see again. That's darn near impossible in Cleveland—you get to know people here."
His parents were both from Toledo, and Ungar was raised in the Cleveland suburb of South Euclid. His mother worked for the phone company. His father went straight from high school into the Army, then worked as a traveling shoe salesman, going to a local loan shark to start his own shoe store, where his son would later sell women's shoes beside his father.
"I was probably 10 or 11 when I started selling at my dad's knee, and then did it on my own around 15," Ungar says. After his father's passing, the store remained in the family under Ungar's brother Dan. 
Both his parents were active in the community: Ungar's mother was president of the local school board, and his father became South Euclid City Council president.  
Ungar is carrying on their passion for civic involvement. He has been involved in Legal Aid since he was a law student in Boston, and now serves as an officer on the board of Cleveland Legal Aid—"one of the best in the entire country," he says. "It's one of those things that feeds the soul." 
Brian Domeck, who grew up on the same South Euclid street as Ungar, has remained friends with his childhood pal. "We would often get together after school," Domeck recalls. "My family had a pool table; his had a pingpong table. And we would have our little competitions on the various fields of battle. 
Domeck went on to become CFO of insurance company Progressive. He notes with a chuckle. "He doesn't like to lose, though he does play fairly and has good sportsmanship." 
At Boston University, Ungar says, the best thing he did was marry Deborah Warner, also a law student and now retired from practicing law at TRW and at Squire Sanders & Dempsey (now Squire Patton Boggs). She was a New Yorker from Westchester County who had never seen Cleveland—"she thought a lake was something you could see all the way around," says Ungar. They made a deal upon graduation that each would take the bar in the other's home state. Figuring out where they would settle took a while. 
"We had a commuting relationship for two years," Ungar says, "before I convinced her that Cleveland was a better place for us to work."
After a year and a half at a boutique litigation firm, he came to Ulmer & Berne in late 1986. One big attraction was the mentorship of legendary Cleveland trial lawyer Marvin Karp. What Karp really taught him, he says, was how not to be paralyzed by fear of losing. "I'm not scared of the other side or the facts or the jury or judge," says Ungar. "But I am scared of losing. I don't like to lose. And he taught me how you just have got to be calm and carry on and be more prepared than the other guy. Know your case and know how to persuade."
One recurring scene involving Karp has stuck with Ungar: "His adversaries—opposing parties and lawyers—would come to him after the trial was over and hire him. These were people he had beaten to a pulp in the courtroom." Ungar says that gave him a goal: He wanted to be that guy. 
Ungar is holding a large light bulb over his head. It's almost the size of his head, and as he waves it around to illustrate a case, he's giving off plenty of energy of his own.
The bulb was an exhibit in a trade-secrets case he litigated back in the 1990s. General Electric's lighting division is based in East Cleveland, and a team of engineers there had been working on this very light bulb—a high-intensity light that uses metal halide salts to create a purer white light. 
Ungar's client was a company that purchased a segment of GE that created this highly specialized lamp. The client began noticing a migration of its engineers—particularly, it seemed, to go to work for one competitor. Ungar's client was concerned that this competitor was using proprietary information to replicate the technological advances and gain an unfair competitive advantage.
"We were pretty sure that they had actually taken materials with them when they had left," Ungar says. He filed a lawsuit soon after. But he wanted to be prepared, and not just file what he calls a "ready-shoot-aim injunction." He wanted to have proof. But how to get it? 
"This is where the story gets good," he says. "We went dumpster-diving right after we filed our lawsuit." Ungar dispatched a crew to check out the former employee's trash and see what they could find. Rolled up inside a McDonald's bag—"with a disgusting Big Mac; rotting mayonnaise wrapper!"—Ungar's hunters found designs for a ring burner used in GE's manufacturing process. Those designs became crucial to Ungar's injunction, and he says there was no doubt where the ring burner design had come from. 
"I had to apologize to the court that, when they got the exhibit, it was going to have a real pungent aroma," he recalls. "We were able to settle the case on very favorable grounds shortly thereafter." 
Ungar is compact and fit. If you get him talking about a subject he's interested in, he really leans in. There's something about a multifaceted, downright-hard-to-figure-out case that gets him going. As client Jason Hollander, vice president and associate general counsel at Diebold Nixdorf, puts it, "Some attorneys, while certainly very good, could be overwhelmed by a difficult or complicated case, or a difficult opposing counsel or judge. But he's quite the opposite—it really energizes him."
The passion for complicated cases helps explain why Ungar was brought into the Ohio opioid trial. A great number of regional cases were bundled together in federal court for the MDL. 
 "Anybody who knows me knows I get bored easily," he says. "I honestly think I would have made a terrible corporate lawyer; I would have been fired from our corporate department in minutes if I had to be focused on every word of a huge contract. I'd have gone crazy.
"I like learning new stuff, and in every new case I must be able to learn new material. And then I must be in the position to be able to teach that new material to a fact-finder—whether a judge, jury, arbitrator or mediator. I need to be able to communicate that."
To illustrate, he tells the story of a case he recently worked—one of many he has handled over the years for a large financial institution. Its backstory is complicated. 
One of the bank's former clients, Jerry Castellone, had lived an amazing life. Straight off the boat from Italy, he arrived in America and started up a tool-and-die company, among other businesses. The way Ungar heard it, there were stories circulating that Castellone had mob ties. 
In any case, at some point Castellone attempted to lower his profile. "Let's just say he decides the safest thing to do is to transition his career from a life of motor yachts and driving a Rolls-Royce to a life of squalor, living off the grid in Long Island, New York," says Ungar. 
No running water; he used rain water to flush his toilet. He didn't trust anybody, including banks. Castellone sold his businesses and turned the profits into bonds—municipal bonds mostly, brick-and-mortar stuff. "And then he does good old-fashioned coupon clipping—taking bond coupons and returning them for cash," says Ungar. 
But security markets were evolving and it was becoming harder to physically hold onto municipal bonds rather than put them in a bank account. So Castellone hired a financial adviser at the large financial institution to help him modernize. "This disheveled, malodorous individual walks in with this paper bag full of bonds—many, many millions of dollars' worth of bonds," Ungar says.
He says the bank tried to best take care of a unique client's money. However, after Castellone passed away, two of his nephews alleged he had been exploited and subjected to elder abuse by the bank adviser. They sued the bank for $29 million, claiming fraud, misrepresentation and unauthorized trading.
The main problem with the case, Ungar says, was that it "was old. And everybody was dead. Castellone was long passed, his power of attorney had long since died, people had scattered, so it was just an absolute mess in terms of reconstructing events for these arbitrators."
He won through cross-examination of the plaintiffs. "At the end of the day, I made a point the arbitrators found persuasive: that they were really complaining not about losing money but about not getting enough," he says. "And no fact-finder in my experience wishes to reward greed by giving more money."
He shakes his head. "I could write a book."
---
Just the Ticket
In their spare time, some folks travel or take up knitting. Ungar canvasses for votes. 
For the 2017 general election, Melissa Yasinow, vice mayor of Cleveland Heights, asked him to be a running mate of sorts in their bids for city council seats. 
"Joint yard signs, joint literature and joint events," explains Yasinow, 34, an attorney at Kohrman Jackson & Krantz in Cleveland. 
Ungar had chaired the planning commission for 16 years when appointed in 2016 to a vacant seat on the city council, where Yasinow has served since 2014. She asked him to clear his schedule for two weeks before election day in 2017. He tried. Then he was asked to be rescue counsel on a Florida case. 
"We tried it the week before my election [and] we just flat-out won it," says Ungar. "And at five on Friday, I'm racing to get home to an event I need to be at."
He got back in time. And in the end, he won at the polls, too.
Search attorney feature articles