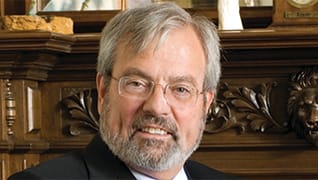 Photo by: Eric Shinn
On the Side of Angels
Michael Gire on representing doctors and defending hospitals
Published in 2009 Ohio Super Lawyers magazine
By David Searls on December 22, 2008
Every year for the last 20, Mike Gire dons his road warrior armor—jeans, boots and leather jacket—and hits the road on his BMW R1100RT motorcycle to explore a different part of North America. The people who have seen him fly by in the Canadian Rockies or heard him roar around Lake Tahoe might be surprised to know that the man in the black leather jacket has devoted his career to helping those in white coats.
When Gire gets back to his own driveway, he turns back into a mild-mannered American University-trained lawyer and family man who has, since 1977, almost exclusively limited his practice to representing health care providers and hospitals.
"I feel I'm on the side of the angels," he says from Bricker & Eckler's conference room in the grand, old courthouse and post office that looms over downtown Columbus. "I can drive through most of the communities of Ohio and feel I've had a stake."
His claim is easily backed up. In addition to being counsel to the Ohio Hospital Association, Gire chairs his firm's nationally respected health care group, a detail of about 40 lawyers. In representing most of the state's hospitals and health care systems, Gire has been involved in more than 75 mergers or corporate affiliations. He's also tackled issues ranging from Medicaid and Medicare reimbursement to regulatory, malpractice and patient safety concerns.
His passion for representing the health care industry is obvious to clients like Gary D. Hallman, president of Medina General Hospital, who calls him, "very knowledgeable and a great resource," and "a gentleman who really cares about our organization."
Gire's practice can be a minefield. Hospitals are frequently the largest employer in a community and every merger leads to fears about the livelihoods of family physicians and nurses. But, Gire points out, hospitals and health care networks have to struggle for economic survival too. As he bluntly puts it, "No margin, no mission." 
In a rural part of the state near Dayton, Gire once had to face an enraged physician while working on efforts to close down two hospitals to create a new facility. The doctor went nose-to-nose with Gire after a public meeting, and, at one point, grabbed him by the necktie before the confrontation was defused.
"My associates recommended I wear clip-on ties to the next meetings," Gire says with a grin.
Technology is another hot topic in his practice. Today's medicine might keep grandma alive longer, but is that always a good thing? Gire's team has been thrown into the agonizing debate over issues like the termination of life support.
"It's hard to get a doctor to turn off the respirator when it's mom or dad in the bed," he admits.
At other times, the controversy is flipped, and medical intervention is thwarted. Gire has represented hospitals in conflicts between proscribed medical procedures and Jehovah's Witnesses. When the parents of seriously ill children refuse treatment for reasons of faith, he must intercede to get a guardian appointed.
"They won't usually say anything, but you can sometimes feel the parents' relief when the decision has been taken out of their hands," he says.
Sometimes religious issues come up at the administrative level, like when a faith-based hospital merges with a secular facility or network. "Catholics don't allow vasectomies or tubal ligations," says Gire, adding, "Methodists are OK with tubal ligations, but they don't do raffles."
It's Gire who has to sort it out, carving out policies, understandings and exceptions that can turn nuclear if left unaddressed. He also advises physicians in dealing with ethical issues.
"Pharmaceutical firms and medical device companies are always approaching physicians [to promote their products], and [physicians] go to Mike for advice," says Andrew Quinn, vice president of ethics and compliance at OhioHealth Corporation. "You can offend the docs by telling them the truth, but Mike always gives the right advice. Even if it's detrimental to his client."
Gire's practice isn't all about confrontation and friction. Before he started working with the medical transport system in Columbus, emergency air transport came from two competing hospital systems, both with their own air transport services. All parties involved had accepted that the status quo was inefficient and expensive.
"The hospitals and community leaders didn't want a fleet of choppers flying in from everywhere every time there was an accident," says Gire.
So he helped his clients co-own an air and ground emergency service that's so successful (and profitable) it has migrated to nearby cities. "You feel like you're actually contributing rather than doing damage control," Gire says of the project.
Besides the rewards that come from working with health care professionals and institutions, part of Gire's job satisfaction stems from the simple fact that no two cases are alike. One recent situation involved a girlfriend fighting to preserve the sperm of her boyfriend who had died in a motorcycle accident. In another case, doctors suspected that a patient was brain dead, but the devastated family members, unable to face that possibility, wouldn't allow the patient to be evaluated.
There's also something exciting about working in an industry that is constantly at the center of political and technological changes. The extraordinary cost of new developments in medicine necessitates intensive capital investment, which in turn is passed along to patients and insurers. As politicians continue to sound off on the pros and cons of universal coverage, Gire plays down the debate, observing that "50 to 60 percent of health care has already been nationalized in the form of single-payer programs like Medicare and Medicaid."
But complex bureaucracy does plague much of the system, he admits. After surgery, "you get 10 pieces of paperwork in your mailbox, all stating, 'This is not a bill,'" Gire says. "That's got to stop. We must be able to get claims administration under control."
He believes that another growing obstacle to cost-effective medicine is the practice of specialists skimming the cream off the patient pool.
"Physicians are becoming more entrepreneurial with their retail medical clinics, and outpatient diagnostic and surgical facilities," Gire says. Or it might be a group of orthopedic surgeons practicing in a community hospital while building a for-profit outpatient clinic where they can steer wealthier patients. Gire's team has prevailed in such cases, terminating hospital privileges of docs who are competing for patients on the side.
Gire has managed to pass along his enthusiasm for health care and public policy. Of the Gires' two grown daughters, Ann is a hematology oncologist practicing in Portland, Ore., her career decision at least partially inspired by her dad's help in gaining her an undergrad summer job at the James Cancer Hospital in Columbus. Lyn has a master's degree in public policy from Columbia University and works for a nationally leading corporate law firm in New York City.
When not visiting with their 2-year-old granddaughter, the outdoorsy Gire and his wife, Marg, might be found hiking or skiing. They recently spent two weeks traipsing through the Scottish Highlands. And then there's the motorcycle cruises with his buddy through Nova Scotia or Death Valley, which he likens to "being inside a convection oven with a 110-degree wind."
Which makes it sound no worse than squaring off with a disgruntled doc about to be upended in a hospital merger.
Search attorney feature articles
Helpful links
Other featured articles
Former Navy nuclear propulsion engineer Alfonso Chan is a 'workhorse'—and 'crazy smart'
Family attorney Justin Crozier was an Army mental health specialist
Greg Howison raises grass-fed beef—but it's not on his dinner plate
View more articles featuring lawyers
Find top lawyers with confidence
The Super Lawyers patented selection process is peer influenced and research driven, selecting the top 5% of attorneys to the Super Lawyers lists each year. We know lawyers and make it easy to connect with them.
Find a lawyer near you