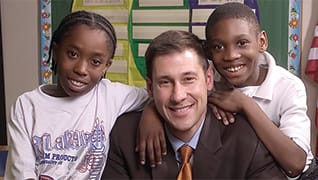 Photo by: Mike Simons
One Kid at a Time
Kent Wellington connects children who need advocates with lawyers who can help — starting with himself
Kent Wellington is one lucky guy, and knows it. The athletic 39-year-old attorney grew up with two loving parents, got a solid education that led to a successful career as a litigator, married the woman he loved, has two terrific kids and lives a comfortable, happy life in an upscale Cincinnati neighborhood. With so much good fortune, he decided he needed to give something back. 
In a city where nearly half of the students in public schools don't graduate from high school, "the need is tremendous," he says. As a leader of the Cincinnati Bar Association Young Lawyers' Section during the late 1990s, Wellington was the push behind a mentoring program that connected Cincinnati attorneys with local kids who needed adult role models. "Rather than create a new program, we decided to identify a cause and pump a little enthusiasm into an existing program," he says. That program was the Cincinnati Youth Collaborative (CYC), a nonprofit organization that works to help Cincinnati's children graduate from high school, attend college and find employment. He and the other members of the bar association have since recruited more than 200 lawyers throughout the city to become CYC mentors.
In 1997, he was assigned a mentee at Walnut Hills High School — a young man named Tracy Gragston. "The first day we met, I was unsure about having a mentor and where that sort of relationship would lead," says Gragston, now a college graduate. "I'm not sure if Kent knew at that point in time either. But what I know today is that he is a great friend and one of my biggest role models."
Gragston compares Wellington to the title character in Mitch Albom's Tuesdays with Morrie. "Morrie teaches Albom about love, friendship, character and charity," Gragston recalls. "Kent, through his mentoring, has taught me about some of those same issues. He has made a positive impact on my life, and both of my parents, along with myself, are very grateful for such a wonderful person to take the time out of his busy schedule and encourage me to become a better human being and citizen."
Gragston works as a deputy clerk for the Hamilton County Juvenile Court, and hopes to attend law school and practice law within the next few years. He also took on the role of mentor himself for three children. Meanwhile, Wellington continues to be Gragston's mentor, while also mentoring two 10-year-old boys who live near downtown Cincinnati and a ninth-grader in public school.
"It's kind of a family affair," says Wellington of his relationship with his mentees. "We try to include them in the things we do." Sometimes he attends the boys' family and school functions, and meets with their parents at home. Often, he brings the boys along to join his own family's activities, including his 10-year-old son's basketball games — Wellington is the coach. He and his wife, Karen, who also serves as a mentor, were named in the 2004 "Forty Under 40" list by the Cincinnati Business Courier.
Wellington's community service spills into his work life, as well. His law firm, Graydon Head & Ritchey, partners with Washington Park Elementary School, located in the heart of Over-the-Rhine, where many residents struggle with poverty. Wellington started tutoring kids at the school in the mid-1990s because the location was convenient and full of children who needed help. Over the years, he encouraged many of his fellow employees at the firm to volunteer at the school as mentors and tutors, contribute gifts for the holidays and prizes for student achievements, and even help teach students about law during "Law Day" each spring. "Eventually, GH&R formally became a 'Partner in Education' with Washington Park, but we've acted like a partner with them for a long time," he says.
Wellington sees similarities between his role as lawyer and mentor. "There are a lot of parallels between being an advocate for a 10-year-old in Over-the-Rhine and being an advocate for a client," he says. One of those clients — Craig Ross, executive vice president and general manager of Paramount's Kings Island — has observed those parallels in Wellington. "What has always impressed me about Kent is his emotional intelligence," Ross says. "He exudes a great deal of confidence and he is aggressive in his pursuit of any issue, yet he is compassionate and caring in the process. He is able to make all kinds of people feel very comfortable around him."
How does he do it? Wellington says he treats a relationship with a mentee the same way he deals with clients: "It's only as good as what you put into it."
Search attorney feature articles