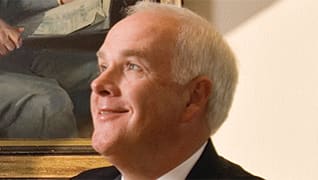 Photo by: Gary Kessler
Play Ball!
George Yund hits home runs for Minor League Baseball
Nearly all Major League Baseball players start their careers in Minor League Baseball, but George Yund went in the opposite direction. Starting in the majors, he later moved into the minors—and has stayed there for two decades.
Yund's entry into the world of baseball was something of a fluke. The 56-year-old labor and employment lawyer for the Cincinnati firm Frost Brown Todd fondly recalls his first legal experience with professional baseball: representing the Cincinnati Reds in player salary arbitration during the early 1980s.
As an associate, Yund had spent his days representing all manner of clients in labor and employment matters. His mentor at the firm, partner James Lawrence, handled labor and employment work for the Cincinnati Reds—but "he wasn't much of a student of baseball," Yund explains.
"Jim was kind enough to take me along and give me the opportunity to try some cases," he says. And that was how Yund began advising the team in the post-Big Red Machine era, as it settled salaries with players like pitcher Mario Soto and negotiated with other teams. Yund describes player salary negotiations as "a high-stakes, high-risk process, because it's designed to get both parties to settle."
Minors go major
In the late 1980s, as Minor League Baseball's popularity grew, the value of Minor League Baseball franchises skyrocketed—followed by the need for more legal consultation on the business side of baseball. Some of the people he had dealt with at the majors were now administrators for the minors-and, says Yund, "they were kind enough to think of me."
Since 1988, Yund has served as special counsel to the National Association of Professional Baseball Leagues, known as Minor League Baseball. During his many years of representing the association, he's helped them find and hire in-house counsel. In 1990, he helped negotiate a contract between Minor and Major League Baseball that changed the nature of their relationship. One of the most important changes was converting the minor league to a "corporate" structure, rather than a "political" one. "That's a very important deal to Minor League Baseball," he says.
"George played a key role in those negotiations and led the organization through one of the most tumultuous times in its history," says Minor League Baseball president Pat O'Conner. "He has proven to be a strong advocate for Minor League Baseball and an integral part of how our organization has prospered in the last 15 to 20 years."
Unlike other professional sports, baseball has enjoyed a unique exemption from antitrust laws since 1922. The exemption allows the sport to have a Minor League "farm team" system that feeds players into the Major League. When a club owner sues the league over antitrust allegations, Yund steps in to protect Minor League Baseball and maintains its exemption status. "A lot of what we do related to baseball is tied to the antitrust exemption," he says.
O'Conner relies on Yund's depth of experience to keep the business strong. "In George, I know I will get a calm, clear analysis of a situation, solid advice and a historical perspective few can offer," O'Conner says. "George has been an important part of what we do and will continue to be involved. Working with George is a pleasure because of his ability to 'get it.'"
Yund also represented Minor League Baseball against its umpires' first unionization in 2001. The umpire who filed the petition to unionize was terminated nine days later. He had disrupted a flight and the league president fired him. But the umpires filed an unfair labor charge, which resulted in a week-long hearing in Phoenix. Yund won the case.
O'Conner called Yund's work "nothing short of masterful. His guidance, advice and presence at the negotiating table have been invaluable. I can think of no other lawyer I want on my side in dealing with labor issues."
Home field advantage
Inside Yund's wallet, you'll find two cards: one granting him and his party access to any Minor League Baseball game; the other card giving him two seats to any Major League Baseball game—anywhere, anytime. He also gets to attend baseball's annual Winter Meetings, the convention of professional baseball. This year, the meetings are being held in Las Vegas. "I get to talk about baseball stuff and charge my time to do it. What could be better than that?" he says.
While his baseball business may sound impressive to fans, he emphasizes that it's only a fraction of his day-to-day work for the firm. "I'm not a sports lawyer, I'm a labor and employment lawyer," he says.
In fact, he finds it irritating when young lawyers send him résumés and want to know how they, too, can pursue a law career involving professional sports. "First, be a good lawyer," he advises.
The bulk of Yund's practice involves representing clients such as AK Steel, Convergys, Cincinnati Bell, Duke Energy and Titanium Metals Corp. in labor negotiations, arbitrations and litigations. "I want my clients to be able to have successful negotiations with unions," he says. "Nobody wins in a strike."
Despite spending much of his time in conference rooms and offices practicing "behind the scenes" law, Yund admits he loves the courtroom. He enjoyed flexing his jury trial muscles for three weeks in 2002 in a federal courtroom, on behalf of steel manufacturer AK Steel (then called Armco).
The company hadn't been able to reach an agreement with the steelworkers' union and locked out the workers. "The day the replacement workers tried to get in the plant, there was a riot," Yund says. Armco sued the United Steelworkers International Union and its local, for breaching the terms of their collective bargaining agreement, and the court awarded Armco $4.3 million. "That was one of my rare opportunities to be a plaintiff's attorney," he says.
AK Steel's general counsel David Horn has nothing but compliments for Yund. "George is great to work with," Horn says. "He is very knowledgeable, has excellent instincts and judgment, listens well and works extremely hard to get the best result possible for us." Horn first met Yund more than 30 years ago, and the two have been close friends and colleagues ever since.
The same year as the Armco case, Yund was one of the founding members of the Ohio Management Lawyers Association "to give the Ohio Supreme Court the other side of the story," as he puts it. For years, the Ohio Employment Lawyer Association actively advocated for employee rights. Yund and other management-side attorneys felt they needed to step forward and file their own amicus curiae briefs on behalf of employers.
"We do it for free. We feel strongly about the direction law takes in certain areas." So Yund and the other lawyers of the OMLA take turns writing amicus briefs and arguing them before the Ohio Supreme Court.
One of Yund's colleagues and a founding member of the organization, Daniel G. Rosenthal of Denlinger, Rosenthal & Greenberg, credits Yund for much of its success. "As a founding steering committee member and then chair of that committee, George has been a leader in keeping that organization on task to provide a collegial forum for the benefit of the profession and Ohio employers."
Trading cards
George Yund was something of a rolling stone growing up. He lived in 18 cities in the first 18 years of his life, because his father's job with a railroad company required moving each year. He didn't spend more than two years in the same place until he was a college student in the dorms at Ohio State University.
For law school, he "defected" to OSU's biggest rival: the University of Michigan. "Everybody knew who I was," he says, because he wore Ohio State shirts in a sea of Michigan fans. "It was good training for strikes," he jokes.
Yund started in 1977 at the firm then known as Frost & Jacobs in downtown Cincinnati. He was the firm's 36th lawyer and only the fourth member of its labor and employment department. Since then, the firm has changed its name to Frost Brown Todd, and employs some 380 lawyers-including 48 practicing labor and employment law. In contrast to his vagabond childhood, he's stayed put ever since, in the same city and with the same firm.
Deborah S. Adams joined Frost Brown Todd's labor and employment department in 1982, just five years after Yund. She calls him "a building block of our department's foundation" and "one of the pillars of the firm."
She tells a story about Yund that's become something of a legend around the firm. "There are people among us who are leaders, and George is one of them," she begins. A few years ago, Yund was at an out-of-town client's office for a meeting, and the fire alarm went off. He had left some papers relevant to his case in the office, where alarms were still ringing, explains Adams. "So in his General Patton kind of way, he marched back in there to get them.
"We can all see George, being undeterred by anything-that's sort of our mental image of him," Adams says.
Search attorney feature articles