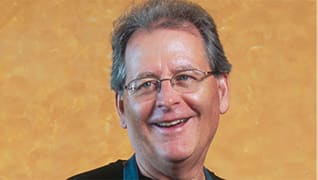 Photo by: Larry Marcus
So Sous Me
Chef knife in hand, Terry Monnie cooks for great causes
Published in 2005 Ohio Super Lawyers magazine
By Nick Fauchald on December 27, 2004
For Terry Monnie, it started with an appetite and a list.
In the 1970s, after his tour of duty in Vietnam, Monnie found a list of the top 10 restaurants in France and ate his way through half of them, including such temples of haute cuisine as Lucas Carton and Roger Verge's Moulin de Mougins. Then he attacked Italy. By the time he returned home, Monnie was a well-traveled epicure.
After returning home, Monnie continued to seek out the best restaurants wherever he traveled, a pastime he had even managed to practice during his service in Vietnam. "It wasn't easy, but we found some interesting places to eat there," he says. He attended law school at The Salmon P. Chase College of Law at Northern Kentucky University and started a career in real estate law. (Monnie is co-owner of Classic Title Agency, Inc., a Cincinnati title company.) Cooking, however, never entered the picture. For the next three decades, Monnie was happy enough being dazzled by the country's best chefs.
Then he ran into a colleague at a dinner party a few years ago. His friend told him that she had enrolled in the arts program at Cincinnati State (now called the Midwest Culinary Institute). "It sounded like fun," he says. "So, I enrolled too."
Cooking school isn't all fun and foie gras. The kitchen is hellishly hot, the quarters cramped, your classmates are forever stealing your tongs, and all along a short, stocky man is screaming at you in French. But Monnie persevered, attending class five hours a night, two nights a week for an entire year and emerged a fine-tuned mincing machine and a certified chef to boot. "It was a wonderful experience," the self-effacing attorney says. "I'm pretty sure I was the worst cook in my class, but I had a great time."
Monnie also put his fine dining experiences to good use during his culinary training, acting as the class's master tongue. "Even if my culinary skills aren't the greatest, I know what food should taste like, so the chefs would put me in charge of tasting dishes and adjusting the seasoning," Monnie says.
After mastering the classic French technique, Monnie discovered a passion for home cooking, teaming up with his wife, Vivien ("also a great cook"), to produce their three-star cuisine at home. "I hardly eat out anymore," he said. "I used to read novels before going to bed, but now I read cookbooks."
Not wanting to drop a successful career as a real estate and title attorney, he decided to apply his culinary chops to benefit others beyond just gustatory pleasure. "I asked myself what the natural thing to do was," he says. "I had done a lot of charity work for leukemia in the past, so I wanted to see how I could use my cooking skills and my relationships with local chefs to help the cause."
In July 2002, Monnie enlisted the help of Cincinnati's top toques to host a benefit for the Shriners Burn Hospital and the Leukemia and Lymphoma Society, called the Best Chefs of Cincinnati. The event was such a success that Monnie gave an encore the next year in Covington, Kentucky, called the Best Chefs of Northern Kentucky. "The events were a ton of work," Monnie says, "But they were also a lot of fun and worth the effort. The chefs had a great time, and the guests loved the food."
Monnie soon grew a reputation for his large-party cooking, and when he meets with his associates and clients they now bring along their appetites. "I teach continuing education for various boards of realtors, and now when I lecture, my class expects me to bring dinner," he says. "It's been a great way to connect to a lot of people."
Monnie didn't stop his charity work there. He and Vivien started donating meals at galas and auctions to raise money for the Children's Miracle Network. Each meal, which the duo prepares at home and serves in the high bidder's choice of location, can bring in thousands of dollars. "We decided to take the cooking a step further and do it on a more personal level. Each meal we donate is for eight people, with several courses, and it takes us a whole day — about 12 hours — to prepare the meal."
But he leaves dessert to someone else. "Baking is a different kind of cooking," he says. "It takes a disciplined, engineer-type of person who likes to work with precise measurements. I'm not that type of cook. I like to take a recipe and toy around with it, making several variations."
Monnie's signature dish, which he adapted from a recipe he got from Jacques Pépin, is salmon baked in a puff pastry with sautéed shrimp and scallops. "You basically wrap the whole thing in a puff pastry and cut it so it looks like a pastry salmon, with fins and scales and everything," he says.
In addition to cookbooks, Monnie takes his inspiration from the meals he eats when he does dine out, usually when he and Vivien are traveling. "Wherever I go, I look at the menu and figure out how to adapt it at home," he says.
Has Monnie ever considered trading in his business suit for chef 's whites? "Never," he says. "Most people don't understand how difficult it is for restaurant chefs to do a great job consistently. The pressure is intense. Very few people can do it. And you're only as good as your last meal."
Not everyone finds chopping and flipping pans therapeutic, but Monnie soon joined the ranks of others who use cooking to take the edge off the daily grind. "All day long it's papers here, papers there. When you practice law, you don't always see the outcome of your work. Cooking is my outlet to see some results from my labors.
"Plus, if you do a great job for a client, they don't always thank you. But if you cook someone a great meal, they're sure to give you feedback."
Cooking is also an activity he prescribes to his associates. "I tell all the lawyers that work for me that it makes you a better attorney if you have interests outside of the law. It gives you balance and helps you bring a lot more to the table in every situation."
What Monnie forgets to tell them is that when you do bring something to the table, don't be surprised if you're asked for second helpings.
Search attorney feature articles
Helpful links
Other featured articles
Marc Kaplan looks back on his days in the Jimmy Carter administration
How David Gair went from teaching to tax law
How Sharlei Hsu went from would-be doctor with a fear of public speaking to a top litigator
View more articles featuring lawyers
Find top lawyers with confidence
The Super Lawyers patented selection process is peer influenced and research driven, selecting the top 5% of attorneys to the Super Lawyers lists each year. We know lawyers and make it easy to connect with them.
Find a lawyer near you