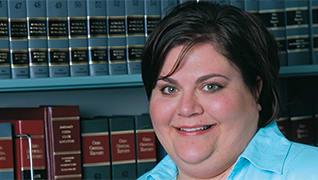 Photo by: Thom Sivo Photography
Speaking for the Speechless
When schools ignore their disabled students, Kerry Agins takes up the cause
Published in 2005 Ohio Rising Stars magazine
By John B. Kachuba on July 20, 2005
Kerry Agins loves graduation parties. The Cleveland-based attorney, a partner in the firm of Nessa G. Siegel Co., attends several every year as an honored guest of her clients, students with learning disabilities.
Since receiving her law degree from Case Western Reserve University in 2000, Agins has been a champion for special-education students throughout Ohio, fighting for their rights under the federally mandated Individuals with Disabilities Education Act (IDEA) for a free and appropriate public education. "It is the most rewarding thing I can imagine doing," Agins says.
Last June, she was rewarded with an invitation to a hard-won graduation party that doubled as a victory celebration. The student was an 18-year-old boy who, before he developed brain tumors, was considered to possess an above-average intellect. "He was a very sympathetic student," Agins says, "but he was physically and emotionally devastated by his disability."
Aware that his friends from middle school were now graduating from high school, he wanted to join them in the graduation ceremony. There was never any question that his graduation would be anything other than a "social graduation," one in which the boy would wear cap and gown and walk across the stage with his peers but would not receive a diploma. Still, the school board refused, citing a school policy that disallowed social graduations.
"This student, for both emotional and developmental reasons, needed the process of high school graduation for his socialization and self-esteem and also needed the vocational programming he was receiving," Agins says. "The school, instead of looking at the individual needs of the child, clung to its district policy. Federal law tells us you always look at the individual needs of the child."
Agins forcefully reminded the school board of that aspect of the law. The student walked in the ceremony.
"His graduation party was probably one of the best days of my professional life," Agins says. "When he graduated, it felt wonderful. He is now continuing with his program and has gained skills that he needs to go out into the world and become an effective adult."
Agins says the case was something of a landmark since many school districts were wrestling with the issue of social graduations and whether they had to offer them.
Even before she became belle of so many graduation balls, Agins was concerned with the problems faced by children with special-educational needs. She was active in the philanthropy efforts of her college sorority, Delta Zeta, which was fundraising for deaf students at Gallaudet University in Washington, D.C. She also had firsthand experience with an aunt who had spina bifida and who was a recipient of special education.
"When I went to law school, I had an interest in doing something that would benefit families and children, and it was very difficult to find an area of law that was actually beneficial to that constituency," Agins says. "Some of my professors suggested juvenile law, domestic relations or public interest law, but none of that seemed to fit. I really wanted to work with people."
A chance meeting with attorney Nessa G. Siegel, an advocate for disabled children, in 1999 landed her a job in Siegel's firm as a law clerk. This past April, the 31-year-old attorney became a partner in the firm. "Nessa and I complement each other. I'm a very detail-oriented person and she's a 'big picture' thinker. The two of us seem to problem-solve very well together."
Problem solving is at the heart of what Agins tries to do for her clients. Working closely with disabled students and their parents, she helps to ensure they are receiving the type of education guaranteed to them under the law. This is not always easy for school districts since the law states that disabled students are entitled to an education that is appropriate for their abilities. The idea is that disabled students should have full inclusion, that is, they should not be separated or excluded from their peers. There are times, however, when some students require different learning methods or educational environments than their fellow students.
"We always begin with the idea that every child with a disability starts in regular education. We will support regular education unless that's not going to be enough, in which case we need to take a look at other options under special education," Agins says.
Sometimes, this can be a costly proposition.
Agins cites a 1999 case she worked on as a law clerk that involved a 13-year-old autistic boy who was attending public school in an affluent Cleveland-area school district. The boy's parents had learned of a program for autistic students that was offered in a private school and wanted to enroll their son in it. The school district refused to approve the program, for which it would have been financially responsible under the law, on the grounds that the program currently provided for the boy in the public school was appropriate for his needs. The Siegel firm challenged that conclusion on behalf of the boy and won him a transfer into the private school program. Agins says that the new program cost the public school district in excess of $50,000 each year.
"The boy has made exceptional progress in his private program, gaining not only academic skills but also social and language development," Agins says. "I sympathize with school board members and superintendents who have to make the difficult decisions, but that said, I truly believe that the federal rights of every child with special needs is something that our country has determined is important and that we need to support."
Agins admits that adequate funding for special education is an ongoing problem. "Special education is not funded according to the wishful thinking we get from Congress. They guaranteed full funding for IDEA decades ago and we still don't have anywhere near the funding levels the federal government has promised us. It's been a real drain on our state budget."
But how does one put a price tag on the joy of a disabled student graduating from high school with his peers, or another being allowed to participate with them in school events as an equal?
The first litigation that Agins worked on as an attorney did just that; it allowed an 18-year-old who was both hearing impaired and suffering from cerebral palsy to compete on his high school cross-country and track teams. According to the rules of the Ohio High School Athletic Association (OHSAA) in place at the time, the senior was too old to compete, and if he did compete, the school would face sanctions from OHSAA. It didn't seem to matter that laws governing special education allowed him to remain in high school until he was 21 if that was necessary for him to complete his education. The student had limited social interaction and both he and his parents considered his participation in sports to be a valuable part of his education, helping him to adjust socially with other people.
"It was the first time he had ever been successful communicating with his peers," Agins says. "As a result he was going to dances and after-school activities."
But the school district didn't see it that way. Concerned about their sports teams losing eligibility under OHSAA sanctions, school officials suggested alternative activities for him, such as the debate team, an odd choice for a hearing-impaired student. The student and his parents brought suit against the school district and, with Agins' help, he was allowed to compete on the teams in his senior year. It made no difference to him that he generally finished last; he was part of the team. "He was such an inspiring student," Agins says. "Now he's a student at the Rochester Institute for the Deaf."
Not long after the student won his case, OHSAA changed its rules to adopt the appropriate exception that would allow disabled students to participate in sports.
"My heart goes out to students that are struggling really hard to capitalize on what they have to work with," Agins says. "There are definitely moments when I sit back and think to myself if I have done everything I could possibly do to get this kid the best quality of life."
While Agins has no children of her own, she has become something like a mother to many Ohio schoolchildren through her work. In addition to her actual legal work, she spends a lot of time on advocacy for disabled students, speaking before parents' groups and helping them to organize and address the problems in obtaining an appropriate education for disabled students.
"The parents of these children are outstanding," Agins says. "I can't think of a clientele that would be as active and involved in seeking out assistance than these parents."
One such group, Individuals Devoted to Educational Advocacy, came together in 2004. Although it was formed following the suggestion and guidance of Agins and Nessa Siegel, the group — a volunteer, nonprofit organization — is not affiliated with the law firm. Two of its goals are to fund scholarships for special education students and to provide socialization opportunities for the children.
"Kerry has been just wonderful," says Lisa Sneiderman, president of the group and the mother of an 8-year-old special-needs child. "She gives so much of herself to the group with absolutely no payment of any kind."
Melissa Farmer of Medina, Ohio, is president of the parents advocacy group Autistic Spectrum Kids (ASK). She first met Agins in 2002 when she retained the attorney to represent her and her 5-year-old disabled son in discussions with the local school board, talks that Farmer says had become "confrontational."
"I was frustrated," Farmer says. "I couldn't communicate with the school district, and my relationship with [district officials] came to a standstill. Even at home I couldn't communicate, couldn't function. Kerry came in with me and was able to talk to them in a nonconfrontational way, without making any threats. She was able to express my needs and those of my child and resolved the situation in a positive way."
Whenever she can, Agins likes to spend time with her family and her boyfriend, but her dedication to special-needs children is often a 24-hour commitment. "I work in my sleep sometimes," she says. "It's not just a job. It's not even just a career. It's become a passion."
Search attorney feature articles