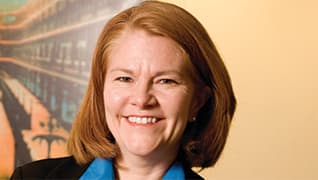 Photo by: Alejandro Rivera
Staying Grounded
Anna Moore Carulas saves the day for her health care clients, but she only brags about her kids
Published in 2010 Ohio Super Lawyers magazine
By David Searls on December 22, 2009
Anna Moore Carulas politely declines to answer one particular question posed to her. It's a follow-up to her comment about having won all three of her court cases that went to verdict this year. She'd just mentioned having more than 50 defense verdicts over the course of her 20-year career, so the next logical query is whether she knows her win-loss record. Her career batting average, so to speak.
"I'd rather not say."
It's said some of the most renowned criminal defense attorneys can lose more often than they win. Is that the case with her medical defense practice at Roetzel & Andress? 
Not really. "I don't want to sound like I'm bragging," she says with a shrug and a pleasant smile.
But even though Carulas may have some discomfort with self-promotion, others don't mind doing it for her.
"She's the best trial lawyer I know," R. Mark Jones says flatly. He's a litigator in Carulas' medical defense and health care litigation group, which includes some 30 attorneys, nurse consultants and support personnel in the three Ohio offices of Roetzel & Andress. They worked together earlier in their careers at the now defunct Jacobson Maynard Tuschman & Kalur, and Jones says that when he was being
recruited a decade ago to the Cleveland office, "The attraction in coming here was Anna," he says. "She told me that she liked it here and that was as high a recommendation as I needed."
In a similar vein, client and associate Bill O'Malley, a vice president in the Cleveland office of ProAssurance, a liability insurer for medical professionals, calls Carulas "an exceptional trial lawyer. She has a great ability to get juries to focus and understand issues, even in the face of sympathetic injuries and catastrophic disabilities. She's hardworking and can understand complex medical issues. She's down to earth and credible."
"She's amazing in the courtroom, quite frankly," says Ingrid Kinkopf-Zajac, another member of Carulas' group and a long-time friend, as well as a former client. 
Despite the accolades, Carulas doesn't put on Academy Award-winning courtroom performances or smoke big cigars after each of her victories—however many that might be. Although she was involved in theater at her Michigan high school and admits that she "craved the excitement" of trial work while working toward her 1986 graduation from Notre Dame Law School, her post-court routine is decidedly low key.
She might return phone and text messages from her kids before going home to her husband of 20 years. Her law firm office, decorated with family photos and yellowed crayon drawings, like the one featuring 'Good Job' in a childish scrawl, is testament to her strong and ever-present family support system. 
In Carulas' words, her approach to litigation is similarly undramatic. "I don't feel like I'm on stage. You have to be able to project and make eye contact, but a jury has to know that it's real. You must show passion, but also compassion."
That's a balancing act with no safety net: passionately defending your client's position while maintaining the humility to recognize that almost every victory is built on painful loss.
"Anna's very good at finding that balance," says Kinkopf-Zajac.  
Carulas displayed that high-wire tension in the case of a malpractice claim brought by the family of a 14-year-old girl who died after the sudden onset of Lemierre's Syndrome. The critical bacterial infection was not diagnosed in time by her physician client or at the hospital's emergency room.   
"Most doctors go their entire careers without ever seeing this very rare condition," she says. (One online source cites about 170 reported cases in the last 100 years.) "On top of that, the patient didn't present the classic symptoms. Generally you'd see an abscess and a certain kind of neck pain."
The suit was ultimately unsuccessful for the family, but Carulas still recognizes a parent's need to hold someone responsible for nature's random cruelty.
In another winning case, one which garnered its share of ink in the Cleveland Plain Dealer, Carulas and co-counsel Kinkopf-Zajac defended the Cleveland Clinic on negligence charges after an ER patient named Lisa Hinkle suffered a stroke, multiple organ failure and lifesaving amputation of both legs following treatment for a burst aneurysm.
The newspaper's lead-in to the article about the jury's decision summed up the challenges Carulas and her team so often face in the court of public opinion: "Lisa Hinkle's six-year run of bad luck continued yesterday."
In a case like that, a defense attorney's peripheral vision reveals devastated loved ones even while they celebrate victory with their client. As Carulas puts it, "Every situation you see is a tragedy."
At least, that's usually true. Early in her career, Carulas was called on to defend against a malpractice suit for the treatment of plantar warts.
The important consideration, says Carulas of her cases that have gone to verdict, is that "it's not our client who's responsible for that tragedy."
Jones, her friend and practice group member, describes Carulas' courtroom demeanor as "extremely organized, well-prepared and very attentive to detail."
All are attributes that must certainly come into play in the trial attorney's Shaker Heights home life.
According to Carulas, her daily schedule breaks down to "24 hours work, 24 hours family." She makes the math add up because she has to. She says that she knew she'd never go back to work if she stayed away after her kids were born, so she balances her responsibilities to both world and credits her husband as the partner that makes her hectic life possible.
Anna and Jim, president of a large regional accounting firm, have a pair of teenagers at home now. What she doesn't have, Carulas says with a chuckle, are hobbies. "Maybe when the kids are off to college."
In the meantime, the next closest thing to a pastime is the chauffeuring both parents do for active and involved girls. Catherine is 16 and Caroline 13. Both keep themselves and their folks busy with sports like figure skating and field hockey as well as with volunteer work and church activities—although Catherine points out that the recent attainment of her driver's license has cut down on parental transporting duties. 
It's also fortunate, says Carulas, that her firm gives her the freedom and encouragement to mix family time with work time. 
Catherine, her oldest, agrees. "We exchange text messages when Mom is at work and I'll call her when I get home from school. When we're together we'll do different things … go to movies, dinner, shopping. I feel she's always there when I need her."
That goes both ways.
"Trying a case can be … trying," says Carulas, after groping for the right word. "I used to take [work stress] home at times, but less so with the kids. It used to be that I lived and breathed the case, but when I go home to the girls, they want to tell me about their problems and mine just fade away."
She takes a breath and thinks before delivering her summation. "Being a mom is a harder job than being a lawyer, but the work is definitely rewarding."
Words that seem to apply to both of her most important jobs.
Search attorney feature articles