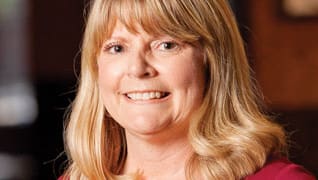 Photo by: Ross Van Pelt
That Samurai Charm
For her work in his defense, one client gave malpractice attorney Susan Blasik-Miller a sword as a thank you gift
Published in 2014 Ohio Super Lawyers magazine
By Jenny Burman on December 4, 2013
Susan Blasik-Miller walks with a jaunty, athletic stride across the 19th floor of an office building in downtown Dayton, where she is a shareholder at the firm Freund, Freeze & Arnold. Her corner office is full of family photographs—and not just a few vacation and portrait shots are on display. The office is an exuberant shrine to her three daughters, her husband and her golden retriever. Then there are the recognition plaques and awards, and gifts from clients, like a red glass heart. There's a metal tracheal intubation device, from a case that claimed a patient had not been properly intubated and suffered severe brain injury as a result. There's a fist-sized piece of metal hardware clients gave her when she defended them in a case where an exploding piece of machinery steam-burned a man. One emergency medical physician gave her a Japanese tantō sword.
"He said I was his Samurai, but a Samurai sword would be too big," Blasik-Miller says as she hands over the heavy silver weapon, the blade of which is about 18 inches long.
Over tomato bisque and grilled cheese at a Dayton restaurant, Blasik-Miller says that, like the plaintiff's attorneys she goes up against, she represents individuals.
"People think I represent the insurance company," she says, "but I don't—I represent the doctor or the nurse. The insurance company is paying their bill, but my ethical obligation is to that client."
She says what motivates her clients is often the need to defend their integrity as professionals, to have the record show that they were not negligent or reckless. It's a human motivation, she says, not an economic one, as a finding of malpractice rarely leads to a medical professional losing a number of patients. In many cases, a doctor or nurse will seek corroboration that they acted responsibly, even as they may grieve a disastrous outcome. "They take [a malpractice charge] personally," Blasik-Miller says. "It affects how they feel about themselves. … The defense is looking for vindication that 'I did not do this to this person.'"
Her defendants, she says, "feel a wide variety of things when they're sued. Sometimes they feel unfairly attacked. Sometimes they feel devastated that their patient had this complication and they couldn't stop it. Other times they feel like they made a mistake, and they feel horrified that their patient suffered any kind of consequences from it. So my job is also to take care of them and get them through it."
In one case she handled, a dermatopathologist was accused of negligence. Her patient, a medical doctor—whom Blasik-Miller coincidentally had represented on a case years earlier, involving injuries caused by a broken chair in his office—was told his skin specimen was negative for malignancy. The pathologist missed signs of melanoma, and the patient died of the disease. How, his family wanted to know, could he die of melanoma when he was told he didn't have it?
Blasik-Miller explains, "It turned out it was an atypical melanoma, and so he died. It was pretty sad because he was … in his late 50s, I believe. He was a primary care physician. … He had a lovely family, and in fact, they had adopted—they had older children and then they adopted, I think, two grandchildren, and they were raising them as their own."
It was Blasik-Miller's job to discover whether her client had failed the patient, or whether this was one of those unusual cases where even a diligent investigator could not have been expected to turn up a cancer finding.
Here, as she usually does, Blasik-Miller hired three separate medical experts and gave them the same information. While waiting for their opinions, she educated herself on the medicine and protocols involved in dermatopathology. This is one of the aspects of her job she finds most satisfying: researching and learning about new areas of medicine. Once the experts had weighed in, she reviewed their reports—but it's not unusual for experts to interpret a  case in sharply different ways. If this happens, it's up to Blasik-Miller—and sometimes the client—to decide which opinion she'll use to put together the story of what happened.
It's all about the story. And when a case goes to trial, for Blasik-Miller, it's about being able to tell the story clearly and convincingly to a jury. "Juries are smart," she says pointedly.
In the melanoma case, the jury ultimately found for Blasik-Miller's client. That was 10 years ago, and every year on the anniversary of the verdict, the pathologist sends Blasik-Miller flowers.
A win for Blasik-Miller can be a relief for plaintiffs, too, she says, offering a sense of closure to grieving relatives when a jury finds that this doctor or nurse did not cause their loved one's death. Blasik-Miller has seen tears and hugs between both sides at the resolution of a case, even if it was in the defendant's favor.
In one such case, a young resident was sued when a woman died 36 hours after delivering a baby. "She died of a group B strep infection, and she died rather suddenly," Blasik-Miller says. In the end, the jury found his conduct had met "what the standard of care was at the time. It provided closure for the mother of the dead woman as well."
The key in medical malpractice cases is whether a health care worker met standard of care expectations. It sounds simple enough, except for one thing: Standard of care is not codified. There is no manual that tells a doctor or nurse exactly what they should do to keep their patient alive or unhurt—or to avoid a lawsuit. With every new research publication, standard of care may shift a little. The New Yorker's Atul Gawande has written eloquently about the importance of checklists for doctors and nurses, but there is no master checklist in the universe of medicine. When it comes down to it, the checklist is merely its author's opinion, and there are so many factors that go into its composition.
For the record: according to Blasik-Miller, "Standard of care for medicine is defined as what a reasonably careful physician of similar training would do in similar circumstances."
Sometimes the evidence shows her client has no case. They were in the wrong but can't see it. Then Blasik-Miller has to help them realize that. In such a case, it's her job to manage a settlement.
Blasik-Miller was raised in North Braddock, Pa., outside of Pittsburgh. The town is known as "the birthplace of steel" in the U.S. However, it has watched that industry more or less die, with a population that has shrunk by two-thirds since its heyday in 1950 when more than 15,000 people lived there. "It was an economically very poor area," Blasik-Miller says. "It was not in a good situation when I was there. The steel mills were in decline."
Her father was an electrician at the Westinghouse Bettis atomic plant in the area, her mother a homemaker. The first person in her family to go to college, Blasik-Miller describes herself as "one of those high-achiever types who did everything." She attended a Catholic high school, where she was recruited to the Roman Catholic University of Dayton.
She loves Pittsburgh and planned to return after graduating, but life has its way of happening in the meantime. Blasik-Miller continued dating her high school boyfriend and became pregnant, got married. Then she graduated from the University of Dayton on time and received a scholarship to the university's law school. She divorced. She became one of the editors of Dayton's law review, graduated magna cum laude and met her second husband, who was also a student in the law school. The day after graduation, they married.
Her husband now is a probate magistrate. The couple has raised two daughters as well as Blasik-Miller's daughter by her first marriage.
It was under the tutelage of Ted Jenks, then at Jenks, Surdyk & Cowdrey, that Blasik-Miller began her career in civil litigation. "He was an amazing medical malpractice defense lawyer. I learned a lot through him," she says. "I find the medicine fascinating. For all my cases, I get to learn about a new topic. I like getting the research together and getting into a story for the jury."
"She has been president of practically every organization that she was ever a member of," says Jenks, who is now retired. "She is very disarming in that she appears to be a charming lady"—by which he means personable, nonthreatening—"but she is deceiving in that sense. Lawyers who have occasion to have contact with her as opponents are amazed to find out they are dealing with someone of her caliber and ability. I've seen hotshot lawyers come to town thinking they are going to make a million dollars [and] leaving with their tails between their legs."
At 54, Blasik-Miller has made a name for herself by clearing the names of others. She has served as president of the Dayton Bar Association, and the Society of Ohio Healthcare Attorneys. She was the first female president of the Ohio Chapter of the American Board of Trial Advocates. In 1996, she joined the 30-attorney Freund, Freeze & Arnold as a shareholder. The list of honors and recognitions goes on. Soon she'll need more display space in her office.
As lunch winds down, the subject of Blasik-Miller's incidental education in medicine comes up. Does she feel more confident or more afraid to be a patient after what she has heard and seen? She qualifies things at first. Then she admits, "Because of what I do, I get a very skewed view of things. I only see the bad things, so I am afraid of any kind of medical procedures—because I know the things that can go wrong. I don't see the hundreds of thousands of times it's good. It never comes across my desk if it worked out OK."
Search attorney feature articles