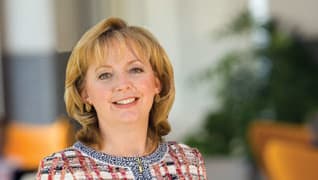 Photo by: Ross Van Pelt
The Crisis Preventer
From the FTC to P&G, Deborah Platt Majoras keeps consumers in mind
Published in Super Lawyers Business Edition 2011 magazine
By Kathryn DeLong on August 29, 2011
When Deborah Platt Majoras was chair of the Federal Trade Commission, her wrangles with Congress over the cost of gasoline gave insomniacs something to watch on TV.
"Friends around the country would email me and say, 'Hey, I haven't seen you in years, but the other night I turned on C-SPAN at 2 o'clock in the morning, and there you were, getting yelled at about gasoline prices,'" Majoras says.
Majoras cheerfully reflects on the criticism that went along with being a high-profile government official. She had come to terms with it even before joining the FTC in 2004, after three years at the U.S. Department of Justice. "People will attack the decisions you make," she says. "And so it's just important to be able to say, 'I did the best I could,' and then you have to live with it."
Her critics did her a favor. Majoras' government service taught her a lesson that has served her in every role since. "If there's one thing that all of my experience in government gave me, it was learning how important it is to stick to your principles," she says. "If you don't have some principles and a backbone to stick to them, you're lost. You're absolutely lost."
After the trials of working for the government, her position as chief legal officer and secretary at Procter & Gamble Co. offers something of a respite. She joined the multibillion-dollar corporation in 2008 and says, "I'm very happy to be preventing crises." She adds that crises do occur on occasion—that is part of life in the business world, after all—but she gladly takes on the challenge.
From the company's corporate headquarters in Cincinnati, Majoras runs a department of 350 lawyers around the globe who deal with the full range of legal issues, including antitrust and advertising matters, mergers and acquisitions, securities law, corporate governance and compliance, as well as intellectual property disputes.
"People often associate heavy innovation, and therefore intellectual property protection, more with technology companies," she says. "In fact, innovation is absolutely the lifeblood of P&G. We win awards every year for our strong innovation program, which is the strongest in the consumer goods industry."
With a workforce of 127,000 and business taking place in more than 180 countries, the company produces such trusted brands as Tide, Pampers and Gillette. "P&G aims to do the right thing in a complicated world," says Timothy Hester, who has seen its ethical business practices firsthand. His firm, Covington & Burling, has represented the company for 50 years. Majoras, he says, "takes that mission very seriously."
That makes her a good fit for P&G, and it's one of the reasons she succeeded while at the FTC. "She was a terrific chairman," says the current head of the agency, Jon Leibowitz, who served as a commissioner during Majoras' tenure. "The great thing about the FTC is you get to go after the bad guys. [It's all about] truth, justice and the American way," he says. "Our staff just doesn't wear capes."
Majoras' nemesis at the FTC was the rising price of gas, the bane of today's consumers as well. "There were several members of Congress who really wanted me to sue the oil companies for antitrust violations," she says. "The problem with that was we didn't find any, so I wasn't going to bring a lawsuit against companies if I didn't believe they had violated the law.
"I believe strongly in markets, the way markets work. Markets serve consumers better than any government agency could ever dream of doing and so we stuck by that through some trying hearings."
Besides, she maintains, short-term fixes aren't always good in the long run. "Things that might look good for consumers, like regulation of prices in the oil industry, can have unintended consequences that aren't good for consumers at all. It can make prices go higher or cause shortages, which we found in the 1970s."
Within the consumer protection side of her FTC role, Majoras decided to focus largely on privacy issues regarding computer users' data. Under her direction, the FTC set a standard by going after companies that violated public trust because of their shoddy security practices.
"We brought the first cases involving data breaches where the legal finding was that the failure to have a reasonable and comprehensive data security program in place was an unfair practice," says Lydia Parnes, who was deputy director of the FTC's Bureau of Consumer Protection before Majoras promoted her to director. Parnes praises Majoras for her ability to master the understanding of complex matters in a short amount of time. "She came to the FTC very, very well-respected, but she didn't really have any background in consumer protection," Parnes says. "She just jumped into it. She not only became completely well-versed and an expert in both the law and policy [of privacy], she became a real leader."
Majoras oversaw the creation of the FTC's Division of Privacy and Identity Protection and was named co-chair of the Identity Theft Task Force established by President George W. Bush in 2006. Her leadership was recognized by the International Association of Privacy Professionals, which honored her in 2007 as a global leader in the field of privacy and data protection.
Majoras says she's proud of her staff's achievements, which included teaching consumers, police and others how to prevent identity theft and help victims. "We really had a program that spanned the whole range, and I think it was one very positive thing that we accomplished," she says.
"She was the first person in and the last person to leave," says Parnes, now a partner in the D.C. office of Wilson Sonsini Goodrich & Rosati. "She has a very, very high standard of excellence, and she applies that to herself first and foremost, and then to everyone around her."
The FTC's Leibowitz says that if he ran a company and could hire any chief legal officer he wanted, he would choose Majoras. "She sees the big picture, yet sees all the details," he says. "That she's doing very, very well [at P&G] is not surprising."
Covington's Hester appreciates Majoras in her role at P&G. "She's a very smart, analytical lawyer. She's really good with people. And she's also a strong leader with a strong vision," he says. "It's not often that you see all of those traits in somebody."
On top of that, he adds, "She's an exceptionally nice person to spend time with. That's a powerful combination as a legal counsel."
As well-suited as Majoras is to law, she didn't consider it as a career until she had nearly completed her bachelor's degree in sociology and Spanish at Westminster College in New Wilmington, Pa. Having grown up in the small town of Meadville, Pa., she knew few lawyers, so law wasn't in her frame of reference.
Instead, she intended to go into social work. "I think I always grew up with that sense of wanting to help serve others," Majoras says. "And what I didn't realize until I got older is that there are so many different ways to do that."
After graduating in 1985, she moved with friends to Washington, D.C. "We thought it was one of the most exciting places on earth," says Majoras, who took a job as a receptionist in the D.C. office of Porter Wright and was soon promoted to paralegal. By then she was serious about law and applied to the University of Virginia School of Law. After graduating in 1989, she clerked for two years for Judge Stanley S. Harris of the U.S. District Court in the District of Columbia.
From there, she became an associate at Jones Day, working for two years in the Chicago office before going to the Cleveland office. She developed an expertise in antitrust law and, in 1999, became a partner in Jones Day's antitrust practice.
She was on her way to the firm's D.C. office when Jones Day colleague Charles A. James was tapped to be the assistant attorney general in charge of the Justice Department's Antitrust Division. He asked her to be his deputy.
But as soon as she took the post in the spring of 2001, she found herself taking on a major antitrust matter alone while her boss awaited Senate confirmation. The matter: convince top officials at the European Union that a proposed merger between General Electric Co. and Honeywell International Inc. was just fine from an antitrust standpoint. Though both companies were based in the United States, the EU had parallel jurisdiction because of the amount of business the companies did in Europe. Although the proposed merger was approved by U.S. authorities, it was blocked by Europe.
"It was huge," Majoras says. "It was the first time, and the only time since then, when the U.S. and the EU were truly at odds on what should happen." The EU and the U.S. had disagreed on antitrust issues in the past, but not with regard to a merger. In the end, GE walked away from the merger rather than continue to fight the EU.
That was Majoras' first test in government service; the next would come just two months later, at the end of September 2001. The antitrust trial of U.S. v. Microsoft Corp. had just been sent back down from the U.S. Court of Appeals, and the new judge in the case, Judge Colleen Kollar-Kotelly, ordered the Justice Department lawyers to immediately start negotiating a settlement; they were told they had five weeks to get it done, and if they had to work seven days a week, 24 hours a day, so be it.
Hearing that order, Majoras sat stunned. "I almost died when she said it," Majoras recalls. Not because this was a complicated, high-profile case. And not because it would be a tough negotiation with both sides deeply entrenched in their respective positions. What rattled Majoras most was the part about working all day, every day, for the next five weeks. She had had other plans: Her wedding was in six days.
From the distance of nearly a decade, Majoras tells that story with a hearty laugh. At the time, it was not so funny. Still, the wedding, to fellow attorney John Majoras of Jones Day, went off as scheduled and the settlement was reached by deadline. "Lawyers are good at multitasking," she says wryly.
"Debbie worked around the clock on that," says R. Hewitt Pate, now vice president and general counsel of Chevron Corp. Like Majoras, Pate was then a deputy assistant attorney general. "It was a pretty tough time, and she handled it in a very professional, graceful way. You never really saw Debbie under stress."
The settlement required Microsoft to share its application programming interfaces with third-party companies and provide full access to its systems and records for five years to ensure compliance. Microsoft's competitors thought a harsher penalty was in order. "They claimed this was a political sellout, and that we were pro-Microsoft and so they claimed we had gone easy on them," Majoras says.
She shrugs at the criticism. "Ultimately, the trial judge not only approved the settlement but praised it up one side and down the other," she says. "And the Court of Appeals affirmed it in a 6-0 decision, with three Republican appointees and three Democrat appointees. But that, of course, was not in the headlines."
The experience taught her that "you can't go around looking for good headlines," she says. "That's not what it's about."
Instead, to Majoras, it's integrity and loyalty that count. Pate confirms that. He was promoted over Majoras after their boss left the Justice Department. "After I got that job, instead of taking her ball and going home, she literally did the work of three people before others were appointed, and she helped me succeed."
Majoras is "incredibly tenacious," he says. "She cares a lot about whatever organization she's working with. She's a great advocate of whoever she's representing."
At P&G, Majoras and her staff work to earn consumers' trust. The financial crisis not only undermined people's faith in large institutions, it led to aggressive government regulations worldwide. "It's incredibly challenging. There's no shortage of work for us to do," she says. "It just means when there are more regulations to comply with, we just have to work harder.
"And we're happy to show, on a daily basis, that we can be trusted," she continues. "You know, we've been trusted for nearly 174 years and we really believe that the folks who buy our products really do trust in us for that."
One strong area of her focus is intellectual property, she says. "Particularly as a global company, we are dealing with very sophisticated counterfeiters of our products all around the world. Our shampoo, our diapers—what have you—there are a lot of fakes out there, and we're spending a lot of time battling those counterfeits." Her team works closely with governments to find counterfeiters, who have artfully crafted the fake products so that they're nearly indistinguishable from the real thing. "Unfortunately, people might get the alleged Gillette razor and blade home, try shaving with it and then start cutting themselves immediately because, in fact, the counterfeiters are not using our special technology," Majoras says. "Often it's not until later that consumers can figure this out."
The problem is exacerbated online, "where it's very easy for people to peddle these fake goods," she says. "So we're also working with companies in the online space to have them help us detect the frauds so that we can actually work together to squelch them."
"We can't let the commercial marketplace be overrun by frauds," Majoras says. "It's bad for our business and especially very bad for consumers because they're not getting what they thought they were paying for."
When she was in government, Majoras spent a lot of time speaking on the importance of markets to consumers. When she was contemplating her next move after the FTC, she thought: "Instead of talking about capitalism and business, I wanted to be part of it," she says. At P&G, she is, every day.
It wasn't hard to go from a law firm to the government and back to the private sector, Majoras says. "A lot of people look at it as you have to choose sides. I don't look at it that way." Law is about representing your client to the best of your ability, she says. "That's what makes the system work. And you can be in service to society and feel very good about what you do.
"It was really important to me to come to a company that shared the values that I had. Once I started talking to folks at Procter & Gamble, it felt very right to me, that this would be a great place. And I see the rightness of that decision on a daily basis. I feel very privileged."
Search attorney feature articles
Helpful links
Other featured articles
The many stories of former JAG officer Joel Collins would fill a book—and they do
Aida Macedo's search for the perfect practice
Five New Jersey solo acts on why they stepped out on their own
View more articles featuring lawyers
Find top lawyers with confidence
The Super Lawyers patented selection process is peer influenced and research driven, selecting the top 5% of attorneys to the Super Lawyers lists each year. We know lawyers and make it easy to connect with them.
Find a lawyer near you