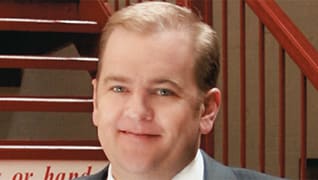 Photo by: Ty Bowling
The Kindly Counselor
Steve Hartman helps clients stay out of jail and rebuild their lives
Published in 2005 Ohio Rising Stars magazine
By Kevin Featherly on July 20, 2005
Steve Hartman was listlessly studying for an MBA, bored out of his skull. Then one day his father reminded Steve of his junior high dream of becoming a lawyer. Why not consider it? To the younger man, that prospect was gloomy; it would mean three extra years in school.
But Hartman's dad, Michael, kept pestering him. He offered at one point to hook up his son with an attorney he had once tried to retain during his divorce proceedings. Mostly to get his old man off his back, Hartman reluctantly agreed, and he soon found himself face-to-face over lunch with the respected Toledo trial attorney Rick Kerger.
"'So why do you want to be a lawyer?' were the first words out of the attorney's mouth," Hartman says, laughing. "'I don't even know why I'm here,'" he remembers thinking. "But I started talking to him." It was an eye-opening conversation. Hartman says within the hour he was resolved to become not only a lawyer, but a lawyer in Kerger's office. That realization, he says, "hit me like a ton of bricks."
By their third lunch date, Hartman began edging himself into Kerger's orbit, asking Kerger if he would consider hiring him as a clerk if he agreed to study law locally at the University of Toledo. "I said, 'I'll go even better than that,'" Kerger remembers. "'You graduate from law school, and I'll hire you as an associate.'"
Hartman's legal career path was thus locked in before he had cracked the cover of a single law school textbook.
Turns out, Kerger made a winning wager. In a brief, almost meteoric career, Steve Hartman, 34, who passed the Ohio bar in 2002, has proved himself one of the most capable young attorneys in northwestern Ohio.
He attained some notoriety defending Hana Yasmeen Ali, daughter of the champion boxer, after she was arrested for allegedly shoplifting at a Toledo mall in 2002. He got her charges dismissed because of her otherwise clean record, after which she promptly appeared on TV with Dr. Phil to talk about the case. Hartman got more ink while working for several third-party organizations in Ohio that demanded presidential vote recounts after Election '04. The case stalled (still pending), though Hartman insists that it and several other related Ohio suits will likely set an important legal precedent for the 2008 election. Hartman also saw some press as part of the defense in a federal racketeering case involving an illegal massage parlor operation.
"Prosecutors would call it a multistate RICO case involving massage parlors. I call it the case of some poor Korean woman trying to make a living," says John Czarnecki, a 30-year criminal defense lawyer for the Toledo firm Cooper & Walinski. Czarnecki worked with Hartman during the trial and has only good things to say about his experience. "He's a fine lawyer, and really, really a nice guy to work with," he says. "I think he could be a preeminent criminal lawyer, if he can stand it long enough."
Ted Rowen, a defense lawyer who litigates commercial, civil rights and employment discrimination cases for the Toledo firm Spengler Nathanson, has squared off against Hartman in court three times, with a fourth pending at the time of this writing. Rowen says part of what makes Hartman so effective is that he works above board, and never stomps on opponents' toes. Rowen, his firm's managing partner, says he wouldn't hesitate to hire Hartman at his own firm. "Steve is great to work with," Rowen says. "You know you can take his word to the bank. And as a result of that, it's a lot easier to work cases and get things done."
For Love of Justice
Hartman is a robust, sandy-haired man, with a hint of mischief in his eyes. He is unmarried, has no kids. He says his chocolate lab, Justice, is the love of his life. But it's more of a love triangle when you figure in Hartman's passion for lower-case justice. 
"One of the great things about being a lawyer," he notes, "is that you get the opportunity to help somebody in ways that nobody else can." Take the woman who got caught up in a federal indictment because her husband was a member of the Outlaws, the notorious biker gang. She was no member herself—no girls allowed. But during a criminal sting targeting the gang's Ohio chapter, a confidential informant lured the woman and her husband into a garage, where both were secretly filmed stripping down a stolen motorcycle that had been transported across state lines. In an effort to get the woman to flip on her husband for worse crimes, the feds indicted her.
"God, she was a pain in the ass," Hartman muses. "Eventually, I talked her into pleading guilty, and she changed her mind twice," he says. "I mean, we went to court so many times on this case." Still, compared to the hard-bitten criminals with whom she was indicted, she looked almost saintly, and Hartman thought he could guide her through the courts with no prison time. Meanwhile, she had another problem: drugs. When a mandatory urinalysis came up dirty a third time, the judge tossed her in jail. Up to then, Hartman says, the combative biker mama had tried to run the show, refusing suggestions of counsel. But once in jail, her ears opened up and she began cooperating. Hartman got her freed on the promise that she would remain off drugs, which she has. Ultimately, she was sentenced to probation. Today, the woman has turned her life around. And for Hartman, she's a source of immense pride.
"She's clean," he says. "She's dating a guy who has never done drugs. She has a relationship with her kids again. She's kind of a walking miracle. And I love it, because every couple of months she calls me, just to say hi."
Emotional Connection
For better or worse, Hartman admits, he tends to internalize client's plight. One of his earliest cases, he says, established the emotional tone of his career. It involved a hard-luck Vietnam vet who, at the age of 17, spent his tour of duty tagging and bagging soldiers' body parts, developing multiple addictions in the process of coping. Over the years, his life became a tangled mess. Finally, his girlfriend left him for someone she met on the Internet, and he started a downward spiral. One day he walked into a local bank and demanded money, then jumped onto his bike and fled. Six days later, having blown the loot on drugs, he went back and held up the same teller. This time he was quickly apprehended. It fell to Hartman to inform him that, because of a prior record, he was staring down a 15-year federal prison sentence.
"I've never seen anybody so hopeless in my life," Hartman says. "We're in this little room inside the jail and you could just see the life going out of his face. He had nothing." They talked for about an hour and a half, though little of the conversation focused on law. Eventually, it was time for the lawyer to leave. "The guy grabs me and gives me a hug and starts crying. It hit me in a way that not many things have," Hartman says. "As much as he needed a really good lawyer, he needed compassion from someone." That was the first time Hartman ever got so personally invested in a case. He began paying visits to the prisoner that far exceeded what would have been necessary to aid his defense. The man eventually received a four-year sentence. Today, Hartman displays on his wall a prayer his client wrote for him from his prison cell.
It's customary to warn counsel against personal involvement, and Hartman has heard the warnings, even from his boss. "He says, 'Be careful,'" Hartman says. "You have to be able to divorce yourself from it, and I am just learning to do that." For that matter, so is Kerger, a 35-year veteran lawyer. "You have to have the ability to care passionately and then throw the switch," Kerger says. "Except, I also can remember every one of my losses, and exactly what I did wrong. And will until I die."
But Kerger doesn't see emotional involvement as a particular problem for Hartman. There are too many other clients waiting in line, needing help. "If I have any difficulty in working with Steve," he says, "it's that I forget that he really is only a couple of years out of law school. There is stuff there that he really shouldn't be able to do, but I just assume that he can."
Friendly Persuasion
One of the things that, at this phase in his career, Hartman probably shouldn't be able to do is consistently ratchet down sentences for clients in federal court. But he has that knack; Czarnecki is among those who have noticed. "He's good with the guidelines," Czarnecki says. "They're anathema to most criminal lawyers because they force us to be accountants. But Steve is rare in that he understands and does very well with them."
One case in point involved a 74-year-old car dealer from Marion, Ohio, who got in trouble after he started financing cars more than once in order to generate cash flow for his struggling business. "Once you start doing that," Hartman says, "you've got to do it more and more in order to cover it. You've got to do today to cover what you did yesterday. And eventually it's a house of cards that's going to fall down. Well, it did, and he got indicted."
But the defendant, Hartman insists, was "the nicest man I've ever met," and he had the support of a large section of his community because of his prior charitable work and community involvement. But the grandfather was guilty, and the federal sentencing guidelines called for a prison sentence of 26 to 32 months. "There are very limited reasons that a judge can depart from that, but if you can get a judge to depart, they can depart as much as they want," Hartman says. "We put forth the best argument we could and the judge eventually gave him one day, credit for time served. And I walked him out."
Search attorney feature articles