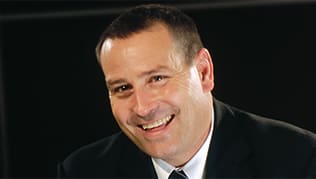 Photo by: Roharik Photographic
The Long Strange Trip of Mr. Silk
On his way to becoming a lawyer, Richard Silk stopped for rock stardom and the bass fishing circuit
Published in 2005 Ohio Rising Stars magazine
By Larry Rosen on July 20, 2005
Columbus trial lawyer Richard Silk Jr. can be forgiven if he reaches for the "road less traveled" cliché to describe his life. Though his original "Plan A" was law school, it's Silk's side trips that make him unique. After all, how many attorneys have been signed to the legendary Geffen record label? How many have toured the competitive bass fishing circuit?
Actually, it's not entirely accurate to call the law Silk's Plan A. Plan A was becoming a cowboy.
Rick Silk grew up in Plano, Texas, a suburb of Dallas. His family raised horses, so naturally he wanted to be a cowboy. By the time he entered Plano High School, though, the family had left the horse business, and Silk's childhood dreams were dashed. But he was a practical boy and soon arrived at a new Plan A. "I had a group of friends who had classes together — AP English, calculus, stuff like that. We sort of agreed that we would become attorneys," he says. Silk worked hard at school and at sports. He played football (Plano was a noted Texas football factory) and moved easily between social groups — "jocks, freaks, goat-ropers [cowboys]."
Before his senior year, Silk's parents split. Angry with his father, he quit football and played soccer and ran track instead. "I did it to spite my father and I've regretted it ever since," he says now. "Never make emotional decisions." The decision paid off in one way: following high school, Silk attended North Texas State on a track scholarship, hated it and transferred to Ohio State. Waiting for him in Columbus was his cousin Brad Circone, who was playing football at Wittenberg University.
His cousin was also playing guitar and hanging around with musicians. "I started hanging out with Brad and his friends," says Silk, "and before I knew it we were in a band." 
Who hasn't fantasized about being a rock star? Peel away the tailored suit of many an attorney and you will find a boy or girl playing air guitar in front of the mirror. Oddly enough, Richard Silk was not that way. In fact, as of 1982, his first year at Ohio State, Silk was basically a casual listener. "The one group I didn't hang around with in high school was the music people," he says.
Silk and Circone's band was called Nothing Yet. The band — aptly named, if you ask Silk — played originals, because, he says, "we weren't good enough to play covers." The first time they played live, at a community center on campus, Circone handled rhythm guitar and Silk took lead guitar, after a fashion. Silk says he was "so bad I had to have someone else tune my guitar." He had to rest during lengthy blues jams, because he'd only been playing for a year and hadn't yet built up the necessary strength in his fingers. Still, there was something there.
"I loved [playing in front of people]," says Silk. "I've always been sort of shy. Once I feel like I can trust [people] I open up. On stage you can be that person without having to get to know people. It was okay to be passionate and sort of silly." Silk and Circone approached music with a workmanlike attitude. Even so, it was some time before Silk realized that music could become more than a serious hobby. "It hadn't soaked in that I was heading down this road. At that point I still thought I was going to go to Notre Dame and be an attorney. By the time I was 40, I'd have already been practicing for 15 years … that whole thing."
Then Silk saw The Clash play a local show. Still full of anger and angst over his parents' divorce, Silk saw that rock 'n' roll could be about more than perfectly played licks. "The passion mattered more than whether or not the guitar was in tune. That really clicked. It was an epiphany."
This led to a decision to leave the "straight" world behind. In a short time, Silk and his cousin had both dropped out of school, gotten menial jobs and rented a rock 'n' roll crash pad. They practiced at his uncle's pinball machine warehouse. Silk and Circone added bassist Greg Bartram and, after a Spinal Tap-like succession of drummers, Brett Mayo. They began to play around Columbus, eventually branching out according to a sensible but ambitious schedule of goals drawn up by Silk and Circone. By 1987, their band, now called The Toll, was playing a circuit of 14 Midwest and Southeast states, wowing crowds with their stage show and drawing the attention of major record labels.
"We still worked," says Silk. "We didn't want to borrow money from our parents, because we'd made a decision to be independent and do this music thing. If we didn't have a gig for a couple of weeks, we would flip burgers or whatever, work for my uncle, just to keep it going." They were "good Midwestern boys," hard-working, a little shocked by some of the things they saw on the road.
As for The Toll, for their first few years of playing they had a band rule that no one could drink on gig days until after the show. "We were really serious," says Silk. "We thought, if we were going to walk away from school, the only way to justify it was to put 110 percent into it and not go at it willy-nilly. We wanted to get signed in the shortest amount of time."
Then, in 1987, they made some demos with Tim Butler of The Psychedelic Furs, whose Ohio-born wife took him to see the band at Bernie's Top of the Sears in Youngstown. Butler had connections to the Chrysalis label and got them interested in the band, which led to other labels' interest. Finally, Michael Rosenblatt, a hotshot A&R executive at massive Geffen Records, signed the band.
"Two nights before we were to be showcased by Geffen," Silk recalls, "Brad jumped off a balcony during a show in Pittsburgh." Circone usually improvised lyrics live, and put himself into "at least three dozen ERs as a result of his stage antics." This time Circone shattered his heel. The band finished the show, but Geffen cancelled the upcoming showcase, to be held in Columbus, even though the label had filled the local Hyatt with visiting music press. "Geffen simply didn't want the press to see The Toll without Brad at his best," says Silk. The label cringed at the idea of a seated Circone. In retrospect, says Silk now, the band "took a big hit as a result of the cancellation."
It is here that the story turns. Initially, The Toll was furnished with top-notch management, the finest studio production team and a fat touring budget. They played large venues and released their first album, "The Price of Progression." Eventually, the band landed on MTV, where their video was in breakout rotation for nine weeks.
Then Michael Rosenblatt left Geffen, leaving Silk and The Toll twisting in his wake. "Nobody wanted to be the guy who made Michael Rosenblatt's discovery big." If this weren't enough, the band's champion at Premier Talent died, leaving them without a voice at the booking agency.
"We [had been] touring in Europe. They [Geffen] wanted to release a schmaltzy ballad-like song from our record. We fought about it on a conference [call] for three hours. They won, of course."
The Toll went back into the studio. With their second album, "Sticks and Stones and Broken Bones," in the can, they were told by Geffen that their promotion budget was going to be used to break a little-known band from Seattle called Nirvana. "Good decision on their part," says Silk, dryly. The band soon found no one would take their phone calls.
1993 found The Toll back in Columbus, dazed. They had a third album to record, but for Rick Silk, rock 'n' roll was over. "I just couldn't take it anymore. We were still playing shows here and there, but I turned 30 and it started to bother me that we weren't getting over the hump." He left the band, left music completely, in fact. The remaining members of The Toll also decided to call it quits. There would be no "Hell Freezes Over" tour for The Toll.
Alone, 32, and halfway through his bachelor's degree, Silk got a job painting Hondas and returned to school, majoring in zoology. "I decided that I was going to get a master's degree in fish biology," he says, "to make me more marketable on the bass tournament trail." Silk was fishing during the day and painting Civics by night.
"It was conscious," says Silk of his unusual life change. "I had to get away, get out on the water and be introspective about where my life had ended up." By this time, Silk's mother had passed away, and his sisters were scattered across the United States. He was "somewhat estranged" from his father, who still lived in Texas. Though his mother and sisters had supported his music career, his father did not. "He thought I was wasting my time on a pipe dream." Fishing, however, was different. "Fishing is one of the things [my dad] taught me. We did it together. It fit with him."
Silk fished in regional tournaments, the bass minor leagues. Fishing life resembled rock 'n' roll life in that it involved travel, hotels and "eating once a day." Ultimately, Silk found that he couldn't throw himself into bass fishing the way he had rock 'n' roll. He was over 30 and he wanted, finally, to settle down. He wanted to get married and have kids, and of the woman he was dating, who later became his wife, Silk says, "I couldn't see her being on board with me being gone nine months out of the year fishing."
He had also become disillusioned with his graduate work. "I saw a lot of good fish biologists end up behind a desk," he says, "and I thought, 'If I'm going to end up behind a desk, I'm going to have to be more intellectually active.'"
Back to Plan A
Without doing any research, Silk took the LSAT and entered Ohio State Law School. He graduated early in 2000 and then took some time to go back and defend his master's thesis. That accomplished, he took the bar and was employed immediately at Reminger and Reminger. Now he wields a pen instead of a guitar or a fishing pole. The same focus and drive that helped The Toll sign a major label deal has made him a quick success as an attorney.
"I love [being a lawyer]," he says. "I really enjoy helping solve people's problems. It's sort of like getting up on stage. I have a long way to go before I'm confident about it, but there's nothing stagnant about being a trial lawyer."
Search attorney feature articles
Helpful links
Other featured articles
How Rita Bolt Barker tackled pandemic lawsuits to protect vulnerable communities
When Andrew Lindemann argued a 10th Amendment case before SCOTUS
Ruchi Kapoor fights for parental rights at the appellate level
View more articles featuring lawyers
Find top lawyers with confidence
The Super Lawyers patented selection process is peer influenced and research driven, selecting the top 5% of attorneys to the Super Lawyers lists each year. We know lawyers and make it easy to connect with them.
Find a lawyer near you