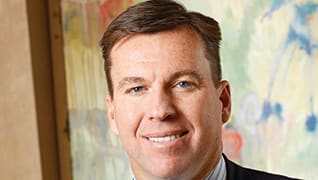 Photo by: Roger Mastroianni
The Real Deal
How personal injury attorney James Michael Kelley III outwits the experts
Published in 2013 Ohio Super Lawyers magazine
By Jim Walsh on December 17, 2012
In Sidney Lumet's 1982 courtroom drama The Verdict, Paul Newman plays Frank Galvin, a down-on-his-luck attorney who brings a medical malpractice suit against a Boston hospital. His client's family wants justice for the girl's comatose state due to the doctors' negligence. The fi lm's climactic summation scene continues to inspire attorneys of all stripes, including James "Jay" Michael Kelley III, who has handled medical malpractice cases for 20 years.
"You know, so much of the time we're just lost," Newman's character tells the jury, as the late afternoon sun drifts through the courtroom. "We say, 'Please, God, tell us what is right; tell us what is true.' And there is no justice: The rich win, the poor are powerless. … We doubt ourselves; we doubt our beliefs. We doubt our institutions. And we doubt the law."
He points at the jury; approaches the jury box.
"But today you are the law. You are the law. Not some book, not the lawyers, not a marble statue or the trappings of the court. See, those are just symbols of our desire to be just. They are, in fact, a prayer: a fervent and frightened prayer."
At the end, he slumps in his chair and the jury adjourns.
"I love that movie," says Kelley. "I do utilize it in a lot of my risk-management presentations, and I obviously utilize the scene where the nurse is told to alter the admittance form when talking about record-keeping. The movie has a lot of drama, but you do see the challenge that that family faced. You saw the effort put in by the character played by Paul Newman. So from our side, it's a feel-good story, because sometimes you do feel like you're tilting at windmills. You're going up against large institutions, large corporations, and a lot of people are intimidated by it."
The same has been said about going up against Kelley, who has earned his medical school-worthy chops by working almost 20 years on malpractice suits—eight years on the defense side and 10 on the plaintiff's side.
"Jay's intimidating because he always seems to come up with some argument or issue no one ever considered," says Thomas Kilbane, a Cleveland-based attorney who has tried cases with and against Kelley. "He has the innate ability to see and understand the issues that will appeal to a jury, the work ethic to know every detail intimately, and then the ability to present the case to the jury in a polished and creative way. His clients are lucky to have him."
In The Verdict, Newman's character ultimately wins the case, via old-school gumshoe detective work and a lot of luck.
But Paul Newman was an actor; Kelley is the real deal. The 44-year-old, who was born in Cleveland and attended law school in Akron, spent the fi rst two years of his career as a county prosecutor in the felony division in Summit County. Then he moved to the defense side at a fi rm that presented weekly panels of physicians, which forced him to study anatomy books and dive into the science that drives the cases. When an opportunity presented itself at Elk & Elk, a 45-year-old Ohio medical malpractice plaintiff's fi rm, he jumped at it.
"I was ready for a change, and I wanted to see what it was like on the other side," he says.
"What makes Jay so special as a trial attorney is his thorough mastery of the medicine and medical facts in the courtroom," says Gerald Todaro, a Columbus-based defense lawyer who has faced Kelley a handful of times. "The expert witnesses that square off against him learn soon enough that this lawyer knows more medicine than they do on the critical issues in the case. He is the poster child of what lawyers and judges respect in a plaintiff's lawyer."
Kelley is selective with his cases. The fact is that, most of the time, potential clients don't have a defensible claim. People come to him every day searching for answers, and oftentimes the ultimately most freeing one is "no."
"I would say we file, or pursue on the medical side, less than one out of a hundred inquiries that come into us," says Kelley. "I think that's one of the misconceptions that society has. But these cases are very expensive. They can range on the low side from $50,000 to a couple hundred thousand dollars to pursue, and it can take years.
"And if you don't have a meritorious position, no one is ever going to pay you, so you end up going backward: Your client goes through the emotional rollercoaster for nothing, and it's just a bad business model. We sometimes say that, when you work on contingency, it's better to have no cases than bad cases."
Kelley says that getting an answer, even if it's "no," can take away some of that animosity and angst that would-be clients may be feeling toward the medical providers. When he tells them they don't have a case, it provides closure.
"If we think they do have a case," he adds, "then they know that we're going to be aggressive." His focus is on birth-injury and neurologic-injury cases.
"When a parent enters the birth process," says Kelley, a father of four, "with all the hopes and the excitement of a healthy child, and the child comes out with injuries and defi cits, not only are you worried about what your child's needs might be, but all of the fears come: How are we going to afford to take care of the child; who's going to help after we as parents are gone; what treatments, if any, are available? They're kind of overwhelmed with this injury.
"People want to know: When did this happen, how did this happen, and why? But those cases tend to come with the largest emotional return on the job, simply because the level of need is so high and the cause so sympathetic. And with those cases, medically, you're looking at the obstetrical issue, the nursing issues, some of the pathologic issues; neuroradiology, pediatric neurology; and they become very complex and very scientifi c cases."
Kelley and his firm deal with neurologic injuries resulting from surgeries; wrongful death claims involving surgical, anesthetic or emergency room issues. A case that stands out is the 2005 lawsuit fi led by the DiTullio family against a hospital where Rylee DiTullio, who has cerebral palsy, was born. Her mother underwent a 33-minute cesarean section.
"There'd been some personnel changes in the room, and Rylee was born in extreme distress," says Kelley. " There were issues regarding her resuscitation." Kelley contended that Rylee's breathing tube was initially inserted into her stomach by mistake, instead of her airway. The jury awarded the family $9.8 million.
The good news is that Rylee, now 10, is doing well—thanks in no small part to Kelley's efforts. "What settlements do is, they don't fi x the problems, but they maximize the medical care and therapies that are available," says Kelley, who remains close to the DiTullio family. "The ability to perform activities of daily living become easier; the ability to transport the child, whether it be locally or on family trips. The resources make all of that more manageable. She's doing great, she's in school now, she's being mainstreamed."
In arguing the case, Kelley used 3-D graphics to demonstrate how an intubation could go wrong. "I think our job as lawyers is to make something complicated understandable," he says. "So we give them the visual, we give them the verbal, and then with the experts on top of that to provide the more detailed medical information—it's something that you have to build. I think that jurors are incredibly capable of understanding these complicated issues; you just have to realize some people learn by sight, some by sound, some need both; and you have to make it clearly understandable."
Kelley says he has tremendous respect for the medical fi eld, born in large part from working and interacting with health care workers. He cautions anyone who would pick sides—patient versus health care provider—to wait until the facts of an individual case come to light.
"The way that health care has gone, unfortunately, physicians and health care providers are doing more and more procedures in shorter periods of time because of reimbursements and some of the challenges they face, and the numbers of mistakes are going up," Kelley says. "I think that, because reimbursements have gone down—meaning how much they get paid by the insurance industry—I think there's pressure on them to do more procedures in less time.
"I think that the change in health care as an institution has moved more and more toward a business versus a profession, and that has increased the number of cases. That does not mean that the quality of individuals in the fi eld is down, but I think the system itself creates more opportunities for malpractice to occur."
Kelley is frustrated that people, in his estimation, don't take the long view of the health care situation.
"Unfortunately, health care has become a business and a political issue in what's truly supposed to be a relationship between a physician and a patient," he says. "It's supposed to be an equal relationship, but it's pitted them against each other."
Kelley agreed with the U.S. Supreme Court's decision last June to uphold as constitutional the individual health insurance mandate, the central provision of President Barack Obama's Affordable Care Act.
"On the actual merits of it, I obviously believe the law should have been upheld," says Kelley. "In my fi eld, I see people who, because of the high cost of medical care that they face to avoid further injuries, they almost certainly used to end up on Medicaid because they would spend through the lifetime limits even if they had private insurance.
"I saw family after family who, the only way they could provide medical care for their child was through Medicaid, and obviously that limits their ability to work and make money; [or] with pre-existing conditions, no one would hire them. I think that people don't realize that what that meant is that most of those individuals ended up being paid for by us, the taxpayers.
"I think taking away lifetime limits on insurance helps reduce the burden on the taxpayers, and for my individual clients it helps make certain that they can always fi nd proper insurance for their child, and it makes it easier for them to move from job to job. So those provisions of this health care law which I think are probably the most popular ones are really important to the people I represent, so I was very happy."
Kelley, a retired pickup basketball junkie, spends much of his time shuttling his kids to their basketball games, having dinner with his wife, and closely following the Cavaliers, Indians and Browns.
"I do consider it to be a privilege to represent people or families," he says. "This is truly a rewarding job. Unfortunately, I think a lot of people look at the practice of law as a problem rather than a solution. I think that's a political response, instead of a fair assessment of what most of us as practicing attorneys do—especially in this fi eld."
To that end, Kelley shares the same mission as Paul Newman's character in The Verdict. With one big difference.
"I hope I'm more stable than Paul Newman was," he says with a chuckle. "I'm more boring than that."
Search attorney feature articles