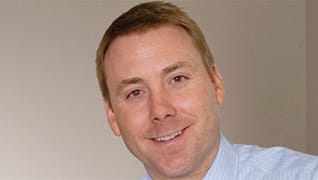 Photo by: Gary Kessler
The Root of the Problem
Brad Koffel's clients get a little bit more
Published in 2007 Ohio Rising Stars magazine
By Tami Kamin-Meyer on June 18, 2007
Brad Koffel's practice is all about eliminating repeat customers.
Don't get him wrong. He loves the personal connections with clients and the challenge of solving their legal problems. But, after their case is through, he'd prefer never to see them again.
Koffel defends clients charged with driving under the influence, and the Columbus attorney is well-versed in Breathalyzers, field sobriety testing and the intricacies of Ohio's drunken-driving laws. But Koffel is also interested in why his clients come to his office in the first place and, more importantly, how to keep them from returning.
If the client sitting across from Koffel fits one of his three high-risk categories—under 25 years old, has a prior DUI conviction or blew at least a .2 on a Breathalyzer exam—a condition of his continuing representation is that the client seek alcohol abuse assessment and counseling.
He maintains a list of mental health professionals, alcohol counselors, and both in- and outpatient campuses, all of whom he has met with or personally visited, to help his clients achieve sobriety and regain control of their lives.
Once his conditions are met, Koffel works quickly. His goal is to complete discovery within 30 days of being retained. He spends the next 60 to 90 days "lobbying on our client's behalf to achieve their goal," as he puts it. If those efforts fail, the case is reassessed to determine whether litigation or mitigation should be pursued.
Retaining Koffel doesn't come cheap. His ballpark fee for a first-time DUI defense ranges between $4,000 and $5,000. However, according to a father whose 17-year-old was charged with DUI in 2004, Koffel is worth every penny.
William Johnson (not his real name) was still sleeping in the early hours of a Sunday morning two years ago when an Upper Arlington police officer pulled his teenage son over for a curfew violation. William Jr. (also not his real name) was taken to the nearby police station, where he was permitted to call his parents. When his mother came to pick him up, she also gave police the authority to conduct a Breathalyzer exam on the minor, thinking she was acting in his best interests. Based on that test, the son was subsequently charged with DUI. After a few calls, a friend suggested hiring Brad Koffel. Johnson is glad he did.
"Brad was phenomenal in court. He didn't make the prosecutor look bad; he just beat him. He was well-prepared and knew exactly what he was doing," says Johnson.
The DUI charge was reduced to reckless operation of a motor vehicle. The defendant was ordered to pay a $300 fine plus court costs and had to participate in Teen Court, the first-time offender diversion program of the Franklin County Court of Common Pleas.
"Brad doesn't just care about winning or losing, but about the kids and the parents," Johnson says, adding that Koffel's insistence that his clients figure out the reasons for their overdrinking is what sets him apart from other attorneys.
Franklin County Municipal Judge Anne Taylor agrees. She calls Koffel's hands-on approach "comprehensive," noting that he excels in particularly difficult cases.
"There are a number of very capable practitioners who appear before me every week, but Brad is very up-to-date on new trends," she says. According to Taylor, "Brad Koffel is a good person to hire if you or a family member [is] in a serious substance abuse situation."
Koffel, an only child whose father died when he was 9, graduated from Miami University in 1990 with a political science degree. Faced with a dismal job market, he started thinking about his career and the college courses that had really interested him. "Those classes made me see [that] everything in life and the world is eventually tied together, like a giant quilt that is regulated by laws, morals, religion and economies," he says.
He enrolled in Capital University Law School and graduated in 1993. "Once I was in law school, I knew I had made the right choice," Koffel says.
During his second and third years of law school, Koffel clerked for Paul O. Scott, a well-known personal injury attorney in Columbus. "He taught me how to practice law and how to treat the judiciary and opposing counsels," says Koffel, whose law clerking duties prepared him for a career in personal injury work. However, he says, "Paul Scott scared me that [personal injury law] would be regulated away."
One sunny afternoon in May 1994, Koffel met with Mark Jump, his Sigma Chi fraternity brother from Miami University and former law school roommate. "I had been in the legal community for four years, one as a lawyer, and I was ready to go," Koffel says, recalling the meeting where the two decided to start their own firm, Koffel & Jump. "I was stupid enough to think that I could make it."
Within the first hour of their association, a friend referred a client to the newly minted partners. Within 30 days, and on a "shoestring budget," says Koffel, they placed an ad in a small neighborhood newspaper. The only DUI client Koffel gained from that ad proved to be not only wealthy, but also incredibly supportive of Koffel's efforts to learn more about DUI defense.
While researching the case against Lenny, his affluent new client, Koffel pulled his file at the Franklin County Courthouse. He discovered that Lenny, 33, had been pulled over for weaving on his motorcycle in the middle of the day. He was driving with a suspended license, had at least three prior DUIs and tested high on the blood-alcohol content test.
Koffel also learned where Lenny's riches (and perhaps his troubles) had come from: winning the Ohio Lottery at age 21.
"I got him 10 days in jail," says Koffel. "About a 66 percent sentencing reduction." Just why would a wealthy client hire such a fresh-faced lawyer? "If I had to guess," Koffel says, "it is because Lenny owed his former lawyers money."
But Lenny turned out to be the perfect client for Koffel at the perfect time.
"DUI defense was a budding area of the law then," he says. Koffel traveled around the country, immersing himself in the study of DUI defense, mostly funded by his wealthy client's legal fees. For example, he flew to Las Vegas to attend the first-ever Minnesota Lawyers for Criminal Justice seminar and to Atlanta to undergo Field Sobriety Training.
Koffel became one of the first lawyers in the country to be certified in field sobriety testing by the U.S. government and was also one of the first to be certified in the Data Master, Ohio's main breath-testing machine. "In less than one year, I felt like I had earned over 100 hours of CLE, all in DUI defense," he says.
In 1996, Koffel gave a career-changing speech to the Central Ohio Association of Criminal Defense Lawyers. "Lawyers thought I was the DUI guru because I was talking about things no one knew."
His first boss in the legal community isn't surprised by Koffel's success. "He's simply that good." Koffel is a lawyer with "impeccable integrity," Scott says, and he's also a charmer.
"Not only did our clients like him, many fell in love with him," Scott says. "He received numerous calls from many of our female clients."
Opposing counsel may not feel quite that strongly, but at least one has a good opinion of the man. Kyle Rohrer, an assistant city prosecutor in neighboring Delaware, Ohio, calls Koffel "nothing but a gentleman."
According to Rohrer, Koffel's care for his clients doesn't end with exoneration. "It's unusual not to focus only on the 'not guilty,'" Rohrer says, "but he does that."
Even with all of Koffel's training in DUI defense, he still hasn't found a satisfactory reason behind society's problem with drunken driving. But he hasn't stopped pondering the question.
As he ages, spirituality has begun to play an integral role in his life, and Koffel suspects that many of his clients' problems are due to "a lack of direction and subsequent guilt."
"I know that addiction and abuse recovery are rooted in spirituality and higher powers," he says. "I am also interested in why Americans are so depressed. … Americans have generated more wealth since World War II than the rest of the world's civilizations combined.
"So why are so many Americans unhappy? My practice is tied to that paradox."
Search attorney feature articles