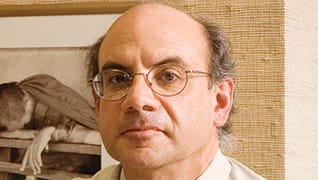 Photo by: Gary Kessler
The Scioto Redemption
Alphonse Gerhardstein helps protect Ohio's youngest prisoners
For Alphonse A. Gerhardstein, practicing law means amplifying society's least powerful voices. In his 31-year career, he has fought for equal rights for minorities, lobbied for women to have full access to abortion services and helped people with disabilities get a fair shake in jobs and schools.
But the 56-year-old's work on behalf of prisoners-particularly the youngest in the system-could become his crowning achievement. As of this magazine's printing, Gerhardstein, of Cincinnati-based Gerhardstein & Branch, was awaiting the outcome of a landmark report that could spark a positive turnaround for Ohio's juvenile corrections system. It's all based on his innovative philosophy of working in collaboration with state institutions to identify and solve system-wide problems.
The problem Gerhardstein and others are tackling is the Ohio Department of Youth Services' treatment of some 1,800 juvenile inmates housed in facilities across the state. A class action lawsuit on behalf of the young prisoners claimed they are "subject to abusive, inhumane, and illegal conditions, policies, and practices." The suit covers a range of conditions at the juvenile correction facilities, from inadequate recreation to physical and sexual abuse by corrections officers.
Other lawyers go for the expensive "slash and burn" approach with these types of cases, meaning high-priced experts, multiple depositions and protracted court battles. "In the end, you still have to hammer out the conditions of incarceration," says Gerhardstein.
His approach to this case is different. He uses a collaborative investigation model to identify problems and recommend solutions, all while saving the state time-and potentially millions of dollars. "The goal is not a lawsuit," he says. "The goal is to solve the underlying problem."
Gerhardstein, who has dedicated much of his career to prison reform, got involved with the case in early 2007. But others had been going after the ODYS for years-with little progress. Back in 2004, the Children's Law Center took on an American Bar Association project to assess indigent defense for juveniles in Ohio. The center's executive director, Kim Brooks Tandy, and others saw that conditions in the system were deteriorating, especially for girls at the Scioto Juvenile Correction Facility, where inmates told of sexual assault, beatings and improper medical care. The center, along with attorneys Jennifer Kinsley of Cincinnati-based Sirkin Pinales & Schwartz and Maria Ramiu of the California-based Youth Law Center, filed suit against the state.
Tandy says the suit languished for two years while the state considered settling and the U.S. Department of Justice investigated. As different parties tried to coordinate efforts, the case dragged on with minimal system improvements and eventually deadlocked. In early 2007, Tandy joined forces with Gerhardstein "to amend the original complaint into a system-wide action, and bring reform from the top down."
At that time, Gerhardstein saw an opportunity to improve conditions throughout the ODYS system-with support from the Ohio Justice and Policy Center. After the 2006 election, Ohio was under new leadership and had a political climate more receptive to prison reform.
"Al's genius was to seize a moment and help everybody see how it was an opportunity to make significant improvement in the system from the ground up," says Janet Moore, staff attorney and director of the Race and Justice Project at the Ohio Justice & Policy Center.
Gerhardstein created the nonprofit Ohio Justice & Policy Center (originally called the Prisoner Rights Advocacy Center) in 1997 in response to new federal legislation that capped legal fees for prison-related cases. Through the center, he and other attorneys can afford to represent prisoners and fight for their civil rights. The center also offers the Second Chance Community Legal Clinic to help former offenders avoid re-incarceration, along with the Constitutional Litigation Clinic and Indigent Defense Clinic for local law school students.
The Ohio Justice & Policy Center is "the only game in town" when it comes to fighting for reform of Ohio's justice system, Moore says. "Nobody else is handling these kinds of sex-offender cases, tackling the impact of race. Nobody is as systematic with re-entry reform."
"It's a tremendous legacy" for Gerhardstein, Moore says. "There's not enough that can be said for what this center means for people at the bottom of the heap."
The originators of the juvenile prison reform suit, Tandy and Kinsley, both agree that Gerhardstein's (and the Ohio Justice & Policy Center's) involvement was a huge asset.
"We're thrilled to have his involvement and expertise," Tandy says. "He has a great mind for systemic type of reform. He's a master at negotiating and developing and getting strategic plans in place."
Adds Kinsley: "The case was fairly limited in scope when we started" because the lawyers didn't have the resources to take on the statewide juvenile corrections system. "Al brought instant credibility. He has quite a reputation within the government, where people are well aware of who he is and what he brings to the table.
"We'd been saying things for years. But when Al says them, people actually listen," she says.
Gerhardstein's plan was to get both sides to admit they had a problem, then agree to a team that would thoroughly investigate the matter and report its findings. Once the state and the attorneys saw the report, they would try to hammer out a plan of action.
"We all know there are serious problems, and that we need to deliver adequate services to juveniles," Gerhardstein says. There's a "shared commitment from the governor on down," he says. "The director, governor, and attorney general all want to do the right thing." Trust, he adds, is a key component to approaching a case this way.
According to Fred Cohen, the court-appointed fact finder for the case, Gerhardstein and Ohio Assistant Attorney General Joseph Mancini "both agreed to be bound to my recommendation. That takes a lot of trust."
With Cohen as the seasoned legal veteran at the helm, the two sides assembled a strong team of experts to execute a fact-finding mission. They headed out in the field throughout the summer and fall of 2007, observing conditions at all 9 ODYS facilities and interviewing children, their parents and staff. "This team is just phenomenal in terms of credentials," Gerhardstein says.
It consists of 11 experts in education, sex-offender treatment, mental health, use of force/isolation and general conditions and procedures, with Cohen as their point person. "Everyone is just really high-class," Cohen says.
The team was due to issue a report in December 2007, detailing the facts they found during the investigation. "We all look at this work as an accurate snapshot of what we're dealing with," Gerhardstein says. Following the report, the two sides will come together to talk. "We will lock ourselves in a room and hammer out a comprehensive solution," he says. "I think it shows lawyers can be efficient. We get a bad rap for not solving problems."
This isn't the first time Gerhardstein has used such a model to tackle statewide problems within the prison system. He sued the state in 1993 because of poor mental health care for adult prisoners. He asked Cohen to assemble a team, investigate problems and make recommendations.
"We established a relationship of trust and decided to handle this litigation in a non-adversarial way," which saved money, time, and aggravation, Cohen says. "It led to broad-based reform-Ohio is a leader in mental health now."
Gerhardstein pulled together a similar team in 2003 regarding physical health care for prisoners. He brought in Cohen, got a team together and worked toward a collaborative agreement. That case's settlement is now being successfully implemented, Gerhardstein says. In both cases, "Most of the money went toward solving the problem. And we spent most of the time figuring out what to do about it."
Adds Cohen: "We have created a way of resolving litigation in prisons that has not been emulated anywhere. What we're doing is saving millions and millions of dollars in pretrial discovery costs."
Gerhardstein's desire to fight for the rights of others started early in life. His father, a chicken farmer for an agricultural corporation in northern Ohio, was fired in his late 50s without receiving the pension he was promised. "I got a rude education about how business and people with power can be," he says. "It was a lesson in how institutions can have no memory and don't deserve loyalty."
As a young man "glued" to the televised Watergate hearings, "I saw government as a place where power gets abused."
Gerhardstein earned his bachelor of arts in government at Beloit College in Wisconsin in 1973. With a public interest law scholarship paying his tuition, he earned his J.D. at New York University School of Law in 1976. With no law school debts to pay, he was able to spend two years with the Legal Aid Society of Cincinnati. Then he opened his private practice, focusing on civil rights.
As a fighter for social justice, Moore says, "you get your teeth kicked in a lot. But Al keeps popping back up. His energy, passion, and intelligence are awe-inspiring." He also has a "tremendous sense of humor," which Moore says comes in handy when fighting uphill battles for civil rights.
Kinsley, who has faced Gerhardstein as opposing counsel in the past, says he is "a pleasure to work with on both sides of the table. He's very diligent and gets things done like nobody else."
Cohen describes Gerhardstein as "extremely bright, principled, honorable, hard-working. … He's a hard-nosed litigator and single-minded, but knows when to put down the sword and say, 'Let's talk.'
"Lawyers like Al are omni-competent," Cohen adds. "He can do a lot of things well because he's trained well and devoted to the cause. … He's not just about damages. This is a man trying to change a system."
Search attorney feature articles