A Woman in a Room Full of Men
Is intellectual property law a boys' club? Ask Tulsa's Rachel Blue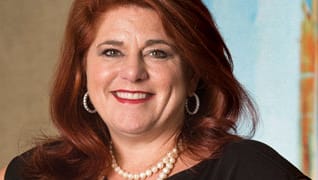 Published in 2013 Oklahoma Super Lawyers magazine
By Emily White on October 14, 2013
Q: How did you start out?
A: I grew up in Tulsa and I went to the University of Mississippi for a year, but then I found that I did not have enough blond hair. I went to Texas and finished undergrad at Texas. Got out a year early, came back to Tulsa, decided I didn't want to go to grad school and worked for a lawyer instead. He offered to pay for law school if I would stay here and work for him while I was in law school. I did that and I went to the University of Tulsa for law school and [after graduating in 1988] I went out to D.C. and worked at the trademark office for about eight years.
[The D.C. job] actually starts with a funny story. It is not a way that I would recommend people get a job. My parents, as a gift, bought me a plane ticket to go out and see an old college friend who lived in D.C. at the time.
While I was there, I called a friend that I had gone to law school with. And he said, "Let me take you out for a drink. I'm working at the Patent and Trademark Office. They're hiring people. Would you like an interview?" I had already secured a job in Kansas City, but I thought, "It wouldn't hurt to just go and kind of see what that looks like." So I did.
The day that I went was a beautiful day in Washington. It was October. I was not in the mood to go to a job interview and listen to some, what I thought would be, government drone asking me where I wanted to be in five years.
The guy says, "I hear you want to be a trademark attorney." I'd never even heard about trademark law, and before I could stop myself, I said, "Ever since I was a toddler." Then I realized I said that out loud. Fortunately he thought it was funny, and I wound up getting hired.
It was a pretty exciting time for a girl from Tulsa, Oklahoma.
Q: What was it like to be a woman in your field at that time?
A: I was probably in the wave where it was starting to even out a little bit. Maybe 60-40 men to women.
Yet intellectual property in particular tends to be heavily dominated, especially in this part of the country, by patent lawyers and most of them are engineers.
I remember my first few times that I went to the Oklahoma Bar Association intellectual property section meetings. We had 120 people in a section. There would almost never be more than 10 women in the room, tops. Most of the time when you were there, some guy's wife would walk up to you and say, "Now who are you married to?"
Q: One of your most widely covered cases was the Old Glory condom case, where you were arguing against the American flag being used as an image on a condom. How did that case come about?
A: That case is still in the textbooks. I argued that case back in '92.
You see, when you're a trademark examiner, basically you pull files in groups off of the shelves, and your job is to examine those and decide whether or not you're going to grant a trademark. That [one] was in my group of files.
People were outraged by it. It doesn't matter what you or I think about it. That's immaterial. I may have a more sophisticated view of it. Or because I'm from Oklahoma, I might have a more conservative view. Would a lot of people be offended by it? That was supposed to be the standard of proof, but the difficulty with a case like that, as an examining attorney, is you don't have any way to gather that evidence. It's almost an impossible standard to ask an examiner to enforce.
What I had to do in that case was look at how different incidents involving flag burning or flag desecration had been treated and levels of outrage that they generate. Because that flag burning case [Texas v. Johnson] had been fairly recent, that was a useful one. You have to argue by analogy. There's nothing else you can do, really.
It was my first oral argument. Nobody ever goes to those. You go in before the three judges and you make your argument, and that's the end of it. [But on this day] the hearing room was packed and the only seat left was mine.
I was really nervous because my opponent was the guy who had argued the flag burning case in front of the Supreme Court, David Cole, and he's a very famous lawyer. I was just in shock. I think I did fine. There were several reporters in the room, and a couple of them came up to me afterward. One was from The Gay Blade and the other one was from The Washington Post. I just sort of laughed because typically they wouldn't let their examiners make public comments or anything, but I had already been interviewed about the case a couple of times and I had gotten some special permission to talk to the press.
I'm talking to the reporter and I said, "This isn't really going to be in the paper, is it?" She sort of laughed and she said, "It depends. If it's a slow news day, it might make the metro section."
The next day I went to buy the paper, and I flipped it over on the counter and I was on the front page. I was below the fold, but I was on the front page. I called my mother from my office and I said, "I am on the front page of The Washington Post," and she goes, "Are you sleeping with the senator?"
It was right about the time that Clinton got elected. There was an interesting dynamic going on at the trademark office because the commissioner who sits as an ex officio member of the judicial body that decides these cases is a political appointee.
[Ultimately,] they made me re-brief it a second time and then the decision came out after Clinton was elected, and the board made a very convoluted ruling that has been widely criticized.
Q: When did you return to Tulsa?
A: 1995. I was 32. I loved being an examiner, but after a while, the job is not that challenging. I felt like I'd learned pretty much all I was going to learn there. I started looking around to go into private practice. …  This was the time of the fabled 80-hour work week. In Tulsa there is no such thing.
Q: Was there plenty of work in the field of intellectual property in Tulsa?
A: Actually, yes. I had a case that took 10 years, for Phoenix Software. The initial case was at the U.S. Trademark Office. My client had a trademark for the word  "condor." Then, a few years later, the University of Wisconsin applied for the Condor trademark for computer software, and they were granted it.
What the University of Wisconsin trademarked was data management software that allows you to run certain programs in the background—a shared computing resource. All of the computers at the University of Wisconsin work on taking some piece of data and analyzing it while other applications are running.
Our clients said, "We do some of those same things and this isn't OK." You can't separate anymore the idea that this is software for a PC versus a mainframe system.
But at that time the University of Wisconsin said, "No, yours only runs on a mainframe." Our client wasn't having any of that.
Those distinctions have disappeared now.
Q: During the 10 years of the trial, a technological revolution took place.
A: Yes. By the time that we were finished, what my client said [about the Condor trademark] at the offset of the case was even more true. [After 10 years, the University of Wisconsin changed the name to HTCondor.]
Q: Outside of your field of practice, I understand you are involved in adoption issues.
A: My husband is also a lawyer, and we advise couples about adoption. We adopted our child in 2005. We learned that was how we were going to need to form our family if we were going to have one, so we went to Catholic Charities and we waited precisely nine months.
There's nothing like being plunged into parenthood. I got a call on Monday. Then we met the birth mother on Tuesday. He was born on Wednesday. I was in the delivery room. We took him home on Friday and woke up in the middle of the night when we heard him crying, thinking, "Oh my gosh, that's ours."
Our son is Cherokee and we are not Native American. Oklahoma is the only state where the Indian Child Welfare Act applies to both voluntary and involuntary adoptions.
We didn't know until he was 10 weeks old and had been home with us the entire time that he was Cherokee. It was never our intent to defraud the tribe or not to give notice properly, but we simply didn't know. We couldn't find the father.
Q: So it was an open adoption with the mother, but she was not Native American?
A: She's not Cherokee, but the father was Cherokee. Once we finally found the father, the adoption agency asked him if he was Native American and he said, "Yes, I'm Cherokee." At that point, you have to give notice [to the tribe].
We respect that part of his heritage. We've enrolled him in the tribe and we make a lot of effort to let him understand that part of his background. We try to keep in touch with his birth father's family, and we see his birth mother's family about every six weeks.
There's a lot of emotional content that has to be sorted through when you're going through that process both from the adopted parent's standpoint and from the birth parent's standpoint.
Because of the geography and the development of our statehood, almost everybody out here has somebody in their family who's got Indian blood. Because we're the only state where ICWA applies whether the adoption is voluntary or not, it's always going to come up.
Q: Talk about your own upbringing.
A: I grew up in an area called Woody Crest. My mother was a nurse for more than 35 years at a local hospital, and my dad had two careers. He was a salesman for many years. He sold all sorts of different things. He sold real estate. He sold cars. He sold computer equipment at one point. He sold hearing aids. He was one of those guys. He was always a good salesman. That summer I went to Washington, he started to work for Southwest Airlines. My father's a real handsome guy. He looks like Clint Eastwood. He ended his career as a flight attendant. He and my mother would take off and go have lunch in Las Vegas or something. They've been married for 52 years.
My sister is an investigator for the medical examiner's office. She literally goes out and photographs dead bodies. She carries crime scene tape in her purse.
This interview has been condensed.
Search attorney feature articles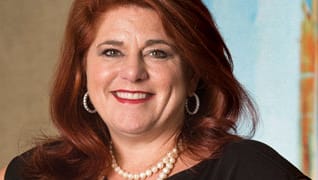 Featured lawyers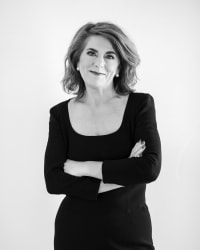 Top rated Intellectual Property lawyer
McAfee & Taft A Professional Corporation
Tulsa, OK
Helpful links
Other featured articles
Jeff Anderson on law school, legal tactics and his ultimate goal—deposing Pope Benedict XVI
St. Louis attorneys tell their stories of immigrating to the U.S.
Taking a ride through Divorce Land with family law attorney Susan E. Cohen
View more articles featuring lawyers
Find top lawyers with confidence
The Super Lawyers patented selection process is peer influenced and research driven, selecting the top 5% of attorneys to the Super Lawyers lists each year. We know lawyers and make it easy to connect with them.
Find a lawyer near you