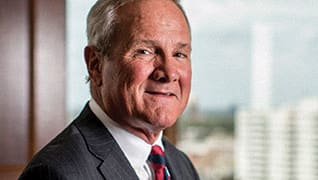 Photo by: Shane Bevel
He Loves to Argue, Period.
The many trials (and few tribulations) of George Corbyn
Published in 2016 Oklahoma Super Lawyers magazine
By Nancy Henderson on October 10, 2016
George Corbyn was working as a Legal Aid intern after completing his freshman year at the University of Oklahoma College of Law, when he defended a client accused of beating his neighbor's dog to death with a shovel. 
At one point in the 1971 misdemeanor trial—Corbyn's first—the nervous lawyer-in-training glanced up to see the judge staring intently at him. Instinctively, Corbyn stood up and objected to the prosecutor's question. 
"I had absolutely no idea what I was objecting to," admits the founding partner at Corbyn Hampton Barghols Pierce in Oklahoma City. "Whatever it was, I had the good sense to know the judge was telling me to do something." 
Ultimately, recalls Corbyn, who now specializes in business litigation, "I developed some sort of a story from the facts and sold it to the jury, and they liked it. And we got an acquittal."
Forty-five years later, Corbyn, 68, is widely known as one of the most formidable bet-the-company trial lawyers in the state, with well-honed storytelling skills and a courtroom charisma that persuades jurors and judges. He has wrangled multimillion-dollar plaintiff's verdicts for commercial disputes, and successfully defended public and private companies; government agencies; and individuals in complex oil and gas, securities and professional malpractice issues. 
"If I had to choose one word to describe him, it would be 'intense,'" says Murray Abowitz, a friend of Corbyn's and founding partner at Abowitz, Timberlake & Dahnke in Oklahoma City. "He is on point, always focused. He has all the arguments—pros and cons—prepared, and he is on top of the case, no surprises. Everybody regards him as among the best."
Corbyn's competitive spirit began as a teenager, serving as captain of the Casady high school football and basketball teams. His mom sold clothes; his dad insurance; and his younger sister, Lisa, who recently retired as director general of the New South Wales Environment Protection Authority in Sydney, Australia, loved a good athletic contest as much as he did. 
His great-grand-uncle and family patriarch Ole Johnson, who immigrated to the U.S. from Sweden in the late 19th century, set up a transactional law practice that grew into Crowe & Dunlevy, one of the largest firms in OKC. Johnson passed away in the '50s, when Corbyn was just a boy, but not before inadvertently nudging his great-grand-nephew in the same direction. 
Fascinated by his ancestor's career, Perry Mason and To Kill a Mockingbird, Corbyn earned a political science degree at Stanford University. He assumed his ROTC experience and the draft would send him to Vietnam and that, if he survived the war, he'd go to law school. To his relief, in the summer of 1969, the Army deemed him unfit for service due to a knee injury from football.
In 1973, Corbyn joined Berry & Berry and began building a reputation as a no-nonsense trial lawyer with a string of highly publicized criminal cases. In an early one, he defended a former nun who became pregnant while having an affair with a married professor at a small junior college in South Dakota. One day after the professor moved to Stillwater, Oklahoma, his wife opened a shoebox-sized package wrapped in brown paper with no return address, and it exploded, burning her chest and arms. Despite a solid alibi that placed Corbyn's client far from the post office from which the package had been mailed on that particular day, the jury convicted her. 
Even so, says Corbyn, "It was a really remarkable professional experience. I never will forget the headlines in the paper, just big black print: 'BOMB LOVER FOUND GUILTY.'"
In the mid-'80s, Corbyn represented the former head of a hospital outpatient office who allegedly embezzled $200,000. While preparing for the two-week trial, Corbyn concluded the office was a wreck, from an accounting standpoint. "It had a bad computer system. It was losing money, and the hospital was trying to use my client as a scapegoat to collect some money from a fidelity bond to shore up the financial losses. We had some hospital executives actually destroying some records out of her office that would have helped her prove her innocence." 
Maneuvering the intricacies of the case and the surliness of a "crusty old judge"—"if you got through a trial with him, alive, it was a good deal," Corbyn says—he persuaded the jury and won an acquittal for his client.
After working at a couple of small firms, Corbyn and a handful of other young trial lawyers founded their own firm in 1983. By then, he had begun handling business litigation matters more frequently than criminal cases. "I view business litigation as a more complicated set of facts than, for instance, personal injury or insurance defense, or even medical malpractice," he says. "So I think I consciously chose to try my hand at that." 
Corbyn still thrives on unearthing the theme of a case, no matter how deeply buried. "There are always two sides to a story," he says. "The jury's got to decide what the truth is, but I think I'm pretty good at figuring out a story from a complex set of facts that makes common sense. And then I'm pretty good at selling that story to a jury."
In 2010, Corbyn and a co-counsel sued a Texas bank for fraud on behalf of a wealthy Florida family, who sold their savings and loans. The lawyers argued that the bank not only actively concealed the fact that its client could have claimed millions of dollars in tax benefits from the sale, but that it illegally kept the benefits. After four weeks of a federal jury trial, Corbyn won a $17 million verdict that was later affirmed on appeal.
One reason he's so good at what he does, according to Robert Nelson—senior partner at Nelson, Terry, Morton, DeWitt and Paruolo in OKC, who has known Corbyn since the late '80s—is he's a great communicator. The two lawyers have represented co-defendants together a half-dozen times, and Corbyn often calls Nelson with questions about strategy, jury selection or legal nuances. 
"The funny thing about George is that, invariably, when I start giving him my advice, he tells me why I'm wrong," Nelson says with a laugh. "We usually end up in an argument as to the best direction, and I generally hang up after he's convinced me, or tried to convince me, that I was wrong to start with. I've often wondered how many people he calls and asks for advice and then tells 'em they're wrong."
Corbyn is also known as a lawyer's lawyer who has extricated many attorneys from their own legal jams. "I love representing lawyers, and I think they're appreciative," he says. "I may, by the time I die, have represented most of the lawyers in Oklahoma City. I mean, I've got guys who are fairly well respected in the city, and I'll bump into them in the courtroom and they'll go, 'Well, there's my lawyer.' It's like they don't mind telling somebody they got sued for malpractice and Corbyn defended them."
Corbyn can come across as "aggressive and kind of scary … like a bulldog that won't let go," says Nelson. "But he has a great sense of humor and we make fun of each other constantly." 
"I don't take myself too seriously. I like to poke fun at myself," says Corbyn, who often interjects a self-effacing comment or two in court. "A trial's serious, but there are always moments where laughter doesn't hurt anything." Take, for example, a case he tried last year before a stoic state judge. Cross-examining an expert for the other side in staccato, rapid-fire fashion, Corbyn knew he had the witness "on the ropes" when the man asked him to restate a question. Instead of pouncing, Corbyn replied, "Do you think I have any idea whatsoever what that last question was?" "The jurors broke out [in laughter]," Corbyn says. "The judge even laughed."
In spite of his high-value successes, the case Corbyn considers his most meaningful is an ongoing pro bono matter through the nonprofit Oklahoma Lawyers for Children. For 12 years, he has represented four sisters who were abused in multiple ways when they were very young. He has secured termination of parental rights for three of them—freeing them up for adoption—and is still advocating for the last. "I've gotten some acquittals where I've kept people out of the pokey, but as far as how their lives are going to turn out, that's probably the most important thing I've ever done," Corbyn says. "These girls would probably have been dead if they hadn't gotten out of the situation they were in."
Away from court, Corbyn loves to talk shop with his wife Laura, a respected family law partner at Hartzog Conger Cason & Neville. "They say that Corbyn's either stupid or he's got too much self-confidence marrying the best divorce lawyer in Oklahoma City," he jokes. "I love being married to a trial lawyer because she knows what it's like. When I'm in trial, she takes care of me; and when she's in trial, I take care of her."
After 45 years, Corbyn is still passionate about his career and loves to argue, period. 
"I love trials. I like to be in trial. I like to talk about trials. I like to hear about trials," he says. "A lot of my contemporaries are talking about retiring, and I really can't see [me] doing that. I like this too much. … The more I do, the more I like them—win, lose or draw." 
Search attorney feature articles