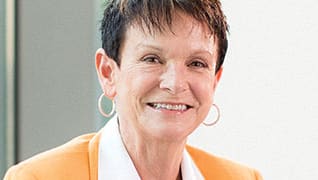 Photo by: Shane Bevel
Practicing Peace
For environmental lawyer and guardian ad litem LeAnne Burnett, it's not about competition; it's about relationships
Published in 2015 Oklahoma Super Lawyers magazine
By RJ Smith on October 6, 2015
LeAnne Burnett is sitting on the floor, not poring over Superfund case notes or reading the latest headlines on fracking—a big deal in her part of the country—but instead, playing Legos with a 9-year-old boy.
She'd been appointed to represent the child as guardian ad litem in a case involving a custodial parent with substance abuse problems—something she unfortunately knows something about. She was trying to gain his trust. They talked about school and dogs, and then Burnett mentioned how she remembered her dad coming home after he'd had too much whiskey; how he would act "kinda scary and angry."
When he came home, she told the boy, she could tell what kind of day it would be because of—
"The smell," the boy interjected. They were quiet for a minute, and then he asked, "Where did you hide?"
Serving as a guardian ad litem is a far cry from her environmental practice, but as a woman who raised six children on a farm and fostered many others, it's a natural.
The work started after a domestic docket judge observed Burnett's volunteer efforts for Oklahoma Lawyers for Children. She called her one Saturday morning and asked her to act as guardian ad litem for children whose parents were both lawyers. "I got personal insight that when folks in such situations are angry or upset, they may direct that anger at me, but it isn't about me," she says. "It's usually about that person's own fear that he or she will lose something they have or fail to get something they want. In the domestic docket, that something is time with their children, so it's very close to their hearts." 
Her ability to make bad family situations better is now so well-known that judges will request her by name, particularly in cases involving parents with significant mental illness or substance abuse.
Chris Deason, who practices family law at Hester Schem Hester & Deason Law in Edmond, remembers the day she met Burnett. "The judge crammed her down my throat," Deason says. "I told him, 'She doesn't know anything about this!'" But that impression didn't last long.
"She treats [being a guardian ad litem] like litigation—she does the work," Deason says. "She gets the medical records, does everything as if she's litigating on behalf of these kids. But the beauty of it is, in the meantime, she is working with the parents. She's getting them the resources they need and the help they need. It's like she wants the whole organism to be well. She wants everybody to receive the help that they need so that her clients are best helped."
Her co-workers put it this way: LeAnne is a healer.
"What that means to me is that the role of the lawyer is to recognize that the client, either an individual or a corporate client, may have an ongoing relationship past the lawsuit," Burnett says. "So have a larger perspective."
In a grainy photo from 1965, the seven finalists from the Miss Teenage America pageant huddle together. Among them is Burnett, who represented Tulsa in a striped sweater with her hair swept back in what could be called a modified Funicello. The group looks ready to harmonize on "What the World Needs Now is Love." It's amusing to her today.
"I think [my pursuit of beauty contests] had something to do with the fact that when I was growing up, I played softball, I swam, I was highly competitive," Burnett says. "But Title IX had not been passed, and the competitive part of me headed into the direction that was available at that point."
She did some modeling, and soon married John Burnett, whose family ran a business that made soap and cleaning products for the food industry. She followed her new husband to Tulsa, where he took over the family business.
The couple lived on a farm called Stoney End, where together they raised six children. They also opened their door to foster children, usually kids transitioning back to living with their family after having been placed in state custody. By the time they had their sixth biological child, Oklahoma state law said the couple had maxed out and could no longer be foster parents, which was disheartening to Burnett.
The family businesses limped along for years, until Burnett made a decision. "I said to myself, 'I don't want to be beholden to anybody else. I want to be able to support my family. What's the fastest route to doing that?'" She settled on the law. "It was filthy lucre that sent me to law school," she says.
At 37, she entered law school at Oklahoma University; at the same time, her oldest son began his undergraduate work there and her youngest was still nursing. She won an award that required no beauty, just brains: "Outstanding Student Mother," a title she still cherishes.
The folks who gave her the award, she says, didn't see her studying until late and not getting home in time to put her kids to bed. But in her second year, right before finals, her husband came to her. "We need to talk," he said. He didn't want to be married to a law student, and told her she needed to choose between being a student and his wife. They divorced.
It was tough, but she's philosophical about it today. "There's a quote I like a lot, which, to paraphrase, goes, 'You can wake up and go to war or practice peace. Which are you gonna do?' For me, I prefer to practice peace," she says. "I've learned it's OK for other people to get angry because it belongs to them, but I don't have to accept it into my life."
It was that same philosophy that helped her through a breast cancer diagnosis, too. She was diagnosed with the disease in 1992; now, she is happy to say the cancer is gone.
In law school, Burnett wasn't thinking of a particular field. More so, "I was thinking I would be 40 when I graduated, and I just hoped someone would hire me," she says. But shortly before graduation, while she was clerking for Crowe & Dunlevy, a partner at the firm put a stack of papers on her desk and told her, "Read this new law and tell me what it means." One of the partner's clients was a defendant in a Superfund case; the Superfund legislation, which gave the Environmental Protection Agency the power to clean up hazardous sites, had only recently been created.
The case would come to be United States v. Hardage, and involved a business in Criner that was Oklahoma's main repository for hazardous material. After inspection, the EPA declared it a Superfund site and filed suit against the owner and various parties who paid to deposit their waste there.
She graduated and kept working on the case. "It took a long time, and because I was a newly minted lawyer with the lowest billable rate, I could sit through the entire trial and speak closely with the various parties," Burnett recalls. She learned a lot, and by the time she graduated, she was offered a job at Crowe & Dunlevy, where she is currently director and shareholder.
In one of her first cases, she represented energy company Kerr-McGee in the Hardage suit. The case was precedent-setting, she says, because it's one of the handful of cases in which a judge was able to determine the remedy for a Superfund site. "Since that time, the EPA has been more cautious in their approach," Burnett says.
When Burnett became an environmental lawyer, the field hardly existed in Oklahoma. Post Hardage, things changed. "Everyone became one because of that case. … All the lawyers in Oklahoma who had a client that was a business were probably involved in the Hardage case. That led to the environmental bar, a section that we created as a result of that." Now, between oil and gas, fracking and wind farms, there is a lot for an environmental lawyer to do in this part of the country.
She took part in Hardage as a 43-year-old associate. There were upsides to being older than your typical law school graduate. "It made me have friends who were 20 years younger," Burnett says. "I think it changed the way I thought about myself and aging. Also, I was clerking for my firm, and with my age, people just assume when you walk into a room that you have some experience. Which can be good and can be terrifying."
One of her most important cases involved the firm Madewell & Madewell. Based in Jones, Oklahoma, Madewell recycles spent batteries and stores what can't be recycled. "She became our environmental attorney back in the early '80s," says Carmalieta Wells, Madewell & Madewell's president. "She's been our attorney ever since. She's one of those people that you instantly connect with."
The EPA was suing Madewell over material being sent to a facility in Alabama. About 100 similar parties who also used the Alabama site were included in the suit, Burnett recalls, but only three refused to settle with the EPA, and Madewell was in that group. Instead they went to court, which ruled in their favor.
"What makes me proud of that is, I don't know many people who have actually tried a Superfund case," Burnett notes. "And secondly, my relationship with Madewell has always been special. I feel like I have really grown with that company."
The plaintiffs appealed the decision, and the case went to the 11th Circuit. Burnett was startled at the appeal, since not one judge asked a single question. The same arguments were presented, and the court affirmed the lower ruling.
Success cemented a bond between Wells and Burnett. When a local citizen complained about one of Madewell's processing facilities to an Oklahoma TV station, Wells says, "We went to LeAnne before we talked to the reporter and asked, 'What do we do?' She of course helped us through that. I have told her, 'As long as I'm at Madewell, you just can't leave.' I wouldn't want to put one foot forward without her."
While her environmental law practice remains steady, in recent years Burnett has continued to take on a good deal of pro bono work as a guardian ad litem. "I believe that lawyers were originally intended to be healers of society's disagreements—the  ability to be heard in court, rather than on a field with guns," she says. "I as a lawyer need to bear this in mind as I conduct my legal practice, regardless of what area of law I focus on."
Deason recalls a time when Burnett was assigned to work on a guardian ad litem matter that got particularly heated. "She's small in stature, but she's a force of nature. She comes in and everything can be really tense and she can be talking about the most horrific things, and yet it's in this peaceful tone of voice. People can hear her and what she has to say. She's a teacher—a really talented litigator, but also a teacher."
The teacher has been taught a few things, too. 
"When I first started, my perception of how you should stand up in court was shaped by TV shows," Burnett says. "I thought you had to get up and rage." She begins a story about a time she was preparing to cross-examine a man accused of sexually molesting his children. 
"He looked like someone you would see in a [mug shot] picture—he had a scar across his face that he tried to cover up with a beard, but he couldn't. He just did not look savory and that's not his fault. So, my thought, of course, was to walk up to him and treat him poorly."
The juvenile justice court that was hearing the case is near the Oklahoma Department of Human Services, and before she started her cross-examination, Burnett was on a break standing outside the courtroom. Some social workers were talking, and she overheard one saying to a less-experienced coworker, "You have to treat each client with respect regardless of how you feel about them. It may be the only respect that person gets."
She thought about that all the way back to the courtroom. "And that's what I did with that gentleman," she says. "I didn't rage or treat him as an offender. I just asked him my questions and did not get angry."
"The competition—it's not important to me anymore. It's more like—relationships are important. [That cross-examination] changed my view of what is necessary. Each lawyer has to be whoever he or she is, and juries accept that. They don't expect everybody to be like somebody on television."
Burnett herself is case in point. She apologizes for not being more like someone you'd see on the big screen.
"I'm sorry, but I did not have a Rocky moment this morning," she says. "I fear I disappoint because I don't play 'Eye of the Tiger' as I race to the courtroom."
No raw-egg breakfast, either. On most mornings, whether she's heading to court or the office, her routine includes a three-mile walk and examination of the pre-dawn moon, accompanied by her Norfolk terrier, Rosie.
When she gets home from the day, there's 20 minutes of yoga, and reading to get her head in the right space: Thomas Merton, Thich Nhat Hanh, Pema Chodron, poems by folks like Mary Oliver, Billy Collins, Alice Walker. She writes a letter to God. Then she figures she's ready for what's next.
Search attorney feature articles