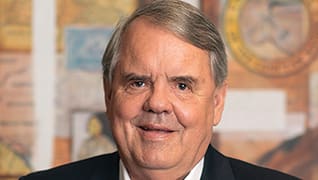 Photo by: Shane Bevel
Righting Wrongs
The Choctaw Nation's Michael Burrage makes opioid producers pay
Published in 2019 Oklahoma Super Lawyers magazine
By Nancy Henderson on October 10, 2019
Between 2007 and 2017, 4,653 Oklahomans unintentionally died from prescribed opioids. According to the state, more overdose deaths in Oklahoma involve prescription opioids than all illicit-drug deaths combined. And the numbers are similar across the nation.
In turn, many firms are suing opioid makers over accusations of creating widespread addiction. But Michael Burrage thinks his firm, Whitten Burrage, is working harder than the rest. And he has the receipts to prove it.
"Our people are living in the office—we have beds in the offices," says the 69-year-old litigator. "They thought they could paper us to death at the courthouse. They found out they couldn't do that."
Thanks to a high-powered lawsuit brought by the state and handled by Burrage and his team, the other shoe has recently dropped for a group of opioid manufacturers. First, the attorneys wrangled a $270 million settlement from Purdue, the maker of OxyContin, and its owners. Then they settled with Teva for $85 million before heading to court in the nation's first opioid trial against Johnson & Johnson—who, on Aug. 27, was ordered to pay $572 million.
For Burrage, the opioid issue hits close to home. His niece, a high school valedictorian with a promising future, got hooked on street pills, graduated to other drugs, and couldn't beat her addiction despite treatment at several major rehabilitation centers. At 28, she hanged herself.
"You can't keep from thinking about it," he says. "You see what these drug manufacturers did, and what they've done to this country. It makes you pretty mad. It needs to be exposed, and it is being exposed every day out here in Oklahoma."
Burrage is reserved in nature. A man of few words, he prompts others to stop and listen when he speaks. While amiable in personal dealings, in court he assumes a tough, impassive demeanor that lets spectators know he is not to be trifled with—even before they learn of his numerous multimillion-dollar verdicts. 
His law partner, Reggie Whitten, was intimidated years ago, when he appeared before then-federal-judge Burrage. "He hardly talked," Whitten says. "He'd just look you in the eye and wouldn't blink. He reminded me of the Sphinx: I had no earthly idea what he was thinking, and it scared me to death. The only question he asked me the whole day was the very question I was worried about being asked by the other lawyers. I remember thinking to myself, 'Darn, the judge is the smartest guy in the room. And I don't like that.'"
Born in Durant, Burrage lived in Sherman, Texas, until seventh grade, when his parents divorced and his mom moved herself and her four children to Milburn, then Idabel and, later, Antlers. When his mother was hospitalized for an extended period, she left behind the 14-year-old Burrage to care for his younger siblings, cook their meals and drive them to school. "I didn't have a driver's license," he says, "but the police in Idabel knew what the situation was, and so they never stopped me."
While Burrage was aware of his Choctaw heritage, it would be years before he was fully conscious of the injustices its members had endured, and how he might make a difference.
"The Choctaws came to Oklahoma on the Trail of Tears, and the 10 ½ counties in Southeastern Oklahoma was the Choctaw Nation," he says. "Back then, the nation didn't have the prominence that it has today … but you could tell the culture was there, and some of the dress was there. I never dressed any different than anybody else, but I always had respect for those that did."
In 1971, Burrage earned a B.S. in business administration from Southeastern Oklahoma State University and got a few job offers. It was then that he realized what he really wanted to do: go to law school. "I like to help people and I like to set things right when I can," he says. "I saw practicing law as a way to do that."
Three years later, when he graduated with honors from the University of Oklahoma College of Law, Burrage was invited to join big firms in Houston, Dallas and Oklahoma City. Visiting their offices, he asked to see where the first-year attorneys worked. Each time, "it looked like a sweatshop," he recalls.
So he moved back to Antlers and joined up with respected local attorney Joe Stamper. "I knew I could get into the courtroom and actually practice law with him and write briefs," says Burrage. "Financially it hurt me, because the big firms were offering what I thought was a lot of money. … But I didn't care: I thought, if I could let people see what I could do, in the long run, I would be a lot better financially. And that's the way it's turned out."
For a while, Burrage worked as a "door lawyer," helping just about any client who set foot in the office with wills, divorces and other transactions. He also represented insurance companies on a regular basis.
But it was in the courtroom, as a young lawyer, that he found his place. "You don't have to be confrontational to get to the truth," he says. "I don't showboat; I go to what the facts are, what the law is, and how decisions are going to actually impact people or a company."
Not long after Burrage began practicing law, Chief Clark David Gardner, the elected leader of the Choctaw Nation, asked him to become the tribe's general counsel. Burrage told Gardner he didn't know anything about being general counsel, and the chief replied that they didn't have much money to offer, so it didn't make a difference. 
In 2015, Burrage settled a $186 million suit against the U.S. Department of the Interior, which allegedly sold 1.3 million acres of timberland belonging to the Choctaw and Chickasaw nations. The settlement was particularly astounding because the nations had not sought monetary damages, but an accounting from the government.
Of the settlement, Burrage says, "It brought out the inequities—how the tribes were treated so wrong during the allotment process. The documents showed that, but nobody ever talked about it. I couldn't prove it until we got all the documents together."
The next year, while again representing the two nations, he successfully sued to stop the state from taking water from tribal lands in violation of the 1830 Treaty of Dancing Rabbit Creek. 
Burrage continues to represent the Choctaw Nation to this day, having stepped aside only while serving as a federal judge from 1994 to 2001. "I do it because I want to see the culture continue, the tribe prosper, and I want to make right what has happened to them," he says. "They've been treated so wrong by the government."
In one of his earliest plaintiff's cases, Burrage filed suit on behalf of a Clayton man who had been badly burned by acid from a car-battery explosion. Burrage was able to show the manufacturer's history of negligence and win a hefty award for his client. "The other lawyers in the firm were real nervous about spending money on a case on contingency," he says. "By the end of the case, they were very happy."
Before long, attorneys across southeastern Oklahoma were referring contingency matters to Burrage. Seeing a window, he built a lucrative plaintiff's practice on the cases nobody else wanted.
Then, in 1994, President Clinton appointed Burrage as the country's first Native American federal judge. "I wanted to see what it was like to be a federal judge, and I was given the opportunity," he says. "So I took it."
As part of the vetting process, he was asked to come a few days early to Washington, D.C., to meet with Attorney General Janet Reno, FBI Director Louis Freeh, and Clinton. "I think they wanted to look at me to see if I had a headdress on or something," says Burrage, who presided over the U.S. District Courts in Oklahoma's Eastern, Northern and Western districts.
Two years later, Burrage became chief judge of the Eastern District and, by designation, sat on the 10th Circuit Court of Appeals, where he conducted proceedings in approximately 40 cases. One of them stemmed from an investigation by the ABC television show Primetime concerning fundraising practices by televangelist Robert Tilton. "I enjoyed my time there, but I didn't want to spend my whole life there," he notes. "It's a lifetime appointment, not a lifetime sentence."
When Burrage left the bench in 2001, he went into private practice with his son David and daughter-in-law Heather. During a bad faith case that year, he reached out to Whitten for help, and together they snared a $4.6 million verdict. "We just meshed," Whitten says. "For anybody watching the two of us, we appear to be totally different: He doesn't talk unless he's absolutely certain; I'm more of a shoot-from-the-hip guy. Yet, despite those differences, at the end of the day we really think alike."
The two continued to partner on major cases until 2008, when they formed Whitten Burrage. Soon after, they won a class-action breach-of-contract case against Farmers Insurance, securing a $130 million award—still considered the largest jury verdict in Oklahoma history. As co-lead counsel for the plaintiffs, Burrage also resolved two of the state's largest securities cases, each one settling for more than $300 million. And he represented an oil industry billionaire in a 2 ½ month trial regarding a $19 billion estate, arguing his client was successful by dumb luck and that his wife was not entitled to half. About $1 billion went to the wife, and the media credited the win to the "Jedd Clampett Defense."
Over the years, Burrage has further handled a number of personal injury and wrongful death cases resulting in jaw-dropping awards. "Insurance companies, at first, wouldn't pay us what we thought the cases were worth," he says. "We started trying them, and getting loss-of-severance and bigger verdicts. Now they settle most of them with us."
When asked if, in spite of his results, he is sometimes underestimated in court, Burrage replies: "I'd say that'd be a real fair statement."
The real secret to his success, he continues, lies in peeling back layers of long-term corporate wrongdoing. "If you stop and think about it, everybody on a jury's got some kind of insurance. In some of these class cases, you're showing how they systemically defraud every person that has an insurance policy with them. We found that jurors can understand that. When we try a case, we don't go in there and say, 'You need to pay this client this much.' We go into the bowels of the company and look for systemic practices on how they treat insureds." 
In the recent opioid cases, Burrage and his team have employed a similar, dogged method. They sued on a nuisance theory that would require the companies to pay the enormous costs of substance abuse treatment, reeducation of medical professionals, and reimbursements for expenses absorbed by law enforcement agencies, courts and other entities. Of the $270 million settlement against Purdue Pharma, nearly $200 million will go toward establishing a new national foundation to research and treat addiction.
In his closing argument against Johnson & Johnson, Burrage held a copy of All I Really Need to Know I Learned in Kindergarten, and told the judge: "[The book] says all the knowledge you need doesn't come from universities; it's from Sunday school and the sandbox. It says, 'If you make a mess, clean it up.' So that's what Johnson & Johnson needs to do."
Understated as usual, however, he doesn't get outwardly excited at the mention of his team's recent victories. "At this stage of the game," he foretells, "we sort of feel like we're going to win. And we're going to win big."
Search attorney feature articles