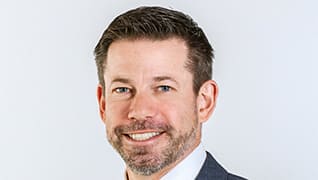 Photo by: Submission
Iron Man
"The extremes are where I find I'm most relaxed," says PI plaintiff attorney John Coletti
Published in 2020 Oregon Super Lawyers magazine
By Andrew Engelson on July 6, 2020
John Coletti immerses himself in his work. "If you try a case for a month and a half," he says, "you don't eat, you're up all night, and you're working 24/7. I call it the best weight-loss plan in the world."
Once the trial is over, Coletti will immerse himself in his play. For years his way of relaxing was to train for and participate in Ironman competitions: swimming for 2 ½ miles, biking for 112, followed by a good old-fashioned marathon. "I guess I'm a bit of an adrenaline guy," he says. More recently, he has segued to marathons and CrossFit. "The extremes are where I find I'm most relaxed."
On an early February afternoon, Coletti seems relaxed, if not exactly at the extremes. Wearing a sport coat and jeans, he's sitting at his office desk at Paulson Coletti Trial Attorneys, which overlooks the Pearl District in Portland. Behind him, the wall is filled with awards, photos of his children, and a police officer's badge in a frame. 
"I'm primarily competitive with myself more than anything else," he adds. In a triathlon, he says, "Other people are signed up, but you're competing with yourself. Only you know whether you're giving it your best, whether you're training your hardest, whether you're willing to suffer."
This intense, results-driven personality has helped propel Coletti into the top ranks of personal injury attorneys, while his portfolio of cases over the $10 million mark has earned him entry into the Inner Circle of Advocates. "I'm in this room with the most successful lawyers in the country," he says, "and there's not an ounce of ego. They have nothing to prove. I have to say, membership is about the worst thing that's ever happened to my self-esteem."
Dan Dziuba notes that his longtime friend and colleague is always up for a challenge. "He doesn't take the easy road," Dziuba says. "Close enough is not good enough with John. He asks himself, 'Have I done everything that I can possibly do to prepare this case and to best represent this human being in court in front of other human beings?'"
Coletti takes his own depositions and spends hours poring over binders. "Competition for me means: How prepared are you?" he says. "Have you spent the hours you need to make sure you are as prepared as you can possibly get? Until I know everything, I don't know anything."
He's particular about the cases he takes. "You represent people that you believe in and that you like," he says. "Because if you don't, then you can't represent them. You're their voice, and if you don't take the time to learn their story, how are you going to tell it?"
He motions to a chair in his office and refers to someone he just took on as a client. "I had someone in that chair last week. I don't want to jinx it, but he's likely going to be dead in three, maybe four weeks. On some level, you have to be clinical, but you also have to be human and force yourself to recognize it. I think the reason we don't want to be human is because it hurts so much." 
Coletti grew up in Hillsboro, which in the 1980s was mostly rural farmland. "I grew up in the middle of nowhere by today's standards," he says.
His mom was a schoolteacher; his father an orthopedic surgeon with a reputation as a straight-shooter. He was well regarded among the farmers and blue-collar people he served for his down-to-earth approach. Coletti likes to say he gained a sense of compassion from his mom, and his drive to excel from his dad—not to mention his straightforwardness. "I don't pull any punches," Coletti says. "Jurors appreciate authenticity. Being in touch with who you are is the difference between good trial lawyers and lawyers that aren't effective."
While Coletti was growing up in Hillsboro, the father of one of his friends was killed in a logging accident. The incident shook him, and shaped the path of his future legal career. "It just devastated the family, and they had to move away," Coletti says. "I remember thinking how unfair that seemed. Just this guy working hard. It was a real eye-opener to see that lives could be upended like that."
After undergrad at the University of Washington, and getting his J.D. from Willamette University, Coletti worked at a firm started by Frank Pozzi, a former longshoreman who built one of the most respected personal injury firms on the West Coast. "He had this tremendous connection with working people," Coletti remembers. "He expected a lot out of his lawyers and absolutely loved his clients."
It was there he met Dziuba, who recalls that Coletti wasn't afraid to take on a complicated case or face down a phalanx of corporate attorneys with much more experience. Dziuba remembers one early case involving a construction company that was refurbishing a bridge and dropped a girder on a van, resulting in a severe brain injury for a passenger. In depositions, Coletti ignored attempts by the defense to fluster him. "They would make jokes and things, but John was able to move forward and filter out the noise," Dziuba remembers. "He just went about his business and built a really strong case, brick by brick. They had no choice but to settle it."
Coletti was then mentored by Charles Paulson and Jan Baisch, both former presidents of the Oregon Trial Lawyers Association, before moving on to Tichenor & Dziuba, which later became Tichenor, Dziuba & Coletti. Dziuba and Coletti worked on a variety of high-level PI cases. 
Coletti remembers one in particular: a woman had been thrown from an SUV in an accident that left her a quadriplegic. Taking on the auto manufacturer was a high-risk proposition. "If you don't have the financial reserves to go toe-to-toe with a corporation," Coletti says, "they're more than happy to outspend you, to bankrupt you." At a certain point in the case, he and Dziuba were paying three expert witnesses more than $30,000 per day. "That was ass-puckering," Coletti says with a chuckle.
"He was so thorough, so smart, so capable, so reliable," Dziuba adds. "You just trusted him. Trusted him with this woman's future. … He dealt with all those experts on complex matters that went back through the history of the vehicle. I never had to worry about that." 
The company eventually agreed to settle.
Another notable case involved a man whose shoulder was effectively destroyed by a pain medication pump that doctors surgically implanted. Under cross-examination, the pump company's CEO described selling the device as a "bluebird" opportunity—a sales opportunity that just drops into your lap without much effort. "You could see jurors roll their eyes and a couple of them even looked at me," Coletti recalls. "It was so obviously motivated by money that it just turned everyone's stomach."
Even so, because of Oregon's "trial by ambush" rules, Coletti didn't know what cards the defense held. At one point, a defense witness kept referring to a stack of documents, which Coletti suspected might reveal the company didn't have FDA approval to use the pump for orthopedic pain medication. He went with his gut. "I stood up and offered the defense's stack of documents into evidence without having seen any of it," Coletti says with a grin. "Which some might say was a little reckless." But it worked: The company didn't have approval, and the jury awarded his client $5.475 million.
Coletti's most notable case involved a client named Scott Busch, a banker in Portland who was struck in a crosswalk by a garbage truck making an illegal turn. Busch's leg was ripped off in the collision, and if it weren't for a police officer's quick application of a tourniquet, he would have died. 
"Scott is one of the most understated individuals you've ever met," Coletti says. "He's from Chicago, has this quintessential Midwest character—no 'poor me,' nothing like that. You couldn't help but like him immediately."
The case was made trickier because the garbage truck company, McInnis Waste Systems, admitted liability even as its initial offer for a life-care plan was, according to Coletti, laughable. He puts it this way: "They can walk into the courtroom and tell everybody how responsible they've been all along, and then try to make the plaintiff and the plaintiff's lawyer out to be greedy."
Coletti's challenge was to convince the jury that the amount he sought for medical and nonmedical damages was justified. "That's really the art of trial work," Coletti explains. "Trying to get juries to understand that and then be willing to do something distasteful to most people—which is to put a dollar value on it. But if you're straightforward with them, that the number is going to be huge, and the reason it's going to be huge is because it should be, because the impact on this man's life was huge."
Coletti pressed the company repeatedly to raise its offer for medical damages. And because the company had a $20 million insurance policy, Coletti was able to argue for a sizable figure for Busch's pain and suffering. "I mean, what's the value of him having lost his leg?" Coletti says, recounting what he told the jury. "And the value of him not taking a normal step again for the rest of his life? And the value of coming home, unplugging his leg, charging it, walking around his house on crutches, having the fear of falling, the humiliation of falling, of looking at himself in the mirror and not feeling like a full man anymore?"
Busch finally took the witness stand with minimal coaching from Coletti. "The key moment for me is when I watched Scott," he remembers. "Because sometimes when you put someone in front of a jury, it's terrifying. This person that you have a deep fond connection for is no longer there anymore because they're so nervous. The key moment was when Scott came across as Scott."
That authenticity was critical. "With a jury," Coletti observes, "you have 150, maybe 300 years' worth of life experience. They get it. Most of them are savvy enough to understand what's real and what's not. They know if someone's trying their best and they know if somebody's bullshit."
Coletti eventually prevailed, winning $3 million in medical damages and $10.5 million in non-medical damages. However, in 2019 a Multnomah County Circuit judge reduced the nonmedical portion of the award to just $500,000, invoking a 2016 Oregon Supreme Court case, Horton v. OHSU, which revived a 1987 law capping nonmedical damages. For many years, most courts had treated the cap as an unconstitutional limit on juries.
"The defense industry would like you to believe that now, in every case," says Coletti with a note of frustration in his voice, "whether you're quadriplegic or burned horribly—all you can get is half a million dollars plus whatever your economic damages were. You can sue a public entity in Oregon for more than you can sue Chevron for killing your child. That is asinine, in my opinion."
In January of this year, Coletti argued the case before the Oregon Supreme Court. He hopes the decision will set a precedent and allow juries to once again set damage amounts. "I told Scott this when we tried his case, that we are likely going to make law that will benefit not only Scott but every injured person in Oregon." 
Coletti admits he still gets anxious before a courtroom appearance. "Anyone who says they aren't nervous in the courthouse is either lying or they should get out of the business. If you're not afraid, then you don't recognize what can happen."
Though a risk-taker himself, he says his trial experience makes him protective of his four children, who range in age from 13 to 17. "Every time one of the kids has a sled, I mention the sled that ended up under a semi," he says. "I seem to be a bit of a joy-killer."
As for the police badge on his office wall? Coletti pulls it down and talks about how it belonged to a motorcycle officer named Kevin he once represented, who suffered a traumatic brain injury when the tailgate on a GM pickup failed. After the case was resolved, Kevin gave him the badge in thanks, and the two of them became friends.
"They said he'd never be an officer again, that he'd never ride a motorcycle and they'd never let him carry a gun. But now he's is back at work." Coletti says he plans to give the badge to Kevin's son when he turns 18. 
"I've got very good friends of mine who used to be clients. I mean, how do you not get personally involved?" 
---
Our interview with John Coletti took place in early February—a month before the COVID-19 pandemic hit the U.S. Here's Coletti's update several months later:
"The entire firm is working remotely. The courthouses are practically closed, so we're trying to focus on communicating with clients, many of whom are medically vulnerable, and continue to prepare their cases so that, when the courts open, we will be in the best possible position to prevail.
"All medical cases have been postponed and no cases are being tried right now, which definitely changes the landscape for everyone who does trial work and litigation. We are now using Zoom for mediations and taking depositions. Remote mediations were unheard of until the outbreak, but I've been pleasantly surprised with how well they work.
"Our staff is incredible, so we have been very effective working remotely, which has made me reconsider the more traditional approaches to how we practice law."
Search attorney feature articles