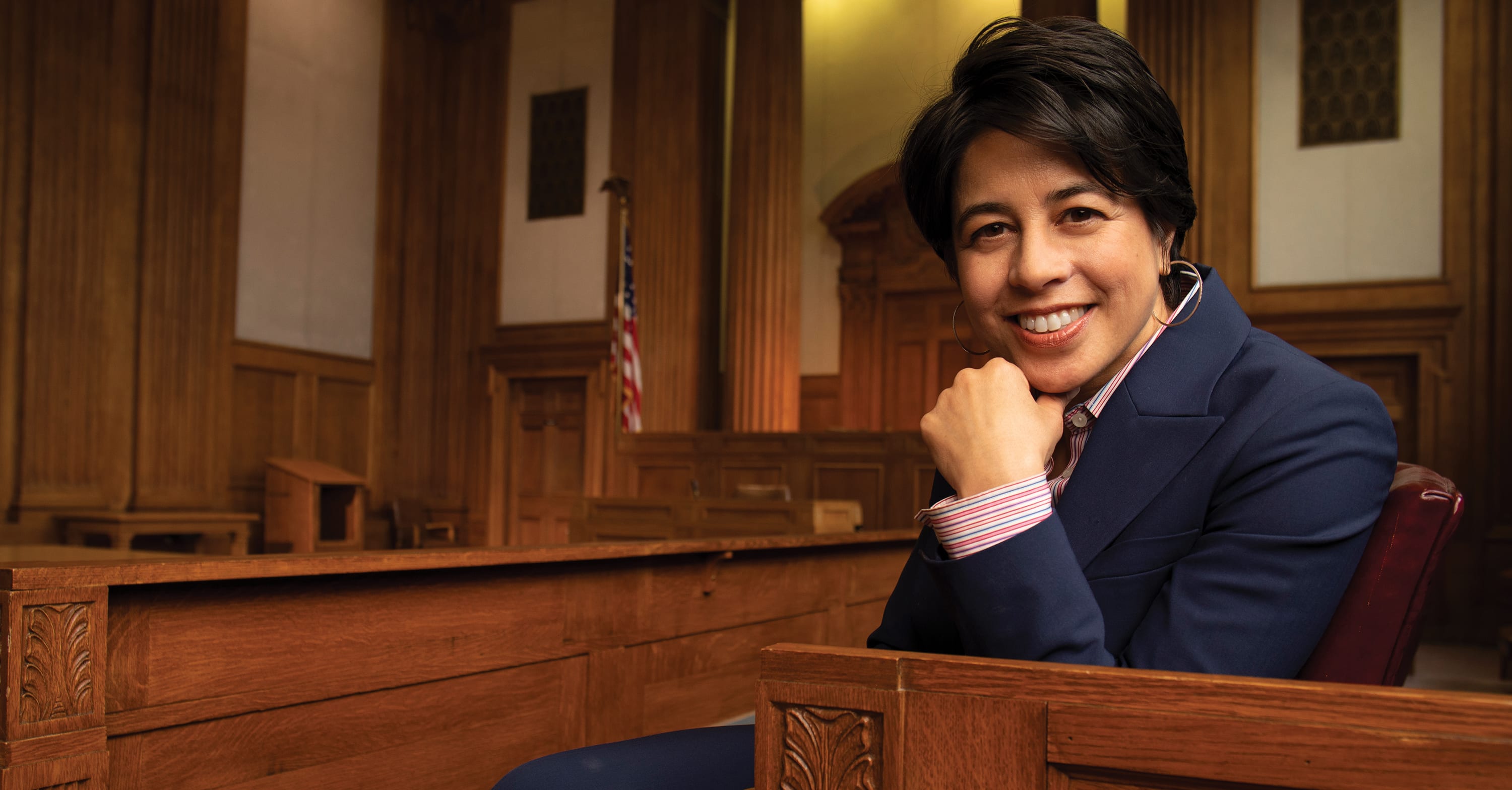 'The Legacy We Leave'
IP attorney Julia Markley on Portland creativity and the two affinity Bars she helped found
Published in 2022 Oregon Super Lawyers magazine
By Andrew Engelson on July 1, 2022
Julia Markley vividly remembers her first day in court. It involved gum.
Her father, commercial attorney Charles Markley, brought her to the circuit court in Hood River when she was 6, then instructed her to sit quietly in the spectator gallery while he made his arguments. To seal the deal, he bribed her with a full stick of gum rather than her normal half-stick.
It worked for a time. But when Judge John Jelderks entered the courtroom, she couldn't sit still. "I walked down the center aisle and I stood right at the bar," says Markley. "And the whole time I just stared at the judge, chewing my gum. I was entranced at a young age with the ceremony and grandeur of the courtroom."
Judge Jelderks remembers the moment as well. "She wasn't shy, that's for sure," Jelderks says with a chuckle.
Decades later, Markley has established herself as a top IP litigator specializing in trademarks, copyrights, patents and NDAs, and is known for combining meticulous preparation with a knack for shaping a convincing narrative. Scott Eads, a mentor and colleague, remembers her work in an early patent case. The opposing attorney was highly regarded with decades of experience. "She won every point," Eads says. "It was a complete victory against an extremely good opposing counsel. I believe he phrased the experience as:
'I got pantsed.'"
Eads talks up Markley's integrity as well. "She's a very zealous advocate on behalf of her clients," he says. "But unlike some attorneys in the litigation world, Julia never loses her civility."
"I've been called a wolf in sheep's clothing," Markley says.
The gum-chewing moment with Judge Jelderks has long entered Markley family lore, but it probably takes a backseat to the one that became a StoryCorps episode on NPR's Morning Edition in 2006. That story involves her mother and John F. Kennedy.
Markley's mother, Lourdes Cereno Markley, grew up in the town of Naguilian in the Philippines, and in 1963 she was accepted to Seattle University, where she planned to get a degree in education. But there was a delay in getting her visa, and the embassy refused to make an appointment to schedule the visa interview. Running out of time and options, Lourdes sent an aerogram to President John F. Kennedy explaining the situation. Two weeks later, the embassy called to make an appointment.
"When she went in for her interview, the first thing they asked was: 'Did you write the White House?'" Markley says. "That story really taught me that it's important to ask—to make your requests known."
In Seattle, Lourdes met Charles Markley, a former sheet metal worker who was the first in his family to attend college. The couple eventually moved to Portland, where Lourdes supported Charles while he got his law degree. "They used to say those wives earned a Ph.T. instead of a Ph.D.: Put Hubby Through," Markley recalls.
Markley remembers being treated differently depending whether she was with her mother or father. Once when she was 5, her mother took her shopping at a fabric store in Lloyd Center mall with her two younger siblings, and a store clerk accused her 4-year-old brother of shoplifting. The scene escalated due to miscommunication. "Sometimes you don't find your words quickly—that's especially true if English is not your first language," Markley says. "I learned the power of words, and that's something I still hold true in the practice of law. That the ability to use the right words and frame the narrative is a powerful tool for advocating for yourself and for your client."
An early reader, Markley's interest in language led her to study Spanish, French and Swahili in high school and college. (She also knows a bit of her mother's home languages—Tagalog and Ilocano: "We learned all the household commands: Clean your room, wash your hands.") While majoring in English at Stanford, she studied the Cyrillic alphabet so she could take a job shelving library books at the Hoover Institution, a leading think tank with one of the best Russian and Eastern European collections in the U.S.
For a time, she considered her mother's path, education, and spent a year as a volunteer teaching assistant at an elementary school in Baton Rouge, Louisiana. The experience led her back to the law. "It was very racially divided—economically, socially, education-wise," she says. "I knew then that I wanted to go to law school and advocate for making our society more equitable."
After earning her J.D. from the University of Washington in 1999, she had an externship with U.S. District Judge Ancer Haggerty, the first Black federal judge to serve in Oregon, and learned that her fascination with the courtroom hadn't abated. "I would go to court every time," Markley says. "The other clerks said, 'Oh, these arraignments and sentencing are so boring.' But I loved it."
She met her colleague Eads, now with Schwabe, Williamson & Wyatt, at Perkins Coie in 2001. One time he asked for her input on a brief and she covered the document in red-penciled edits. "I think he was shocked I'd had the chutzpah to do that," Markley says. He remembers driving to the office one day and seeing Markley out for a run. "That itself was not unusual," he says, "except for the fact that she was 8 ½ months pregnant."
Markley was drawn to IP law because of its complexity and the appeal of helping people defend their creative efforts. "Oregon has a supportive ecosystem for startups," she says. "We see a lot of clients coming to us with questions on how to protect their emerging ideas."
Clients have included tech firms, construction companies and manufacturers, as well as clients from a very gray area of IP law: cannabis retail. Though pot is legal in Oregon, the U.S. Patent and Trademark Office won't grant protection to domestic or foreign companies engaged in the sale of marijuana. Recently, Markley repped a retailer attempting to defend their packaging designs.
"They'd put a lot of thought and time into building good will over the look and feel of their product—they used these very clean botanical drawings," she says. "It was higher-end product, so it was important for the client to defend their brand position in the market." The defendant eventually reached a settlement with her client after a restraining order was filed and the company with similar packaging agreed to pull its product from the shelves.
Markley has repped both plaintiffs and defendants. She helped Google file a lawsuit over patent infringement involving its mapping apps, and defended a medical device company that makes suture anchors used in the surgical repair of tendons. "The longer a case takes, the more resources are needed," Markley says. "So plaintiffs usually want to push the case forward, to move quickly. Get the evidence we need and keep everybody's feet to the fire. On the defense side, there's a tendency to go slower and more methodically."
Markley was also involved in persuading the Oregon Court of Appeals that First Amendment rights did not apply to businesses that discriminate on the basis of sexual orientation. The order in Klein v. Oregon Bureau of Labor and Industries, which involved a bakery refusing to make a wedding cake for a queer couple (similar to the Masterpiece Cakeshop case in Colorado), was overturned by the U.S. Supreme Court in 2019.
When asked about a memorable case, Markley points to one she lost. As a fourth-year associate, she was tasked with preparing jury instructions in a case in which Perkins Coie was defending the Weyerhaeuser timber company from accusations of predatory bidding. For various reasons, the judge rejected those instructions, and the jury found in favor of the plaintiff.
"It was a $26 million verdict, and under antitrust laws, you can treble damages to $79 million," Markley says. "It was a horrible result." Though the finding in Weyerhaeuser v. Ross-Simmons was eventually overturned by the U.S. Supreme Court, and it has since become a leading case for defining predatory bidding, the loss still stings.
"Everybody's role in a case is important, even the small roles," she says.
Being a Filipino American attorney in Portland—which, according to some surveys, has the fewest percentage of people of color of any major U.S. city—hasn't always been easy, she says.
"I've had feelings of isolation," Markley says, "when I've been the only person of color in my office, and the only partner of color in my office. And though I've had great support from my firm, the practice of law can be stressful and isolating. It isn't for everyone. And that inspired me to look outside the firm for affinity support."
It wasn't always there. Oregon didn't have an Asian Pacific American or Filipino American Bar association until Markley stepped in. In 2008, she and several other Portland attorneys attended the National Asian Pacific American Bar Association convention, which was held that year in Seattle. "Seeing thousands of Asian lawyers was something I'd never seen before in my life," she says. "It was inspiring."
So she and a half-dozen Oregon attorneys agreed to form an affiliate Bar, the national organization offered extensive help, and by June 2009 the Oregon Asian Pacific American Bar Association (OAPABA) held its first event—with Markley as its founding president. One of the group's first advocacy efforts was to recruit and endorse Asian Pacific American candidates for the judiciary. A few years later, in 2016, Gov. Kate Brown appointed Lynn Nakamoto to the state supreme court, making her the first Asian American jurist in that role.
"Representation matters so much," Markley says. "It's important for high school students, college students and law students to see that path."
In 2017, Markley also helped form the Oregon Filipino American Lawyers Association, which currently has about 40 to 50 members. Both organizations have helped confront the surge in hate crimes against Asian Americans in the past two years, Markley says. "The Asian bars have worked to bring resources to our communities—like bystander intervention websites where people can report incidences of hate, or advice on how to report crimes."
In addition, Markley serves as a mentor to young Asian American attorneys. What she likes most is offering active instruction inside the courtroom. "I'm committed to showing them, not telling them, how to practice," she says. "Like: When you win an argument, leave the courtroom immediately before anyone has a chance to change the judge's mind."
It's this hands-on experience that Markley, who was honored in 2019 with a Daniel K. Inouye Trailblazer Award, the highest honor from the National Asian Pacific American Bar Association, believes is crucial to helping young attorneys of color. "That is the legacy we leave," she says.
Search attorney feature articles