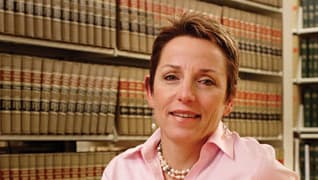 Photo by: Michael Jones
The Storyteller
Carol Bernick's way with words sways judges and juries
Published in 2011 Oregon Super Lawyers magazine
By Susan G. Hauser on July 11, 2011
With Carol Bernick, it's all about the story. That's only fitting for a lawyer who once wanted to be a librarian. Bernick, 49, managing partner of Davis Wright Tremaine's Portland office, is known for swaying judges and juries in tough employment law cases. She credits her Seattle DWT colleague Michael Reiss with coaching her in courtroom storytelling. Bernick began working with Reiss in 1990, days after reporting for work in Portland as a new graduate of the University of Virginia School of Law.
Back in Virginia, she had signed on to work for a small Portland firm, Ragen, Tremaine, Krieger, Schmeer & Neill. "Three days after I came," she recalls, "they announced they'd merged with the Seattle firm of Davis Wright & Jones." 
Off Bernick went to Seattle for a four-month stint at what she calls "cross-pollinating" the two offices, now part of DWT. She'd also been assigned a mentor in Portland—Pam Knowles—the office's first woman partner and then-chair of the employment law department. In Seattle, Bernick's association with Reiss, chairman of the firm's employment litigation group, helped seal the deal in determining her practice area.
"Employment law kind of chose me," Bernick says.
There were ample opportunities to dig in and research cases. And employment law is rich fodder for the courtroom storyteller.
"You don't have to be the most charismatic person, and I'm not," says Bernick, "but giving the jury the story and having them understand the story and the theme, everything should relate to that." The main point, she says, is not to sweat the niggling details, but to deliver the essence of a case in a compelling way.
"The thing about employment law is that it's about relationships that have fallen apart," she says. "It's almost like family law but a little bit less emotional. It's about misunderstandings and perceptions. It almost always comes down to the relationship between the supervisor and the subordinate, and that's true whether it's a 20-person company or a 20,000-person company." Reiss, who previously was a law professor at the University of Southern California Gould School of Law, still teaches the storytelling technique to associates. It pleases him that Bernick is also passing the lesson on to young lawyers.
Bernick's own story begins in Falls Church, Va., just outside of Washington, D.C., where she was the third and youngest child of a military father and a mother who had worked in the U.S. Foreign Service before marriage. After two years in a public high school, Bernick entered a private girls school, where she says the stern headmistress made her feel inadequate because of her family's lack of wealth and social status. 
But during spring break in Bernick's senior year, The Madeira School headmistress' own social status changed abruptly. Jean Harris went to jail after shooting her lover, Herman Tarnower, known as the Scarsdale Diet Doctor, in a high-profile murder case.
Bernick's last few months at Madeira School were "a circus," she recalls, and she was more than ready for a break. "I was done with school and was afraid college would be like Madeira." So she took a year off, working as a secretary in Washington, D.C. Then she entered Roanoke College, a liberal arts school in Salem, Va.
"It turned out to be the best experience for me," she says. "It was small and very nurturing. It was the first time I had confidence in my own abilities. It was sort of the anti-Madeira."
One of her history professors recognized Bernick's courtroom potential and steered her from library science toward a law career. "I think he thought I had the research ability, the mind to think on my feet, and I think he saw me as being confident," she says. "So I applied to a bunch of schools and got in at the University of Virginia School of Law. He said, 'You have to go there. It's the best choice for you.'"
Fast-forward to the tail end of law school, after Bernick had spent two summers working in New York City, both for a firm and for a nonprofit, the National Coalition for the Homeless. Although rewarding in many respects, her New York experience had her looking for a place where she could enjoy a slower pace. An invitation from a friend in Seattle brought her cross-country for a visit, but the city didn't feel like the right fit. 
While at Roanoke College, which is right on the Appalachian Trail, Bernick had discovered a passion for hiking. So she was not about to leave the Northwest without hiking the trails of one of the region's best known hiking areas, the Columbia River Gorge. She rented a car, headed south and found herself in Portland.
"I pulled into town and said, 'This is where I want to be.' I just loved it. There was no humidity, which was a plus. It was very vibrant. People were walking around downtown and along the waterfront."
Back in Virginia, she began researching Portland law firms. Robert D. Newell interviewed and recruited her for what was then Ragen, Tremaine, Krieger, Schmeer & Neill.
"And now she's my boss!" says Newell of Bernick, who's been DWT's Portland managing partner since November 2009.
Although Newell does general litigation and Bernick does employment law, the two tried a few cases together early in Bernick's career. Newell notes that generally very few employment cases are tried, but that fact never stopped Bernick from being prepared. "She's not afraid to try them," he says. "She gets an awful lot of work because of her willingness to be a tough litigator and not back down and settle them, as a lot of employment lawyers do."
At the same time, Bernick is not what you'd call enthusiastic about going to court. "It's hard to say that I like it," she says. "I'm not convinced that litigation is the most effective way to resolve disputes. It's incredibly hard on both sides financially and emotionally. Any time you're in an adversarial situation it's not fun, but I'm an incredibly competitive person and so it suits my personality."
She's lost only one jury trial in her career. The one that got away, Tillery v. Dollar Tree Store, Inc., was agonizingly similar to one of Bernick's favorite cases. In the 2006 case, Kramer v. Tosco Corp., et al., Bernick convinced the jury that although the plaintiff was a great guy, his claim of disability discrimination was unjustified. Jurors rendered their verdict in tears and later hugged the plaintiff, but they ruled in Bernick's favor.
"I read that [one] correctly," she says.
In the Dollar Tree case last year, the jury accepted Bernick's argument that race was not a factor in holding a schoolgirl on suspicion of shoplifting but awarded the girl $51,000 for unlawful detention and a hurt arm. The loss still stings.
"I misjudged it," Bernick admits. "That's the hardest thing for a trial lawyer, when you don't anticipate something. But the one thing I could have done differently was play up the sympathy for the eighth-grade girl and give the jury an opportunity to say this is not a verdict against her."
Bernick also has a well-deserved reputation for heading class action suits off at the pass, either by getting cases dismissed or by convincing a judge that a case doesn't hold water as a class action. 
Cam Groner, Bernick's former DWT colleague and current senior vice president and chief legal officer for Legacy Health, says Bernick got a class action suit thrown out on a motion to dismiss, even though the case ended up going all the way to the Oregon Supreme Court before it was resolved in 2008. 
Judge John Wittmayer recalls the case, Gafur v. Legacy Good Samaritan Hospital and Medical Center. "It was a real esoteric sort of interpretation of a statute and whether someone could make a claim. It clarified the law in a particular area and was very successful for her client.
"I remember I made a ruling in her favor and against the plaintiff, and the Court of Appeals reversed me and the Supreme Court reversed the Court of Appeals. That's happened maybe three times in my 15 years as a judge."
As managing partner of the Portland office, Bernick oversees the 80 lawyers and other staff, and handles responsibilities ranging from budgeting to recruiting. Dave Baca, firmwide managing partner of DWT, tapped her for the job.
"She has, I think, as close to universal praise and acceptance [as possible] within this office for what an outstanding job she's doing, even though she's not ducking the hard stuff," says Baca. "We're performing extraordinarily well, but to perform well in a difficult [economic] market means you don't do things in the usual way. You have to change how you go about things and she's been an instrumental part of that."
"It's been neat to see her grow into the role," says friend and chair of the office's employment law department, Jenna Mooney. "I have to say, once or twice a week I get comments from my colleagues saying how wonderful they think she's doing, and that she's brought a really positive energy to the office."
In the past 22 years Bernick has graduated to hikes more demanding than Columbia River Gorge trails. She enjoys arduous treks through European mountain ranges, such as the hike she and a friend took around Mont Blanc in September 2010, passing through parts of France, Italy and Switzerland.
Sometimes she is joined on the trail by her husband, Mark Hackett, a former lawyer; daughter, Anna, an eighth-grader; and son, Austin, a junior in high school. This summer she and Austin hiked in Glacier National Park.
In two decades of practicing law, she's proudest of a pro bono case on behalf of Planned Parenthood of Columbia/Willamette and four physicians who had been targeted for performing abortions. The 1995 suit against the American Coalition of Life Activists, which published the physicians' names and addresses on "Wanted" posters and on their website, resulted in what was at the time the largest civil verdict ever handed down in Oregon: $108 million.
The court held that the posters did not constitute political speech protected by the First Amendment, but were "true threats" whose further distribution was prohibited. The money never quite materialized, but, says Bernick, "It had the effect of curbing the behavior that we believed was a threat, and the jury agreed that it was a threat.
"It made you proud to be a lawyer."
Search attorney feature articles
Helpful links
Other featured articles
Streaming has replaced theatrical but what will replace streaming? Schuyler Moore on the state of film financing
The Houston attorney's talents include a strong work ethic, natural connection with juries, technological savvy, deep faith, photographic memory—and even acting chops
Jack Schulz wants to litigate cases that make you put down your cup of coffee
View more articles featuring lawyers
Find top lawyers with confidence
The Super Lawyers patented selection process is peer influenced and research driven, selecting the top 5% of attorneys to the Super Lawyers lists each year. We know lawyers and make it easy to connect with them.
Find a lawyer near you