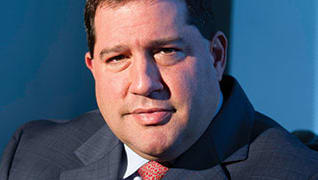 Photo by: Jeff Swensen
Beyond the Front Page
Civil litigator David A. Strassburger of Strassburger McKenna Gutnick & Gefsky in Pittsburgh on media law, courtroom surprises and moving past yellow legal pads
Published in 2015 Pennsylvania Super Lawyers magazine
By Ross Pfund on May 15, 2015
Q: You're part of a long family tradition in law.
A: This law firm was founded in 1919 by my great-great grandfather. My grandfather practiced here, my father practiced here for a short period of time, my uncle has practiced here for, oh my goodness, over 30 years. And I've been here for almost 20 years.
Q: Did you always know that you wanted to continue the tradition?
A: Actually, I wanted to be a professional golfer, but my putting stinks.
Q: The short game will always get you. Was the law always a back-up plan?
A: There was never really any push from anybody in my family to do it, but I enjoyed the public service aspect of practicing law and I enjoyed the conflict resolution, so I decided to give it a go.
Q: You have quite a diverse practice.
A: We cover the waterfront. I have been very lucky to have had a number of mentors who have exposed me to a lot of different areas in the law. And I sort of gravitated to the ones that I was most interested in.
Pittsburgh is a very health care- and energy-driven market right now. And so a lot of the litigation is in the health care and energy fields. But I always get calls on media stuff and I always get calls on legal professional liability stuff because I have more experience in those areas than most people do.
Q: So what does it take to be successful when you're moving from one area of the law to another?
A: You need to have a strong base in understanding process and the general principals of litigation. And then you need to have the kind of relationship with your clients and people you work with to understand the details of the practice area that you're about to jump into.
One of the things about legal professional responsibility stuff is you're always learning about other areas of the law. I've been exposed to a lot of different areas of the law through that practice.
Q: Who were your mentors and what did you learn from them?
A: I had the privilege of a clerkship with Judge Joseph Weis on the U.S. Court of Appeals for the 3rd Circuit and he taught me that you can be a successful lawyer and still keep your principles. He was this gentlemanly yet fierce advocate for justice and a wonderful person to start your career under. He was also very conservative, and it was a culture shock for me, coming from a family of dyed-in-the-wool liberals. He gave me a different perspective on the law that I wouldn't have otherwise have had.
My uncle E.J. is a former president of the Academy of Trial Lawyers of Allegheny County and he taught me a lot about the importance of preparation and organization and how to try a case. Another partner was a guy named Bob Potter. He was a former Navy pilot, taught at the University of Pittsburgh School of Law and was just this larger-than-life genius who taught me the value of trying to be smarter than the other guy. And Yale Gutnick—who I still practice with—explained to me the value of hard work and putting the client first.
Q: Do you remember your first trial?
A: At the law firm, when you're a junior associate, the first things they give you are collection cases. They sometimes end up in bankruptcy court because the person you're trying to collect from doesn't have any money. 
I remember starting out trying a couple of dischargeability hearings, which are: "Is this debt going to be discharged in bankruptcy?" And I just remember being totally intimidated by the process and the bankruptcy court and the judge, because I was representing a creditor and he was trying to give the debtor a fresh start. I took a few lumps in helpless causes trying to collect money against people who didn't have any. It gave me a pretty good perspective on things going forward.
Q: How long did it take for you to get past being intimidated?
A: There's always an element of excitement and nervousness when you're going to court for a client, and that never goes away. But the comfort level increases after four or five years of doing it, if you're doing it a lot. You find your stride, although every time you think you know exactly what you're doing, you find out you can't anticipate everything that's going to happen to you in a courtroom.
Q: Examples?
A: I remember I was in court in a rural county in Western Pennsylvania. We started arguing before the judge, and there was a court employee who was sitting in one of the rows in the courtroom and she was whispering to herself. I said to the judge: "Are we on the record?" Because there was no court reporter that I could see typing on a machine.
He screamed at me that the woman in the front row was a certified court reporter and that she was talking into a cone that was recording what was going on in the proceeding. I was absolutely mortified that I would have insulted the judge by not knowing about this outdated way of creating a transcript.
Needless to say, the next time I went down there, I had a local counsel come with me.
Q: What else do you know about trying cases now that you wish you knew when you started?
A: You need to trust yourself and get to the point where you are so well-prepared that you're confident enough to have a conversation as if there is no paper in front of you. I've found that technology has allowed me be more conversational with my witness and more conversational with my juries. And if I had known that 20 years ago, I would have been more at ease and I would have learned to use technology much earlier in my career.
Q: Tell me more about your approach to communicating with juries. 
A: The best example I can give is: I have a 15-year-old and a 13-year-old, and they're on their handhelds all the time. All they know is technology. In our professions now, if your computers go down, it crashes your life, it crashes your business, and everybody relies on the IT team to get you up and running again.
That is the way people communicate now, so you have to use your IT effectively at trial. Nobody would ever go to a meeting and try to pitch something to somebody these days without technology. And you wouldn't be standing at a podium with a yellow pad and a pen. So that's a skill that trial lawyers need to master right now if they want to convince juries in the merit of their position.
Q: Do you think the proper emphasis is being put on that for young lawyers?
A: The problem is it's so expensive. It's a chicken-and-egg kind of thing. You've got to have a big enough case to make it worth your time and expense.
There are lawyers out there who can do it on their own without spending any money on it. They're younger and they know the technology better. I give them all the credit in the world. Those guys are leaders of the future, because they never even buy yellow pads. They do everything on their computers; they do everything on their iPads. It's second nature to them, and that's definitely the way practice is headed.
Q: Has it been your experience that fewer and fewer cases are going to trial?
A: Absolutely. One case a year goes to trial. If that.
Q: Is that a negative or a positive?
A: I miss it, but it's not your money. You have to give the best advice you can to your client on the risks and rewards of going forward. And then the client has to decide whether a bird in the hand is worth two in the bush. Or whether to minimize their risk and make a business decision to make the case go away.
I do think it's unfortunate that the court system does not necessarily trust lawyers to give totally comprehensive and balanced advice to their clients on the subject of settlement. The pressure that the court sometimes puts on the lawyers to settle the case can create client relationship problems, which can make client relationships more difficult.
Q: How did you get started with your media work?
A: Yale Gutnick has represented Trib Total Media for a long time. They publish a number of daily and weekly newspapers throughout Western Pennsylvania. As a result of that work, I developed some of my own media law practice. It's been mostly libel and privacy defense [cases] and access to public records and public proceedings. It's helped me in other areas of my practice—I mentioned [earlier] the conflict you have when you're representing a creditor in bankruptcy court against somebody who doesn't have any money, and how the judge is really not someone who's excited to see you there.
If you're going into court to open a court proceeding that the judge has already tried to close, you have that same kind of antagonism. The judge has already made a decision, and now you have to go in and change the judge's mind.
There was a seminar in one of the local counties where all the judges came and there were newspaper reporters and media lawyers there. The presiding judge said, "You know, you need to understand that the media and the court, 95 percent of the time, are interested in the same thing. It's just this 5 percent where we bang heads and hopefully will be able to still respect each other after we are done."
That was a really important lesson. It's helped me when I've had to deal with other difficult situations where I've tried to convince courts that maybe they should unseal some things that shouldn't have been sealed in the first place.
Q: Sounds like a tricky proposition.
A: It is, but I've also found that most courts are very, very solicitous of and respectful of the need to keep the public aware of what goes on in their courtroom. There are obviously limitations that judges are sensitive to, but we do have the First Amendment. Most judges believe strongly in the principles that the First Amendment represents.
Q: Libel cases are tough for plaintiffs to win. Are they tough to defend?
A: I've been fortunate to have worked for members of the media that almost always get it right. I've virtually never had experiences where there was something that was demonstrably false and I've never, ever encountered a situation where the media acted in reckless disregard of the truth. Everybody thinks that when you're doing libel defense work, the cases are so dramatic and are the ones involving the public figures on the front page. And those are the ones that almost invariably are low litigation risks.
The ones that are the higher litigation risks are the ones where it's not a public figure or public official. The plaintiff does not have to prove actual malice. The plaintiff, in Pennsylvania at least, only has to prove negligence. And it's not the story on A1 or B1, it's the story on B6 or C3. The reporter just got the facts wrong, or the editor changed something that makes the entire story wrong. Nobody's trying to gin up any story, it's just a mistake. But then it's on the Internet and people are terrified that it's going to follow them for the rest of their lives. Those are the ones that are more of concern from the litigation perspective.
I spend the least time on the front-page story about the attorney general or the controller, because those stories are always well-documented, well-vetted. And the standard of liability is so high that they just don't result in the kind of risk that the other stories do.
Q: What advice would you give someone thinking about going to law school?
A: There's always room for another good lawyer, and the practice can be extremely fulfilling. So, even though it's expensive and even though there's a lot of media out there suggesting it's a bad investment, I would encourage people who are interested in keeping their minds sharp and keeping their dedication to other people as part of their profession.
This interview has been edited and condensed.
Search attorney feature articles