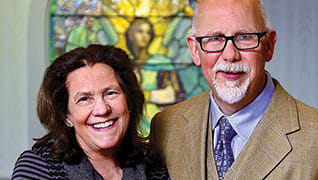 Photo by: Luigi Ciuffetelli
Complementary Counsel
Mary Kohart likes trying cases, and her husband, Dean Phillips, likes settling them
Published in 2015 Pennsylvania Super Lawyers magazine
By Nick DiUlio on May 15, 2015
It was May 11, 1999, and the Philadelphia courtroom was unusually crowded. But Mary Kohart wasn't nervous. Well, no more than usual.
"I'm always terrified before I get into the courtroom," says Kohart, a litigator at Elliott Greenleaf in Blue Bell. "But once I start, I'm absolutely fearless. I don't know why, but I'm always just convinced I'm right and that it's going to work out in the end."
On that particular morning, Kohart's clients were National Rifle Association members Sally and Kenneth Brodbeck. A year prior, Sally, an NRA board member, stood up to deliver a short speech at the NRA annual convention in the Center City Marriott while her husband took out his camcorder to record her. An NRA security official ordered Kenneth to stop taping and then tossed him to the floor, rendering him briefly unconscious. But worse than the injury is what happened later: In a New York Times article, NRA president Charlton Heston claimed Kenneth had faked the incident.
For months, the Brodbecks asked for an apology from the NRA. When none came, they took the matter to court, suing for defamation and battery. Kohart felt good about the case, especially when she found out Heston would be taking the stand.
Kohart persuasively argued that he couldn't have gotten an accurate view of the confrontation from where he was sitting at the conference. She won the trial, but the judge later granted the other side's motion for a new trial. Both sides decided that they were instead ready to settle, but Kohart knew she wasn't the right lawyer for that job.
"I can't settle a case," she says. "I think it's a real skill to be able to work out an agreement where both sides are happy. But I can't get there. I know that about myself."
And so it came to pass that Kohart, who was working for Drinker Biddle & Reath in Center City at the time, called in an attorney she knew was extremely adept at settling cases—her husband, Dean Phillips.
Sitting next to each other at a large conference table in Elliott Greenleaf's office, the complementary personalities of Kohart and Phillips are immediately apparent. Phillips, dressed in a distinguished three-piece suit of dark green tweed, is the more measured and meditative of the two, with carefully composed speech and a demeanor that offsets his wife's more spontaneous personality and quick-on-the-draw locution.
"I think one of Mary's greatest strengths is her sincerity and genuineness as a person, because that always comes across when she talks to juries," says Phillips, an 18-year veteran at Elliott Greenleaf, who has built a celebrated career focusing on appellate law, tort litigation and a wide range of medical malpractice and liability matters for both plaintiffs and defendants. "You see that in all the best trial lawyers. They can be themselves in front of juries. And Mary is no exception."
Given their dispositions, it makes sense that Phillips and Kohart each came to law through different means.
Growing up in State College as the son of a celebrated Penn State professor of speech communication, Phillips originally thought he was destined for academia. As he got older, however, he started to realize that the idea of representing clients and getting into court would be more interesting. As early as high school, he started dabbling in politics, serving on the mayor's advisory council and chairing the State College Area for the White House Conference on Children and Youth in 1969.
While enrolled as an undergrad at Penn State, Phillips, at age 21, successfully ran for a seat on the State College Borough Council in 1973, becoming the youngest elected official in Pennsylvania at the time. It was then that Phillips realized he was attracted to law.
"My experience running for council and serving on it made me realize that I could best serve the community by becoming a lawyer," he says.
After Penn State, Phillips headed east to Villanova University School of Law. He intended to return to his hometown, but his life took an unexpected turn.
Meanwhile, many years before she met her husband, Kohart didn't really know what she wanted to do with her life. After graduating from Gettysburg College in 1978, unsure of a path to take, she recalled a memory from childhood.
"When I was a kid, a friend of my aunt's said, 'You should be a lawyer.' And I thought, 'Oh good. That's what I'll be then,'" recalls Kohart with a laugh. "But even though I sort of stumbled into it, I think it plays nicely to what I do well."
During her last year at Syracuse University College of Law, Kohart attended the wedding of her college roommate in Bucks County. There she met Phillips, who knew the groom from his days at Villanova. The aspiring lawyers hit it off immediately.
After graduating in 1982, Kohart went to clerk for Judge Malcolm Muir in the U.S. District Court for the Middle District of Pennsylvania. Meanwhile, Phillips—who had graduated in 1980—clerked for Judge Edmund V. Ludwig at the Bucks County Court of Common Pleas and for Justice William B. Hutchinson of the Pennsylvania Supreme Court.
When their respective clerkships came to an end, the couple married and moved to the Fairmount neighborhood of Philadelphia. Their journey together was only beginning.
"Marriage is challenging. And there are unique challenges when you're both in the same field of litigation. Anyone who tells you otherwise is kidding himself," says Phillips. "But we've always had great respect for what we're each going through, and I think we have a better understanding of what the other might be feeling at any given time. I think that's always been an advantage."
For the majority of their careers, Kohart and Phillips worked at separate firms. During his early years as a litigator, Phillips tried out a few different firms before finding "the perfect fit" in Elliott Greenleaf. Meanwhile, Kohart landed at Drinker Biddle in 1986 and immediately began building a reputation as one of the region's top trial lawyers.
"I just love litigation. Everything about it," says Kohart, who has typically concentrated on complex commercial litigation, including health care, securities, antitrust and products liability. "I realized very early on that I enjoyed working for my clients, not only because you're an advocate for them, but also because every case teaches you something new and introduces you to new people. I don't think I've ever met anyone who's had as much fun being a lawyer as I have."
In addition to her work in the courtroom, Kohart has taught at the University of Pennsylvania Wharton School of Business and Temple University; spent eight years on the board of the Philadelphia branch of the American Civil Liberties Union; served as chair of the Committee of Seventy between 1995 and 1997 and currently serves as chancellor of the Episcopal Diocese of Pennsylvania.
At the same time, Phillips has not only achieved his own success in the courtroom, but also amassed a reputation in appellate law and dispute resolution, frequently being retained by other firms to resolve cases without going to court.
To that end, Kohart recalls a particularly challenging case in which Phillips was hired to represent an attorney who was in arbitration with his former employer.
"Nobody fights harder than two lawyers, and this one was particularly hard fought," says Kohart. "It lasted four years, and every arbitration meeting was worse than the last. But I thought it was so impressive how tenacious Dean was."
"My client was very easy to work with, and over the four-year period, we became best friends," Phillips adds.
To explain his approach to lawyering, Philips invokes the 1989 movie Roadhouse. In one scene, bouncer Patrick Swayze instructs his staff on how to do the job. "I want you to be nice," Swayze says, "until it's time to not be nice."
"That's how I look at things. Speak softly but carry a strong law firm," says Phillips. "I've settled so many cases without ever going to court, and the best results I've gotten are the ones I can't talk about. Of course, sometimes it's important to my client that he or she be vindicated in court, but if there's a way to achieve a result for your client without publicly harming the other side, I take that road. And I take great pride in that."
At this, Kohart lets out a chuckle and her husband asks what made her laugh.
"I was just thinking," she says, smiling. "That's precisely what I don't do."
Back in 1999, Phillips knew he needed to ease the tension before he could talk settlement details with the NRA.
"I had to walk into a room of NRA lawyers, and I knew the other side wasn't happy with Mary because of the result at trial," says Phillips. "And they weren't very happy to see me.
"When I got in front of the judge, the judge asked me, 'Where are we in this case?' I introduced myself as settlement counsel and I said, 'I know there are some strong feelings in this case as a result of the trial,'" recalls Phillips. "And that's when I said, 'Your honor, I can stipulate that, as Mary's husband, she can be pretty tough to deal with sometimes.' And that actually got a good laugh. It broke the ice and we were able to actually start talking through the settlement."
Kohart jumps in. "See, that's what he does. He can talk and be patient and smooth things over and wear down opposing counsel until they're his best friends."
While they rarely share cases, Kohart and Phillips have been working together at Elliott Greenleaf since Mary joined the firm in 2011. At the time, she was tired of the commute to Center City and wanted to be closer to their three children. That's when John Elliott, chairman of the firm, reached out and offered her a job.
"I had known Mary for a long time. She was a trailblazer who had an exceptional reputation in the trial community," recalls Elliott. "And I knew she had the same work ethic as Dean. They're both such perceptive, caring people who can work some very sophisticated legal terrain."
Asked if it's ever been a challenge working at the same firm, Kohart and Phillips shake their heads, and he notes that they give each other space at work.
"Look, it's not always an easy ride. Sometimes I'll come home after a rough day and Mary will just tell me to suck it up," says Phillips with a laugh. "But the secret to a successful marriage is the same as having a successful career as a litigator: You need to have a thick skin, a short memory and keep moving forward."
Search attorney feature articles