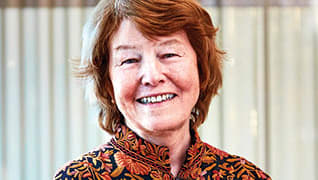 Photo by: Luigi Ciuffetelli
'I Can Do That'
Elizabeth Ainslie has never met a case she didn't want to try
Published in 2017 Pennsylvania Super Lawyers magazine
By Nick DiUlio on May 12, 2017
The pattern couldn't be a coincidence. An employee of the United States Postal Inspection Service in Pennsylvania had begun noticing numerous auto insurance claims with the same names and vehicle ID numbers appearing again and again between 1976 and 1977. Since they were being filed with a handful of different insurers—and each claim was relatively modest—no one had picked up on the repetition.
Eventually the inspector collected enough evidence, and on Jan. 22, 1981, the U.S. Attorney's Office for the Eastern District of Pennsylvania indicted Orlando Hart and six others in a scheme to defraud insurance companies by submitting claims for accidents that never happened. To lead the prosecution, the U.S. attorney's office tapped a former Boston civil defense attorney who had moved to Philadelphia only two years earlier: Elizabeth Ainslie. It was her first time prosecuting white-collar fraud. 
"I didn't have any cooperating witnesses, and believe me, I really tried," says Ainslie, now a trial lawyer at Schnader Harrison Segal & Lewis in Philadelphia. "The participants in this scheme were extraordinarily reluctant. Some of them backed out at the last minute or suddenly changed their story during trial. I often had to treat them as hostile witnesses and confront them with their grand jury testimonies."
To make her case before the jury, Ainslie assembled a detailed chart displaying 20 fictitious accidents that served as the basis for the fraudulent insurance claims. 
"In one claim you had Rodney Williams as a driver. Then another with Rodney Williams as a passenger. Then another where his car was in an accident but he wasn't in the vehicle at all. You even had the same VIN numbers being used for different vehicles driven by the same people over and over again," recalls Ainslie. "I said to the jury, 'If you think this pattern occurs in nature, I'm wasting my breath.'"
In the end, Hart was found guilty of two counts of mail fraud and sentenced to two consecutive five-year prison terms. Ainslie's doggedness earned her a reputation as one of the office's most tenacious litigators. Less than two years later, she would become chief of the Eastern District's fraud section.
"Liz is utterly fearless and she has this willingness to roll up her sleeves that brings her extremely close to every case," says Bob Welsh, a criminal defense attorney at Welsh & Recker who worked alongside Ainslie at the U.S. attorney's office. "She's done that over and over again."
Long before she considered becoming a lawyer, Ainslie was a budding artist. Sitting on a couch in the cozy confines of her 36th-floor Market Street office, she gestures to the many paintings and illustrations that populate her walls, including a framed line drawing of her husband.
"That's one of mine, actually," says Ainslie. "Art is still one of my great pleasures."
Ainslie's father died when she was 7, leaving her mother to raise her and her two younger sisters on just a few thousand dollars per year. By the time Ainslie was 16, her mother took a teaching job in Newark, Delaware, and spent what little savings she had on a house so her daughters could attend the University of Delaware as in-state residents. Ainslie did that for a year before transferring into Smith College's illustrious art program.
"But the art department didn't make as much of a fuss over me as the government department did. And I gravitate toward approval," recalls Ainslie with a chuckle. 
In 1964, as she neared the end of her undergraduate studies, Ainslie's thesis adviser suggested she apply to law school. Female law students were still considered cultural outliers, she says, but she was accepted into Harvard, although she had no specific interest in becoming a practicing attorney. After graduating in 1968, she moved to Boston. The only available job for her was a clerkship at Bingham, Dana & Gould. 
After a few weeks, the partners there realized they were "paying a member of the Bar $2.25 an hour to be a glorified messenger," so they started sending Ainslie to sit in on unopposed motions. 
But Ainslie would not get an opportunity to try a case for another three years. After a brief stint in Baltimore, her husband's career eventually brought them back up to Boston and Ainslie landed a part-time job as an associate at Bingham, Dana & Gould. 
"I don't think I saw myself as a lawyer until that point," says Ainslie. "Before then, I was really just learning the mechanics of it all. But after my time at Bingham Dana, it changed. Then I was a lawyer."
She made the most of it, building an eclectic career over the past four decades. Ainslie has represented whistleblowers in several major cases, defended and prosecuted high-profile RICO cases against law firms and pharmaceutical companies, defended a major national bank in a lender liability trial, and successfully defended The New York Times in a federal defamation trial. 
"I don't think Liz has ever said no to anything," says Dennis Suplee, a partner at Schnader who has worked with Ainslie since she came on board in 1999. "Her approach to anything is, 'I can do that,' whether she's done it before or not."
This willingness to say yes is what led her to the U.S. attorney's office in 1979 without ever having tried a criminal case. "Coming to Philadelphia, I wanted something that was a little bit scary and different, because I get bored if I'm not being challenged," says Ainslie.
She prosecuted some of the office's most challenging and complex cases, including the conviction of David Rosenfield, a Philadelphia lawyer who was found guilty on 34 counts of mail fraud and other charges stemming from a complex scheme involving $4.6 million in falsified or exaggerated insurance claims. To wrangle the case's details, Ainslie enlisted an informal task force of fraud investigators that included local police, the FBI, U.S. Customs Service and the U.S. Postal Inspection Service.
"The Rosenfield case was probably the most important of my career," Ainslie says. "We seized the law firm under RICO forfeiture, which was the first—and maybe only—time that's ever happened."
"It allowed her to address a systemically important problem of corruption in the civil personal injury cases world," says Welsh. "Her passion and aggressiveness got right to the heart of the justice system."
After five years as a prosecutor, Ainslie decided she needed a new challenge, so she started her own firm with fellow prosecutor Peter Schenck in 1985. The first three years were "very hand-to-mouth," she says, but they built a steady practice handling a combination of civil and criminal cases with a client list guided by Ainslie's hunger for variety.
"I remember visiting her office back then and she was working on five or six different cases that couldn't have been more different from one another," recalls Bobbie Pichini, a longtime friend and medical malpractice attorney at Feldman Shepherd. "She was juggling a criminal defense, a corporate defense, a medical malpractice case. I was just stunned that she had the expertise and intellectual curiosity to handle all of that on her own."
In 1995, Ainslie got a call from Doug Durand, head of sales for TAP Pharmaceutical. Durand was uncomfortable with the potentially fraudulent tactics TAP was using to sell Lupron, a new medication for patients with advanced prostate cancer. It was the beginning of a qui tam whistleblower case that put Ainslie on the national map.
According to Ainslie, in addition to telling doctors that the more they prescribed Lupron the more money they would make, TAP sales reps were not accounting for free Lupron samples they handed out to oncologists, which meant doctors could falsely bill Medicare for these samples and collect extra money from the federal government.
Ainslie began gathering incriminating TAP documents from Durand, drafted a complaint and took her file to James Sheehan, a federal prosecutor working in the Philadelphia office Ainslie had occupied a decade earlier. In 1996, Durand formally hired Ainslie and they filed suit against TAP shortly thereafter.
Over the next five years, Ainslie covered Durand's expenses while providing federal prosecutors with whatever information they needed. In the end, TAP agreed to pay $875 million to settle the charges stemming from its manipulation of Medicare and Medicaid, the largest settlement for health care fraud in U.S. history. 
While Ainslie is modest in recalling her role, Welsh tells a different story: "Imagine deciding to take on a $20 billion pharmaceutical company with a virtually endless supply of legal and financial resources," he says. "This was Joan of Arc going up against heavily financed experts and legal teams. And had the government chosen to not pursue the case, she would have had that tiger by the tail. This was exceptional. You can't talk about the career of Liz Ainslie without talking about that case."
In 1999, her partner decided to run for a judgeship, and while Ainslie was considering if she wanted to find a replacement, Schnader called. They were looking to expand their white-collar criminal practice, and Ainslie seemed like the perfect fit.
"From the time she walked in the door, she was one of the most experienced trial lawyers we'd seen," says Suplee. "Nothing compares to someone with those kind of hours logged in the courtroom."
In addition to her trial work at Schnader, Ainslie has also handled settlement conferences for the Court of Common Pleas of Philadelphia County and has been first chair in two International Chamber of Commerce arbitrations, all while teaching trial practice courses at Harvard, the Attorney General's Advocacy Institute, the Academy for Advocacy, and the Beasley School of Law.
"I couldn't ask for more interesting work," says Ainslie. "I've never pretended to be anyone other than who I am, and I think people can sense that when I'm trying a case. I had a client say to me once after a trial, 'You know, I thought you would be a different Liz in the courtroom, but you're not.' I'm very proud of that." 
Search attorney feature articles
Helpful links
Other featured articles
Mark Reichel's argument before the U.S. Supreme Court
Facebook's first general counsel participates in hackathons, runs races, and brings the legal and engineering teams together
Julia Yoo represents the female prisoners and others society has written off 
View more articles featuring lawyers
Find top lawyers with confidence
The Super Lawyers patented selection process is peer influenced and research driven, selecting the top 5% of attorneys to the Super Lawyers lists each year. We know lawyers and make it easy to connect with them.
Find a lawyer near you