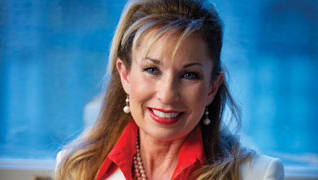 Photo by: Jeff Swensen
Keeping the Family in Family Law
Candice Komar guides clients through divorces that preserve family relationships and bank accounts
Published in 2012 Pennsylvania Super Lawyers magazine
By Eleanor LeBeau on May 18, 2012
Richard Mongiovi will always remember Aug. 8, 2006, the day his old life ended. It was a warm, sunny afternoon in suburban Pittsburgh. He parked his Chevrolet Tahoe in the driveway of the four-bedroom home he'd built 14 years earlier, loaded it with clothes, and then drove away from an unhappy 23-year marriage. 
"It was the hardest decision I'd ever made in my life," Mongiovi recalls about his decision to get a divorce. There was a lot at stake. He and his then-wife had three teenagers: two boys and a girl. Over the past 25 years, Mongiovi had built a plumbing and excavating business that, by 2006, was pulling in $8 million a year. "I didn't want this thing to drag on for years and years, like the divorces of some other business owners I'd heard about. I wanted it streamlined," he says. After interviewing several lawyers, Mongiovi called Candice L. Komar in Pittsburgh. "I was looking for someone who wouldn't play games, and Candice was the only attorney who suggested mediation," Mongiovi says. "She also had a great reputation."
Komar, a founding partner of Pollock Begg Komar Glasser & Vertz in Pittsburgh, is an advocate of nonadversarial, litigation-free divorce, though she readily handles divorces and custody cases that land in court. In 2008, Komar earned a certificate in collaborative law, a voluntary dispute resolution process in which parties settle without resorting to litigation. Rather than inflame the emotional issues that lead to a marriage dissolving, as litigation often does, a collaborative divorce helps couples arrive at a mutually beneficial resolution.
"Doing family law for 26 years, I saw how litigated divorce can decimate people and families," Komar says, sitting in her office on the fifth floor of downtown Pittsburgh's historic Frick Building. Smartly dressed in a white suit and black blouse, Komar looks considerably younger than 52, likely thanks to her active lifestyle—she participates in golf, yoga, mixed martial arts training, Pilates and dance—and an unwaveringly positive attitude.
"Two people who once loved each other enough to say 'I do' should not be on opposite sides of a piece of litigation," she continues. "They should be able to humanely and civilly figure out how to make each other whole and go forward." 
Couples seeking a nonadversarial split have two choices: mediation or a collaborative divorce, a legal model developed in the early 1990s. Both options allow couples to avoid the courtroom. In mediation, the couple meets with a neutral third-party mediator (sometimes a lawyer) and works out a settlement that's submitted to a judge. The collaborative model is based on the same principles except that each party has counsel (who are required to be collaboratively trained) present at each meeting who assist the parties in arriving at a settlement. The collaborative model sometimes uses a fifth person, a coach, who runs the meetings, which allows the attorneys the freedom to concentrate on problem solving rather than keeping clients' emotions in check.
"The coach is a mental health professional," Komar says. "The coach and two attorneys truly work as a team to assist the couple in working through all the issues." Couples who want an amicable divorce but are not able to mediate, or who are uncomfortable mediating without counsel, choose the collaborative process.
"Rick was a blended client, in that he and his wife mediated, but at some point the mediator brought in counsel," Komar recalls. "We eventually got it settled without having an expensive business valuation process and several days of trial just on the value. It saved both parties an incredible amount of expert and legal fees, not to mention stress."
It also saved time. By 2008, Mongiovi was divorced; today, he's happily remarried.
Komar is driven to learn more about the collaborative process, which is part law and part psychology. Two years ago, to sharpen her understanding of the psychotherapeutic dynamics of family law, Komar earned a certification in Constellation Therapy from the Hellinger Institute of western Pennsylvania. Last year, Komar attended the annual conference of the International Association of Collaborative Professionals in San Francisco.
"I took classes on brain chemistry," she says. "I learned how people make decisions when they're under stress. How the amygdala"—a part of the brain that plays a key role in processing emotions—"takes over and they can't function, so you lower your voice and repeat things to calm them down. You don't pressure people to make decisions before they're ready. And you don't ask questions, because it puts people on edge. You learn to phrase things in statements, like, 'Help me understand why joint custody is important to you.'" Komar has become so perceptive about her clients' behavior and motivations that, she says, "My associates think I'm psychic."
"There are a lot of lawyers who are incredibly smart but don't have the ability to serve the whole client—to really listen to people and find out what they want for their own lives, and to provide that kind of legal advice to them," says Laura Ellsworth, a trial lawyer and partner-in-charge at Jones Day's Pittsburgh office, who's been a friend and colleague of Komar's for more than 20 years. "She's very kind and yet simultaneously tough when she needs to be. That's difficult to do in an emotionally charged practice like family law."   
Hugh Nevin Jr., an international business and tax attorney at Cohen & Grigsby, has referred high net-worth clients to Komar for more than a decade. "Candice has the ability to coax people into settling the case—into accepting something that's ultimately very good for them, even though at the time they're so angry they don't see it."
Ellsworth says Komar's empathy for her clients is an innate gift; Nevin says it's instinctive. But looking back on Komar's personal life and 25-year career, it's clear that experience has also played a role.
After graduating from the University of Pittsburgh in 1982 with a dual degree in English and business, Komar thought she wanted to be the next great American writer. Or ballerina. Or Broadway dancer. (She'd taken dance lessons since she was a little girl, including five days a week throughout college.) But her parents—both from tiny Pennsylvania coal towns; her father was a petroleum engineer for the U.S. Department of Energy, her mother a nurse and educator—instilled in her the value of education as a tool in supporting herself.
She took the LSAT and, to her surprise, scored better on the math and analytical portion than verbal section. A year later, she was attending University of Dayton School of Law. "I didn't have an interest in family law in law school; I just wanted a job," she says.
She worked as a junior lawyer at two firms before landing at Buchanan Ingersoll, now Buchanan Ingersoll & Rooney. By 1995, she was made nonequity partner. But her personal life was in shambles. Soon after her 1991 wedding, Komar realized that the relationship wasn't working. She had been raised a Roman Catholic and there were no divorces in her family, so she struggled to make the marriage work. Years passed before she went to a priest and a psychologist, and after a prolonged period of soul-searching, she was divorced in 1996.
"I understand the pain," she says. "Even though it was amicable and took only four months, and we didn't go to court, I didn't sleep for six weeks.
"My passion for family law probably started when I went to Buchanan," she says. "But my divorce caused me to be more passionate about it. I finally got it. I realized the magnitude of what I was doing."
Komar also understands that it takes years of hard work to build lives, families and careers—all of which are threatened when a marriage dissolves. In 2000, Buchanan Ingersoll closed its family law unit, and over the next year, she spent many evenings dining with attorneys of other law firms at downtown Pittsburgh's Duquesne Club, discussing job possibilities. One offer came from David Pollock, a former head of Reed Smith's family law unit who had gone solo. Pollock proposed founding a new family law firm with Komar, Todd Begg and Dan Glasser, two of her Buchanan colleagues.
"It was a gratifying time, but scary," Komar recalls. "I would never have left the security of a big firm, but what I did like was being the captain of my own destiny." Founded in 2001, their firm has grown from four attorneys to 14, and in 2010, U.S. News  World Report named it one of Pittsburgh's best law firms.
As the firm's profile has risen, so has Komar's. She was inducted into the prestigious American Academy of Matrimonial Lawyers in June 2011.
She's currently guiding an anonymous client we'll call Tom, a businessman in his early 40s with three children, through an acrimonious divorce. Last year, after Tom and his estranged wife tried mediation unsuccessfully for eight months, his lawyer sent him to Komar. She quickly hammered out a joint custody agreement, and now she's working on alimony and division of marital assets.
"She's done a nice job of balancing the emotional and economic issues," Tom says. "She has a way of clearly getting the message across to the court without standing up and doing a lot of theatrics."
Still, Komar would rather have couples compromise and, in the end, be able to look at each other in the face—and sit next to each other at their children's graduations and weddings. "We practice in an area where most of the lawyers on the other side are very skilled, nobody-wants-to-lose kind of people," she says. "So when you have a really good result, they appeal. And when you appeal, you spend money. You're still fighting, and your client still has this open wound and they can't move on with their life."
Search attorney feature articles