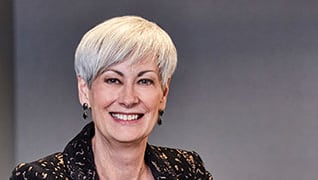 Photo by: Luigi Ciuffetelli
Kill 'em With Calmness
Before you know what hit you, Patti Dodge has opened you up
Published in 2018 Pennsylvania Super Lawyers magazine
By RJ Smith on May 18, 2018
Sometimes, when she's thinking about which way to proceed in a mediation, or while making notes on an opening statement in trial, Patti Dodge gets up from her desk. She grabs one of the baseballs scattered around her office and idly tosses it up and down as she thinks.
From her corner office window at Meyer, Unkovic & Scott, Dodge is a short walk and swim away from PNC Park. She's had Pittsburgh Pirates season tickets almost since the beginning of her legal career, for about 30 years now, and her office is a reliquary to the power the hometown team has to own, and break, a fan's heart. There are bobblehead dolls, and a framed photograph of the crowd and field at the 2013 Wild Card game, an altogether too brief resurgence for the Pirates. 
Up and down the baseball goes; sideways the Pirates go. The career of Dodge, as a commercial trial lawyer, has been marked by a steady climb since she took her first job, at Eckert Seamans Cherin & Mellott, in 1981. She loves trying cases before a jury, and she's established a reputation among peers for her composure and preparation. Last year, she won the Academy of Trial Lawyers' Joseph F. Weis Jr. Distinguished Service Award, which honored her entire career.
Russ Ober first worked with her at Rose, Schmidt, Hasley & DiSalle, and now works with her at Meyer, where he also litigates. Trying a case alongside Dodge happens less frequently now that they are both senior partners, he says, but teaming with her remains "one of my favorite things. It is really a joy. … Her style is truly calm and non-confrontational. But it's like surgery. Before you know it, she has opened you up." 
Her low-key unflappability is especially effective, he says, when applied to those used to giving orders without being questioned: CEOs and CFOs of large corporations. "I guess they get faked out by this calm woman who literally kills them," he says. 
A few years ago, an electric utility was suing a coal company for breach of contract, and Ober and Dodge were both at the table. Dodge began cross-examining a coal company executive and Ober noticed the look of confidence on the exec's face. He couldn't see Dodge silently working her pitches, setting him up for the slider.
"I got out of my chair and walked back into the gallery, where the in-house lawyer from the company that hired us was sitting. I leaned over and said, 'This is what you are paying us for. Watch.' And then she lowered the boom on this guy," Ober says. "It was an absolute work of art."
It might seem counterintuitive that someone so successful winning cases before a jury would thrive as a mediator, where compromise is paramount, but Dodge has found she likes the work. She's done over 100.
"I would say she has the perfect temperament to be a mediator. It's interesting—she certainly has a reputation in the courtroom," says Pittsburgh attorney Joel Sansone of Law Office of Joel Sansone, who's watched her work as a mediator. "You don't see her lose her stride. She stays calm."
Dodge worries about the decline of jury trials because it's a critical part of the system. She also knows she would miss the excitement if she couldn't stand before a judge and jury. "One reason people like to do trial work is that it is very exciting and fun," she says. "At the same time, it is incredibly stressful and hard. To be able to present a case to a jury of your peers is a good challenge." 
Scott Township is a quiet, middle-class suburb where, for years, the biggest excitement was the annual pinball tournament, once the largest in the world. Dodge grew up here, raised by a stay-at-home mom from small-town Texas and a New Englander dad who was an electrical engineer at Westinghouse. The family's three-bedroom ranch house was tranquil. Dodge now lives in a nearby suburb with her husband, attorney Howard Schulberg of Goehring Rutter & Boehm. 
In high school, Dodge took a district-wide aptitude test, which concluded that she was fit for the Navy. Dodge laughs at the idea—"I don't even have a boat," she says—while Ober likes to think it was a sign that she had the requisite tools to become an officer. "I thought it was so interesting because, in the military, the key to being an effective officer is to be a leader," Ober says. "And I guess even back at that time there was something about her that showed she had natural leadership qualities." 
She didn't go into the Navy. She didn't even go into the law at first. After her undergrad at Penn State, she worked for three years as a probation officer for Allegheny County. Until she started the job, she had never even been in a courtroom. "I didn't have any lawyers in my family; I don't think I even knew a lawyer," she says.  
Dodge was a probation officer working with nonviolent, first-time offenders. 
"It was interesting for someone who grew up in the suburbs and really never left," she says. "Suddenly you're seeing a lot of life—good and bad—out there." She's not just referring to the offenders but to the system itself—overworked, underperforming, sometimes abrasive.
"You certainly saw judges who were really fair," she says. But some she encountered were lacking in … she wasn't sure what, exactly. It was only later that she learned the term judicial temperament. Like the judge who kicked a court reporter out of the courtroom because she was wearing a pantsuit. Being a probation officer made her want to reach into the workings of the legal system more than ever. Just not as a probation officer.
She had a caseload of close to 400 people and learned early on that there was a limit to the time the system could devote to individual cases. "I went in idealistic. I wanted to help people, and you learn you could help some people, but you were certainly not able to help everyone," she says. "You had to think hard about where you can make a difference." 
So Dodge began taking law classes at night at Duquesne. It wasn't easy, but she says it prepared her for the pressures she would feel years later, when she had to help run a firm as a partner and practice law in a courtroom. 
These days, talk about glass ceilings turns easily to talk of the need for mentorship. But ask Dodge about who helped her at the start and she can't name anyone in particular.
"I think a mentor is just someone who guides you, and paves the way sometimes, but also tells you when you mess up and shows that it's going to be better next time," she says. "There certainly weren't that many women mentors back in that day, but I can't say that ever got in my way." The way she puts it, the best help you can get is to find someone who isn't going to throw you under the bus when you mess up.
Dodge recalls a time early on, when she made a misstep and then told a partner at the firm. "And he said, 'What do you think we can do to fix it?' rather than yelling at me for 20 minutes." It was a good lesson, she said.
Turning mistakes into fodder for future opportunities has become a lesson she applies over and over. In her first big case, a $4 million dispute, she represented a Japanese manufacturer in a products liability trial playing out in a rural area outside of Pittsburgh. Despite her fears of how the jury might react to her Japanese clients, "I was pleased with the way we tried it," she recalls.
During deliberations, two alternate jurors were dismissed, and while she and the clients waited in the parking lot, the departing jurors warmly greeted them, saying, "You guys were great; you're going to win!"
They didn't, and it felt like a gut punch. She had to drive the executives 45 minutes to town, and it seemed like hours—hours in which she had to explain the vagaries of the legal system, deal with their feelings while tamping down her own shattered expectations. But in the end, she was able to separate the loss from the fact that they'd done the best job they could. 
"It was a very important lesson," she says. "You can't walk around taking it personally and saying, 'Oh I did a terrible job.' Are you going to carry it around with you for the rest of your life? It's important to be able to say, 'It's OK,' you're still proud of what you did and learn something from it. Because that keeps it from being a personal failure."
The ball goes down, the ball goes up. Another case, this one from about 10 years ago. Dodge went to trial in federal court representing a local company—she'd come into the case in the middle and was tapped to co-lead it. The dispute involved a breach of contract and securities fraud. It was no sure thing, says Dodge, and she felt like the jury could go either way. "It was hard fought, and the lawyers on the other side, no disrespect, but they were not from Pittsburgh," she says. 
There was a lot of gamesmanship, she explains, eye-rolling and bad manners from the opposing counsel. "They were tough to deal with, I'll just say that," she says. Dodge had to remind herself 'OK, keep your eyes on the prize, focus on the witness. I'm not going to care if those people over there are throwing pencils or whatever else they are doing, just tune that stuff out.'
She obtained $10 million and a lesson in not letting the people at the other table upset your equilibrium. After the jury had ruled, a juror confided, "We just hated those lawyers on the other side—I wanted to throw my shoe at them." Opposing counsel happened to be walking by as the remark was shared with Dodge, she says. 
Some people still think of smoke and sweat when they think of Pittsburgh. But the city, routinely listed on assorted "Cities to Visit" lists, aced the post-industrial sorting and is feeling pretty good about its reborn self, whether outsiders know it or not. 
"We have really good judges and a legal community in Pittsburgh. [It's] big enough but not so big like, say, Philadelphia," Dodge says. "If you do commercial or real estate litigation, you get to know the other firms in town that do it and you can establish a rapport with your fellow litigators and you establish a reputation that goes with you.
"We have a great group of lawyers," she says. "Ninety-nine percent you can count on; [and] you basically know the couple of people who are jerks. The rest of us are people of our word. All of which makes it better for the client and for everybody." 
Behind her, a scattering of Pittsburgh Pirate bobblehead dolls nods in agreement.
Search attorney feature articles
Helpful links
Other featured articles
Mark Prothero knows it's a label that will stick
Jim Schwebel is in the business of rebuilding lives
Kostan Lathouris' promise to represent tribal interests and sovereignty 
View more articles featuring lawyers
Find top lawyers with confidence
The Super Lawyers patented selection process is peer influenced and research driven, selecting the top 5% of attorneys to the Super Lawyers lists each year. We know lawyers and make it easy to connect with them.
Find a lawyer near you