Pushing at the Edges
An oral history of women who began practicing law in the early 1970s
Published in 2017 Pennsylvania Super Lawyers magazine on May 12, 2017
Updated on September 30, 2019
By the time they went to law school at Harvard and Penn and BU in the 1970s, women found female colleagues, and when they interviewed with firms, they found one or two women forebears. "I felt I was accepted as a lawyer," recalls Faye Cohen, a 1972 law school graduate now practicing in Philadelphia. 
But Cohen and her peers still had battles to fight. One opposing counsel in a long-ago arbitration hearing told Martha Hartle Munsch, now an equity partner at Reed Smith in Pittsburgh, "Shut up, sweetie"—and the male arbitrator let it slide. Some women endured male colleagues making jokes about their engagement rings and bras; male professors going overboard with rape examples; male judges sneering at briefcases and pantsuits. "I can still hear [the 'shut up' comment] ringing," Munsch recalls.
Here are some of their stories.
Women entering the law faced discrimination in the '70s, but many of their mothers and aunts couldn't even go to law school.
Regina O'Brien Thomas, Ballard Spahr, Boston University School of Law 1973: My mom was an "at-home" legal secretary to an uncle who was a small-town lawyer. She closed her bedroom door and typed "stips," which many years later I understood to be stipulations. Even when you read stories about the pioneers Ginsburg and Sandra Day O'Connor, my mother was before their time. In 1941, maybe you could find one [female attorney] somewhere, but an ordinary woman in an ordinary town like my mom certainly could not aspire to be a lawyer. My mom couldn't; I could.
Susan K. Hoffman, Littler Mendelson, University of Pennsylvania Law School 1974: My father was a truck driver, my mother was a secretary, and I thought I wanted to be a physicist or a mathematician. But I ended up majoring in economics and, probably because I grew up reading my father's Teamster magazines, I became very interested in working on labor relations. I spent my summers working for an actuarial firm, because I babysat the actuary's kids when I was in high school. I knew I didn't want to be an actuary, but I liked the business environment and I figured I'd get a job in labor relations management. But in 1969 and '70, I couldn't get a job interview because I was a girl.
In 1970, women still made up only 4 percent of the student body in U.S. law school. It was still a man's world.
Alice Gosfield, Alice G. Gosfield and Associates, NYU School of Law 1973: The only role model I had at that time as a female lawyer was Bella Abzug, who I did not consider to be a model I wanted to follow. I thought, "Well, it's only three years, I'll go." 
Martha Hartle Munsch, Reed Smith, Yale Law School 1973: I was the sports editor of my undergraduate student newspaper and I wanted to be a sports journalist. I have no lawyers in my family. I never really aspired to go to law school. But my best friend convinced me to take the law boards, and I did really well. This was before women really had any visibility in sports journalism. I learned that Howard Cosell was a lawyer. I tell people, if ESPN had existed back in the early 1970s, I would never have become a practicing lawyer.
Marilyn Kutler, Schnader Harrison, University of Pennsylvania Law School 1974: I approached a man [who] was a lawyer by training and he had graduated from Penn Law in 1930. We had a very nice business relationship and I said, "Gee, I'm hoping I can get a reference for Penn Law School," and he said, "Oh, really, why are you going?" I said, "Because I think I would be a good lawyer." He said, without missing a beat, "But I think you might displace a man." And I remember thinking, "Really?"
Sherrie Savett, Berger & Montague, University of Pennsylvania Law School 1973: There were 30 women in our law school class out of 200. It had been 5 percent or less in all the previous classes. Our class was like a quantum leap.
Thomas: My 1970 Boston University class was the first class with a sizable percentage of women. They had no large enough women's room at the law school and had to turn the Law Review office into a women's room. But it was always getting better. 
Hoffman: There was one much-loved professor who was absolutely wonderful, and he taught evidence, and all of his hypotheticals were rape hypotheticals. At one point, a few of the women got together and approached him and said, "It's very hard for us to sit there, day after day, listening to stories of rape." And he said, "Oh my God, that never occurred to me, I started doing that to keep men awake."
Thomas: One of the biggest things I had to learn was to speak up for myself. In law school, I, and certainly every other woman, didn't speak out most of the time—and guess who filled the vacuum? Men! They all spoke up. Eventually, I learned to speak up and not be shy about asking what pay my work deserves. I guess that's the lesson women need to do, because some of us are naturally too polite. 
Many were lucky enough to join supportive firms with progressive male mentors; others, not so much.
Deena Jo Schneider, Schnader Harrison, Harvard Law School 1974: [My husband's] uncle was from New York, and I remember his law firm. One of the senior partners said to me I had no business going to law school because I was taking the place of somebody who needed the job and I would never be a practicing lawyer and I would leave and get a station wagon to drive my kids around. I looked at him and said, "Well, I don't really like station wagons. But I think I will be a lawyer and I hope I have a family, too." I didn't go to work there.
Thomas: I applied for a summer clerkship in 1971. My husband and I wanted to try Philadelphia, just because it was halfway between our parents. There was only one firm at Philadelphia that came to BU, so I interviewed [with] them. That interviewer spent my entire interview asking questions about my husband. That law firm had no women. They actually offered me a job, so I declined and wrote letters to two other law firms that had at least one woman, and I went to Ballard. I've been there ever since.
Faye Cohen, Law Office of Faye Riva Cohen, University of Denver College of Law 1972: I was able to find a job—they treated me very nicely. It was an all-male firm and it was in Wilkes-Barre. I was the only woman lawyer in Wilkes-Barre at the time. I remember attending a Bar Association outing. There was a golf tournament, and they gave me a prize for being the only woman.
Schneider: The interview started and [the interviewer] asked me to stand up and turn around. I was so taken aback. He repeated the request and I stood up and I didn't turn around and I said, "Why are you asking me this?" And he backed off. I remember telling a couple of my friends afterward, and they were up in arms. They were like, "You have to report this guy and get the firm banned." I was reluctant to do that because it was one person from this firm—he was not smart; I certainly didn't like it, but I did not think the proper thing to do was make the firm pay for it by being banned from campus. I always thought that what you should do is say, "That's really not an appropriate thing to say, I'm just as capable as anybody else, give me a chance and I'll show it to you," and disprove things by your actions, as opposed to getting people in trouble for just saying things that weren't very thoughtful.
Kutler: I remember interviewing at one firm that said they already had a woman.
The remarks, the remarks, the remarks. How is a professional lawyer supposed to respond to something like, "Shut up, sweetie"? 
Cohen: There was one elderly judge. Every time I walked into the courtroom—it was a smaller court, there might be 50 people—if I had to get up to go to the restroom, he'd say, "Why are you carrying this briefcase?" 
Thomas: I had a judge who wouldn't let me wear my pantsuit, which I modeled after Mary Tyler Moore and purchased with my first paycheck. I had an opponent who successfully blocked a lawsuit extension when I was pregnant. 
Kutler: When I was probably eight months pregnant, and we were going to a meeting with a big bank, [a colleague] said to me, "I'm going to need to introduce you." I said, "I know all these people." He said, "No, just wait." He says, "So, you all know Marilyn, I'm coming as her obstetrician." That was a pretty weird situation. Could you get all upset? Definitely. When I thought people were really over the line, and sometimes people were, with really inappropriate statements, I said something and it usually stopped.
Savett: The anti-women stuff, the really insulting stuff, for the most part stopped in the 10 to 15 years after I got out of law school. After that there was less and less of it. But there was always some really uncouth lawyer who would make a comment. As time went along, the comments didn't even sting you. Sentiments had shifted, and comments like that just reflect poorly on the men who made them.
Munsch: Not only the law firms were male-dominated; the executives for the clients with whom I'd be working were men. It was really a fabulous icebreaker to be sitting with clients at dinner in any part of the country and I could talk sports to them.
Hoffman: Only once did I say something nasty to a client. I was called into a meeting and this guy had a serious situation that I was an expert in, and I tried to give him advice and he was saying something like, "Little lady, why should I listen to you?" And I said, "Well, buddy, it's your money, so you can either listen to me or lose it."
Gosfield: I remember a client I represented for 25 years, and he called me and said, "I didn't like you when I first met you. I don't like pushy women." I said, "OK." He said, "But now we're fine." I said, "Fine." 
Munsch: When I had my daughter in 1986, I tried a jury case when I was seven months pregnant. I actually thought it was a great advantage because I'll tell you, the jury is so sympathetic to you when you're pregnant. They hated that the case ended so quickly. They said, "We wanted the case to go on because we were so interested in your maternity outfits." 
In the '70s, family-leave policies were more or less nonexistent, so attorneys who wanted to have children had to invent the concept at their own firms and figure out how to implement it.
Thomas: I was the first woman at Ballard to return after having a child. I didn't know how to handle it, I didn't know what to ask for, Ballard didn't know what to do. They didn't have any policies. There was also the silly concept that women could be superwomen—there was even a cover in Time or something. So I just soldiered on. But soon enough another woman partner and I proposed written maternity policies, and for decades Ballard has been very generous in offering maternity policies and flex time. We wouldn't get the many women we have if we didn't do that.
Schneider: I came back [from having a baby] on an hourly basis. I went on trial on a case and my hours went through the roof. The managing partner came to me and said, "Deena, this is ridiculous, you're making my life very hard, I have to figure out every two weeks what to pay you and you're making more money than you would be if you weren't going part-time, and let's just put you back on salary." I said, "Well, I need some flexibility." And he said, "We'll have flexibility, just figure it out." I thought there was resentment from people because I dared to have a kid and cut this "special" deal.
Savett: There were no family-leave policies whatsoever. I gave birth on a weekend and I worked up until the Friday, and I was back in less than two months. In retrospect, I really don't think I took enough time. I was concerned about leaving my job for too long, and, at the same time, I felt guilty and torn about leaving my new baby. Now, most firms give at least three to four months with pay when women have babies; that's so much kinder and better. When they come back, they're ready to come back and be productive again, and their status within the law firm has not been diminished at all.
Hoffman: When I was up for a partnership at Goodwin Procter, there was one male partner who was reported to have said at a partners' meeting, "We're hiring too many female associates, because everyone knows women can't get clients." So I get a call from a woman I met through the American Bar Association who was in-house at Conoco. She said, "Do you have a firm resume?" I called [the male partner] and I explained what I was looking for, and there was this moment of silence on the phone. And he said, "Wow, that's terrific, how did you get that?" I was about to respond routinely when a little imp in the back of my mind took over and I said, "Well, you might say it's the old girls' network."
The battles against discrimination and double standards are far from over. But many attorneys feel that continued progress is inevitable.
Hoffman: We learned from the last election there are subconscious barriers. I have no doubt that the hostility toward Hillary Clinton in both male and female voters was based in part on her gender, because she didn't act the way a nice lady was supposed to act. And that's going to require a societal change, not a change in the legal profession.
Cohen: Oh, I definitely feel there's progress being made. The first large firm I practiced with, there were very few women, and they never mentioned that they had children. Now, many of my cases are all women: The judges are women, there are women on the other side.
Gosfield: I'm a colleague and peer of a young woman who is the co-chair of the health law department at a large national firm. About three years ago, she and two other women were sitting in a health lawyers' presentation, and some older guy who was speaking said, "Of course, it's better if you hire women, because they make less money." The three of them said they were going to form a women's health council. I said, "Look, we did this in the early '70s. Isn't it over? Why is this necessary again?"
Thomas: I'm optimistic. I really am. The young women coming along are just amazing. And it's just a matter of time before it'll be 50/50. 
Schneider: There's no question that, for women, and it's true today, there's a narrower range of acceptable behavior. If a woman dresses well, she's too fashionable; if a man dresses well, he looks good. If a woman doesn't dress well, she's dowdy; if a man doesn't dress well, he doesn't care. If a woman laughs too much, she's frivolous; if a man laughs, he's got a good sense of humor. I pushed at those edges because I was forceful; I did like nice clothes; I'm not quiet. You can't be quiet and succeed in the times I lived.
Other Featured Articles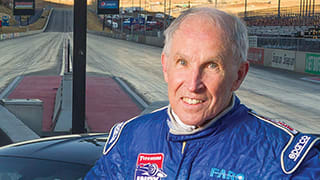 Driven
Jim Gilbert's crusade for victims of unsafe vehicles Featuring James L. Gilbert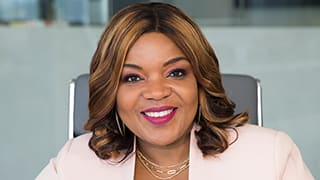 Resolution Oriented
Angela Reddock-Wright's fight for a better workplace, one mediation at a time Featuring Angela J. Reddock-Wright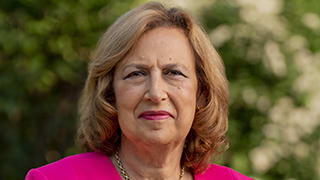 Reality? Check.
Alisse C. Camazine tells clients the truth—over and over again Featuring Alisse C. Camazine