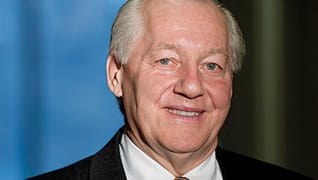 Photo by: Jeff Swensen
The Grappler
Former collegiate wrestler C. James Zeszutek learned discipline on the mat. Now, as a partner at Dinsmore & Shohl in Pittsburgh, he puts it to use for some of college sports' most well-known coaches
Published in 2014 Pennsylvania Super Lawyers magazine
By Ross Pfund on May 23, 2014
Q: You're a recent recipient of the Syracuse Letterwinner of Distinction award. You were on the wrestling team, correct?
A: I was there '68 to '72 and about … let's see, 50 pounds ago? [Laughs] A lot of fond memories. I was lucky enough to have gotten a scholarship and had a great wrestling coach, Ed Carlin, from whom I learned not only so much about wrestling, but so much about discipline and life and how to handle yourself. We had some very good wrestlers. Benny Polano, Bob Rust: national champ. We were pretty good.
Q: You now have a unique practice representing college coaches in NCAA-related matters. How did you develop it?
A: One of my very close friends was down at Tulane when the Hot Rod Williams issue hit [in the mid-1980s], and he was accused of providing extra benefits [to Williams, who was a student athlete at the time]. When the school's lawyers did a first investigation, he called me and said, "You know, they said I can have a lawyer with me when they conduct the investigation, but I'm afraid they'll think I'm guilty if I have a lawyer with me." I said, "Well, if you don't have a lawyer with you, by the time they're done, they'll think they know you're guilty."
So when the NCAA did its investigation, I actually represented him in my first Committee on Infractions hearing. I treated it just like a trial. Like a trial lawyer, I had an opening prepared, I had an argument prepared, I put him on as a witness and had a closing prepared. I think the Committee on Infractions was very informal at that point, and they didn't have any protocol for presentation. They were sort of taken aback at my approach. We tried the case, and my friend was exonerated.
One of my friends at Syracuse [also] had NCAA issues and hired me. The coach was exonerated there, so that sort of made my career take off.
Q: Has it since become more of a formal process?
A: Extremely. The NCAA has always had an enforcement staff, but it has heightened attention now. They conduct an investigation, and then you have a chance to be with your client when your client's interviewed. Then, if the enforcement staff feels that there are sufficient allegations, they'll publish what they call a notice of allegations, and you have an opportunity to respond to that and make your own submission. Then you can appear before the Committee on Infractions, and that's conducted just like a hearing.
Q: How does this compare to representing clients in a court of law?
A: Well, it's much more difficult, with respect to the Committee on Infractions hearings. But representing clients in a court of law does give you the skills to be an advocate in the Committee on Infractions hearings. So you learn how to give an opening statement, you know how to present arguments, you know how to present witnesses, and you've learned how to deal with an adversary—the enforcement staff.
Q: The phrase I keep seeing in connection with these matters is "violations of NCAA bylaws and legislation." What are the specific violations that are being alleged?
A: It could be anything from providing extra benefits to recruiting violations or academic fraud. Those are the basic ones. The most feared situation is an unethical conduct violation, where any coach is at risk because he or she allegedly either knowingly did a major violation, or was less than truthful in conducting the interviews.
Q: Why is that the most feared situation?
A: It takes your client out of collegiate sports for a period of time. Once that unethical conduct violation is ascribed to a particular individual, it's hard, even after that time period is exhausted, to get back into the college game.
Q: Does being a former collegiate athlete give you any advantage?
A: It does to the extent that it teaches you discipline. You have to learn the rules, you have to work hard, you have to be there for your clients, and you have to like the competition that's involved in defending your client. I think that goes over not only to the NCAA proceedings, but any proceeding—any trial that you have, whether it be a bench trial, a jury trial or an administrative hearing situation.
Q: Can you take me through a typical matter of this sort?
A: In the University of Miami situation, I [represented] two assistant basketball coaches and an assistant football coach. Mr. [Nevin] Shapiro, [a Miami football booster] was in jail [for orchestrating a multimillion-dollar Ponzi scheme]. He had professed that he was very angry with the school and the coaches; because after he was in jail, they wanted nothing to do with him. So he decided to go to the NCAA and say all sorts of accusations against the coaches in the school.
From there, the NCAA will interview the at-risk coach. Before that's done, the at-risk coach will generally get in touch with me or some other lawyer. [I'll] sit down with that at-risk coach, find out what his side of the story is, caution him about making sure you tell the truth, going through all the pitfalls that there may be with the allegation and get them prepped for the interview. And you sit through the interview.
It's important to conduct the interview not unlike a deposition—knowing your client has rights, making sure the questions are fair, making sure the answers are clear. Because if you don't have a clear answer, you can be accused of being less than candid, and then you get into unethical conduct violations against you.
From there, the enforcement staff of the NCAA will decide whether they're going to do an investigation of infractions of a bylaw or legislation. They'll publish what's called a notice of allegations, and the at-risk coach then has an opportunity to respond.
From there, [if] the enforcement staff continues to pursue the allegation, there'll be a Committee on Infractions hearing, at which point the NCAA presents its position, the school presents its position, and the coach presents his or her position.
Q: If you could change one thing about the process, what would it be?
A: I'd like to have the opportunity to cross-examine the people that have accused the at-risk coach. You really don't have that opportunity. Many times, the enforcement staff will have discussion and interviews with people on which they base the allegations, and then give a report to the Committee on Infractions. Those people may or may not even speak with you. It would be better to, like in a court of law, face the accuser, have an opportunity to cross-examine. You just don't have that opportunity under the protocol used by the NCAA and the Committee on Infractions.
Q: Do you think that will ever change?
A: It hasn't in a whole bunch of years. For example, we had a situation with the University of Miami where, because of the improprieties engaged in by the enforcement staff, we filed a motion to dismiss all the notice of allegations. The committee said they were going to listen to it. We filed it, spent a whole lot of time, whole lot of money, whole lot of resources in putting it together. And we kept asking to present that motion before the committee heard evidence.
Well, the committee ignored it. Actually, the committee did not even address why it did not … and they said, "We considered everything," but never specifically mentioned the motion to dismiss.
Q: What were the infractions?
A: One big one is that the NCAA enforcement staff used the bankruptcy proceedings for Mr. Shapiro to conduct its own investigation. For example, they would work with Shapiro's lawyer to file a notice of deposition in the bankruptcy court, and they would use that deposition in the bankruptcy court to ask questions about the investigation. In other words, they were perpetrating a fraud in the bankruptcy court by saying, "We're taking these depositions for purposes of the bankruptcy proceedings."
But they didn't even say anything about taking the depositions for purposes of the investigation. As a lawyer, I think it's a pretty big deal.
Q: And the committee refused to hear your motion about it.
A: It's almost like they take the position that the NCAA's procedures trump the court of law. That's not the way I see it.
Q: You've represented some big names in the world of college coaching, like Lane Kiffin, Jim O'Brien and John Calipari. Do you have any personal observations on them?
A: I've been fortunate enough to have some really fine clients. The bottom line is, they're just people and they like to have representation; to feel like there's someone on their side and cares about their situation.
Q: They're similar to clients you would represent in traditional legal matters.
A: Very similar. This is the closest I have to a criminal [defense] practice, because the reputations and the livelihoods of these coaches are at risk. When you represent a client, whether it be a medical devices or pharmaceutical or chemical client, a lot of times you're in a bet-the-company-type situation. And representing coaches is very akin to a bet-the-company situation.
Q: Are you a sports fan?
A: I am. I can't wrestle anymore because of my knees. That cow's left the barn a while ago. But I like to play golf. I enjoy watching basketball, and I'm obviously a Syracuse fan. Coach [Jim] Boeheim and I go back a long way.
Q: You've been on both the athletic advisory board and the law school board of advisers at Syracuse. You're probably the only person to hold both of those distinctions.
A: I'm very privileged to serve on both of those boards. Obviously I have a huge debt of gratitude to Syracuse University. I was able to go there, spent seven years there. I met my first wife there. My daughter went there. So we have quite a legacy.
Q: How much of your workload does your NCAA practice comprise?
A: About 35 percent. I still do a lot of medical device and pharmaceutical defense work. I still do a lot of fiber products and chemical defense work.
Q: What draws you to defense work?
A: Early on in your career, you have to sort of pick a side. I just was fortunate enough to be at a law firm where we did represent corporations, and I was able to work in areas and industries where I had a chance to work with experts, learn the industry and learn all the good parts about it. And the bad parts, too. It helps to defend your client.
Q: What does it take to be a successful products defense attorney?
A: Take advantage of opportunities. A CEO for one of my clients said, "I don't understand this. You're on the national coordinating council for products liability litigation, and you do sports law. How do you break that down?" I said, "Well, basically, it's opportunities. If you take advantage of every opportunity you're given, you'll be successful at it."
Q: Sounds like a sports-related mentality. Do you to have a particular courtroom style?
A: I like to think I'm reasonable. I think you're a projection of your client. So you want the fact finder, whether it be the judge or the jury or the Committee on Infractions, to think you're reasonable.
Q: I don't think I've ever spoken with a lawyer who's won every case they've tried—
A: You're not speaking with one now.
Q: So how do you handle losing?
A: It takes a bit out of you. Every time you lose a case, your client feels it, and you feel badly for your client. If you have a coach who has been found to have violated ethical conduct, you know that coach is going to be out of college sports for a period of time. That's going to affect their family, their livelihoods and their reputations. As a result, you feel like a piece of you has been cut out.
Q: How do you move on?
A: You pick yourself up, you dust yourself off. You don't really have a choice.
Q: What do you know about your job now that you wish you knew when you started?
A: I was prepared to work, but I didn't appreciate how much I would have to work, and the travel that goes into it. You need to be able to be mentally tough. My dad was the most mentally tough person. He would never let anything get him down. He had an even keel, whether he was successful or unsuccessful in a situation. And [it's] the same thing with some of the coaches I meet. They're mentally tough. And that's something you just can't teach.
This interview has been condensed.
Search attorney feature articles