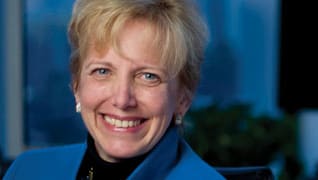 Photo by: Jeff Swensen
The Many Great Roles of Laura Ellsworth
The commercial litigator and partner-in-charge at Jones Day's Pittsburgh office has created a second career as a social entrepreneur
Published in 2013 Pennsylvania Super Lawyers magazine
By Eleanor LeBeau on May 17, 2013
Years before Laura Ellsworth became one of the country's top commercial litigators and partner-in-charge at Jones Day's Pittsburgh office, she was offered the role of rich girl Nina Cortlandt on the legendary daytime soap opera All My Children. Then a senior history major at Princeton and a fixture of the school's vibrant theater scene, Ellsworth was spotted by a New York talent agent, who asked her to read for the part. An unexpected but thrilling job offer quickly followed, and she reported the good news to her father, Dr. Robert Ellsworth, a world authority on eye cancer.
"I told him, 'I'll do this for awhile instead of going to law school,'" Ellsworth recalls. "He said to me, 'I did not pay $50,000 for a Princeton education so you could be on television. You can always be on television, but if you don't go to law school now, you never will.'
"I believed him and went to law school," she says. "I never looked back."  
Ellsworth graduated from the University of Pittsburgh School of Law in 1983 at the top of her class and landed a job at Buchanan Ingersoll. She flew solo in the courtroom her first year there, trying a single-plaintiff personal injury case. "It was a success," she says. "Talking to the jury after the fact was really fun. I liked finding out what they got and what they didn't get, and what they watched that I wasn't aware they were watching."
Ellsworth soon realized she could put her theatrical training to good use as a litigator. "I often tell young lawyers that law was the perfect career for me because I love three things," she says in a Jones Day conference room on the 43rd floor of BNY Mellon Center, impeccably dressed in a fuchsia suit and elegant pearl necklace. Her speech is rapid, but she's soft-spoken and has the warmth of a friend, a quality that serves her well in front of juries. "I love performance art, or all eyes on me; I love teaching, or explaining things to a jury; and I love what I call mental gymnastics, or figuring out how to solve the hardest problems."
Since joining Jones Day in 1992, she's practiced a wide range of complex commercial litigation—toxic torts, insurance, employment, ERISA and intellectual property—including a number of high-profile, multi-jurisdictional products liability and bankruptcy cases. And she's developed a reputation as a litigator who can connect with juries. "Laura is a very polished presenter," says John Lebold, associate general counsel of complex litigation at Sherwin-Williams Company, a longtime client. "Juries pay attention to her. She spends a lot of time developing arguments and boiling them down so they're easy for people who don't have a legal background to understand. Not everyone can do that."
Over a decade ago, Ellsworth, 54, represented the creditors committee in what was then the nation's largest nonprofit health care bankruptcy. The Allegheny Health, Education and Research Foundation (AHERF), a nonprofit corporation that oversaw 14 hospitals and two medical schools in Pennsylvania, declared bankruptcy in 1998 and left thousands of creditors in its wake. "I sorted through what happened with all of the competing claims and insurance issues," Ellsworth says, "and that ultimately resulted in a court-appointed settlement." Ellsworth and her team of 25 lawyers helped secure $56 million to repay creditors.
She's no stranger to the media spotlight or high-stakes lawsuits. Ellsworth is currently on a team of Jones Day lawyers defending the Pittsburgh-based Education Management Corporation (EDMC), one of the nation's largest for-profit college companies, against a significant qui tam action suit brought by two former EDMC employees, in which the Department of Justice and five states have intervened. The suit claims that EDMC was not eligible for the $11 billion in state and federal financial aid it had received since 2003 because it violated federal law by compensating recruiters based on the number of students they enrolled. "This is a math problem," Ellsworth explains. "This is about whether enrollments were the sole factor [in salary decisions] … EDMC filed an answer asserting that the actual compensation data demonstrated that the allegations of a company-wide sham were without any factual support, and noting that the complaint did not identify a single EDMC employee who had been illegally compensated, nor a single employee who had illegally compensated others." A special master has been appointed to handle discovery in the case, which is scheduled to continue through mid-2014.
Perhaps the biggest case of her career so far—in terms of publicity, pedagogical moments, financial stakes and time—is the landmark State of Rhode Island v. Lead Industries Association, Inc., et al, a decade-long public nuisance lawsuit surrounding the use of lead pigment in paint. She started working on the case a month or so after the birth of her son, Matthew, now 15, and is still dealing with its collateral issues. Ellsworth was a lead lawyer on the defense team that represented Sherwin-Williams, one of four paint companies under fire. Rhode Island filed the suit in 1999, alleging that the lead paint these companies manufactured decades ago is a health hazard and they should pay for cleanup costs.
The first trial, in 2002, ended in a hung jury. The second one lasted four months, and after eight days of deliberation, in February 2006, the jury found three of the four paint manufacturers, including Sherwin-Williams, liable for creating a public nuisance. Cleanup costs were estimated at $2.4 billion. This was the first time a paint company had been successfully sued for creating a public nuisance, and the first significant loss of Ellsworth's career. The verdict had wide-reaching ramifications not just for Sherwin-Williams, but all product manufacturers. The case raised the issue of whether state public nuisance laws could undermine products liability laws. And as a lawyer told The New York Times in 2006, "If you follow this example, beer manufacturers can be sued every time someone gets drunk and does something stupid."
All eyes were on Ellsworth and her teammates. "When the award came back, there was a terribly sick feeling in the pit of my stomach," she says. The national media was all over the story and Sherwin-Williams' stock market value plummeted. Its CEO, Chris Connor, wanted to meet with the defense team. All he said, Ellsworth recalls, was "'Okay. That's it. I wanted to look you in the eyes and see that this didn't knock you back on your heels, and that you still have fire in your hearts.'" Then, she says, Connor gave each of them a knife with the SW logo engraved on it. "He told us: 'You're in a knife fight and I want to make sure you're appropriately armed.'" Ellsworth calls the meeting the single greatest leadership lesson she's ever learned.
Two years later, the Rhode Island Supreme Court overturned the verdict, unanimously rejecting the plaintiff's public nuisance theory and holding that the case should have been dismissed at its inception. "When the verdict came in," Ellsworth says, "I was calm, not elated. I was absolutely at peace because I knew justice had been done."
Ellsworth was born in New York City and moved to Englewood, N.J., during high school. At age 3, she began studying ballet, which she practiced five or six hours daily until she went to college.
Ellsworth's dedication to community service took hold early, as she watched her parents doing good works. When Ellsworth was, she says, "a tiny kid in the 1960s," her late mother, Grace, a nurse, started some of the early day cares in New York City. Her father, who devoted his life to curing retinoblastoma, a rare and then-often fatal genetic cancer that strikes infants, flew around the world every summer to treat children—a "doctor without borders" before the term existed. (Her father's 40-year study of the disease helped increase the cure rate from 10 percent to over 90 percent; today retinoblastoma has one of the best cure rates of all childhood cancers.) He also flew children to New York for treatment, the expense often financed by stars like Bob Hope and Frank Sinatra, whom Ellsworth calls her father's buddies. While in New York, these children and their families needed a place to stay, so Ellsworth's mother organized her Junior League friends to buy a house in Harlem. "That became the prototype for the Ronald McDonald House," Ellsworth adds.
Today, while juggling a booming business litigation practice and management duties, Ellsworth has found time to build bridges between the arts, education, business and workforce development. "Laura has the energy of 10 people," says Pennsylvania first lady Susan Corbett, chairman of the Pennsylvania Council on the Arts, on whose board Ellsworth has served for the past two years. "She sits on so many boards, but she doesn't just show up. She really plays an active role and she accomplishes things."
Ellsworth is leading by example—she says she hopes the smorgasbord of activities she participates in will help inspire other attorneys to get more involved in their communities.
She serves on more than a dozen boards, including Gov. Tom Corbett's appointed Council on Privatization and Innovation, and the Allegheny Conference on Economic Development, but her eyes glisten when she talks about her work as a board member of Imani Christian Academy. The East Hills K-12 school takes in mostly African-American students from inner-city neighborhoods. Other schools had given up on many of these students, most of whom come from broken homes; some have juvenile criminal records.
"It's all important work," she says of her community efforts, "but Imani is closest to me. I love those children." After joining the board in 2008, Ellsworth found out from the school's principal, Dr. Marilyn Barnett Waters, that many students were struggling with critical thinking and public speaking skills. So a year later, Ellsworth began co-teaching, with junior lawyers from Jones Day, a biannual, semester-long "people's law class" for sixth through 12th-graders. The weekly class culminates in a student-conducted mock murder trial that real judges preside over in real state and federal courtrooms in downtown Pittsburgh.
"She makes our curriculum come alive for our students," Barnett Waters says. "One of the greatest things she brings to our students is that she makes them feel special and important. You can tell she believes in them, and she has very high expectations for them." And they deliver. This, Ellsworth says, is workforce development—creating an opportunity for students to experience the success that comes from discipline and hard work.
Ellsworth also sees a clear connection between the arts and workforce development. "I've heard Laura speak very eloquently about how the arts impacted her career," first lady Corbett says. "The self-discipline that comes with learning an art form is part of the key to her success."
Search attorney feature articles