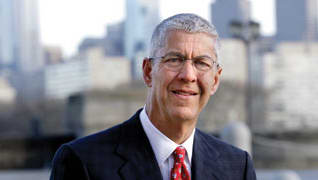 Photo by: Luigi Ciuffetelli
The Raconteur
When Shanin Specter speaks, med mal juries listen
Published in 2011 Pennsylvania Super Lawyers magazine
By Nick DiUlio on May 19, 2011
Something remarkable happens whenever Shanin Specter tells a story about a client or a case. His voice becomes hushed, almost reverent. He starts off slowly, making sure the smallest details are clear. And then he'll build the emotional tension, digging deeper into his memory, closing his eyes and tilting his head upward ever so slightly, as though summoning a muse.
Specter does this several times during a conversation inside his high-rise Philadelphia office, its enormous windows displaying vistas of Center City. Wearing a pale-blue cardigan and white button-down shirt accented by a University of Pennsylvania tie, the 53-year-old malpractice lawyer often comes across as a skilled and humble storyteller.
The stories he tells are tragic.
Consider a recent case in federal court. It concerned a 53-year-old former Marine who worked as a machine calibrator in the Philadelphia suburbs. "He had steady hands," says Specter, holding out his own hands. "Very steady hands. And a very good eye."
Four years ago, Specter says, this man went to a dental clinic run by Veterans Affairs to have some teeth extracted. During the procedure, his blood pressure dropped several times. Nonetheless, the resident and dental student performing the extraction continued, then sent the man on his way. But when he pulled out of the parking lot, the man suffered a massive stroke and crashed his car.
"Now he's horribly brain-damaged. He can no longer speak clearly. He can't cook. Can't drive a car. Can't use his right hand," Specter says, again holding out his own. "He can't use his right leg. Occasionally he walks with a four-point cane. Otherwise he's bound to a wheelchair. His IQ is 68."
In court, Specter had the man's wife testify for more than three hours, explaining how her every waking moment is now spent taking care of her husband and their disabled son. Specter admits that such lengthy testimony is unique, but he did it for a reason. The judge needed to fully understand—to feel—the heartache.
"At one point she said she feels like a prisoner in her home," Specter says. "She can never leave. She has no help."
As one of the most celebrated and respected catastrophic injury litigators in the country, Specter is no stranger to misfortune. As a partner at Kline & Specter, he's built his career around representing those who have been unimaginably afflicted, securing more than 100 verdicts and settlements exceeding $1 million (10 of which were in the eight- and nine-figure range). Even a shortlist of his cases reads like a manual for malpractice success.
Consider a $24.3 million jury verdict in 1995 for a little girl left severely brain damaged in a swimming pool accident; a Delaware-record $19.9 million verdict in 1997 against a hospital after a 15-year-old patient was attacked by a visitor and left with severe nerve damage as a result; a $49.6 million jury verdict in 2000 for David Caruso, a 20-year-old who was left in a near-vegetative state after receiving negligent care at a Philadelphia hospital; a $19.1 million verdict in 2004 for a Hazleton woman named Teresa McManamon, who was struck by a careless driver while working as a flagger at a construction site; and a trio of verdicts against Ford Motor Co. over faulty brakes.
Yet Specter doesn't look at his career or reputation in terms of wins and losses or dollars and cents.
"It's not just about the money. It's about an instrumentality for good," says Specter. "If we win this current case, there will be a bunch of money. And this man's wife will finally have some respite. Her husband's not going to be physically any better, but the family will be better. Every day that I try this case I think, 'This is a good reason to get out of bed in the morning, to go down to court and help these people."'
Long before he earned his J.D. from the University of Pennsylvania or his LL.M. from the University of Cambridge, Specter learned about law at the dinner table.
As a child growing up in the East Falls section of Philadelphia, young Shanin spent many nights over supper listening to his father, Arlen, recount his day's work as the city's district attorney. Arlen quickly recognized his son's natural affinity for the profession.
"I decided from a relatively early age that I wanted to go to law school," recalls Specter. "What I didn't know was what kind of law I would practice."
After graduating from Haverford College with honors in political science, Specter enrolled at Penn Law in 1981. After his first year there, he went to his father for advice.
"I suggested that he seek work that summer with the best lawyer he could find," recalls Arlen, who, prior to his stint in the U.S. Senate, served as assistant counsel for Chief Justice Earl Warren and his commission investigating the assassination of John F. Kennedy. "I knew firsthand the benefit of associating and working so closely with someone who was well-qualified."
Shanin quickly got to work, writing 12 different letters to potential mentors. The first to respond was celebrated trial lawyer Jim Beasley, who would go on to shape Specter's career.
"Working with Jim Beasley in the summer of 1982 was the turning point of my early life in law," recalls Specter. "I knew, after working with him, that this was the kind of work I wanted to do."
That summer, Specter shadowed Beasley in almost everything he did, "soaking up like a sponge," he says, all that he observed, particularly during a seven-week trial.
He watched the way Beasley prepared for a case, painstakingly gathering every fact, anticipating every variable. He watched how Beasley questioned witnesses in court, and how he was always prepared with incisive follow-up questions. He watched how Beasley remained relaxed at all times, how he "rolled with the punches" and knew when to push and when to pull. And he watched how Beasley crafted his closing arguments like an epic story, connecting to the jury with just the right tone, pitch and pace.
The next fall, Specter returned to Penn absolutely certain about what type of law he wanted to practice.
"I loved everything about it," says Specter. "I loved that Jim Beasley represented individual clients and could achieve real results for their lives. And I loved the idea of being able to advocate for those same types of people one day."
It didn't take long for him to get the chance. Specter went to work for Beasley full time in 1984, seven weeks before he was admitted to the bar. The following month, he was immediately assigned to represent a woman whose esophagus had been perforated by a tube that a doctor had placed down her throat. The case, recalls Specter, was a disaster.
Specter knew so little about how to try a case that he wasn't even aware that in Philadelphia County the presentation order is plaintiff, defendant, then plaintiff again. So when the defense lawyer finished his speech and the judge asked Specter for his rebuttal, the young lawyer shuffled nervously in his chair and simply said, "Your honor, I think everything's been said that needs to be said."
"That was monumentally incompetent on my part," recalls Specter with a chuckle. "I was dumbstruck. If I had known I had a chance to rebut the defendant, I would have been taking notes to know what to say. That was probably the most embarrassing thing that's ever happened to me in the courtroom."
To keep himself humble, Specter has his original, handwritten closing argument from that case framed and hanging in his office.
It's worked. "Shanin is exceptionally disciplined," says partner Tom Kline. "But he also approaches his cases with a moving passion in a way that convinces juries by both logic and feeling. He's a magnificent trial lawyer who has impeccable skills and marvelous instincts. He is an enormously effective communicator. There is no finer lawyer in America."
People often ask Specter how he can handle seeing so much suffering and personal tragedy on a daily basis. Surely it must bring him down.
"But that misapprehends what we do," says Specter. "My clients are injured before they come to see me. The trauma has already occurred. I never make someone's life worse. I usually make it better."
Moreover, the suffering Specter sees has given him perspective on day-to-day worries. Specter and his wife, Tracey, recently planned a large party at their home. For one reason or another, they didn't get the invitations out as early as planned, and she wasn't pleased.
"I said, 'A problem is a sick child. A handicapped husband. A young girl brain-damaged for life. Invitations that go out late? That's not really a problem,'" he says.
And problems—significant, life-altering problems—are Specter's charge in life.
"I really think the highest pursuit of any lawyer is to solve problems," he says. "They can be any problems. A problem between an employee and an employer. Between the government and its citizens. Between two companies. I guess you could say my career is a long list of very hard problems to solve."
Search attorney feature articles