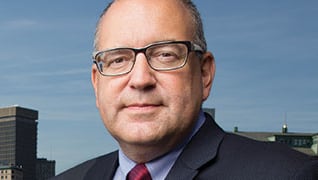 Photo by: Bryce Vickmark
The Courtroom as Classroom
From tobacco to 9/11 to class actions, trial lawyer Donald Migliori creates change by 'challenging truth'
Published in 2015 Rhode Island Super Lawyers magazine
By Nick DiUlio on October 13, 2015
Mildred Wiley never smoked a day in her life, but when she died of lung cancer on June 24, 1991, it appeared clear that cigarettes were to blame.
For 17 years, Wiley had worked as a veteran's hospital nurse in Indiana, and one of her primary responsibilities was to light cigarettes and hold them to the mouths of patients who were unable to do so themselves. When she succumbed to cancer at age 56, her husband, Philip, needed to hold someone accountable. He filed a wrongful death lawsuit against several major tobacco companies. His attorney was famed South Carolina lawyer Ron Motley, and when the case went to court in the winter of 1998, Motley brought along his new protégé, Don Migliori.
Just a few months prior, Motley had recruited Migliori to join an epic legal crusade that eventually contributed to four major tobacco companies agreeing to pay $248 billion to the victims of their products—the largest civil settlement in U.S. history. It was a life-changing journey for Migliori.
"Getting that assignment was nirvana," says Migliori, now managing partner for the Providence office of Motley Rice. "I finally felt like I could use the technical skills I had been developing, and I could use them against this monster in the field of public health."
Motley gave him the weighty responsibility of working with a key witness: former U.S. Surgeon General and anti-smoking pioneer Julius Richmond.
The Wiley case was the first of many, and when Richmond took the stand in Indiana that winter, Migliori's perspective on the purpose and power of litigation was transformed.
"Here I was in this crazy, energized, rock star world of Ron Motley—and we lost the case," recalls Migliori. "But when it was over, Richmond leaned over to me and said, 'Don't ever get discouraged about losing, because you've successfully done more for public health by stirring up conversation with this trial than I ever did as surgeon general.'"
Since then, Migliori has gone on to represent victims of everything from terrorism to defective medical devices while winning an astounding number of cases against goliaths like the National Football League, the airline industry and major asbestos manufacturers.
"But that first tobacco trial was the 'aha' moment for me," says Migliori. "It was amazing to see Richmond leave the courtroom with such pride even after a loss, because he knew we had touched thousands of people. We had educated through litigation. And I feel like that's what I've set out to do ever since."
From a very early age, Migliori knew he wanted to help change the world—he just didn't know how to go about it. As the youngest of five boys, he watched all of his siblings follow their father's path to medicine. That road wasn't for him.
"My dad always thought I had a penchant for challenging people's preconceived thoughts, and for as far back as I can remember, I had the belief that my life was going to be more about challenging truth than operating on people," says Migliori.
It wasn't until he enrolled as an undergrad at Brown University in 1984 that Migliori figured it out. Inspired by his adviser—who was associate dean of the medical school and an expert in bioethics—Migliori's eyes were opened to the ways in which law could be an instrument of social transformation.
The early stages of his legal career were successful but far from inspirational.
Four years after graduating from Syracuse University College of Law, Migliori found himself working as a defense attorney for a firm that primarily represented insurance companies in claims disputes. And although he was developing technical courtroom skills, Migliori was growing disillusioned by the actual purpose of the work.
In one instance, Migliori was asked to defend a landlord who was having trouble evicting a tenant. The case went all the way to the Rhode Island Supreme Court. Migliori won and received a lot of attention.
"But I was embarrassed," he recalls. "The law was the law and I did my job, but I was really uncomfortable being celebrated for helping someone get kicked out of their home. That was not the kind of work that satisfied my lifelong ambition to do something for real change."
As his disenchantment neared its peak, Migliori found himself at Christie's Restaurant in Newport, sitting next to Motley, who revealed his plan to take on Big Tobacco.
"I went from wanting to quit law and open my own restaurant to working on the most exciting and energizing case of my life," says Migliori. "That was 20 years ago. And I haven't looked back since."
In perhaps his most visible victory since Big Tobacco, Migliori represented 56 families who opted out of the September 11th Victim Compensation Fund, which wound up distributing $7 billion to survivors and victims' families.
Believing that a greater accountability was imperative, Migliori and his team worked on a global discovery effort that spanned nearly a decade in an attempt to uncover the negligence of airlines, security companies, and airports in connection with the terrorist attacks.
But Migliori wasn't only after remuneration.
"We also developed the single largest repository of information about what happened at those airline security checkpoints that day, some of which is at the National September 11 Memorial and Museum," says Migliori. "Ultimately, our job was to figure out how this happened and who was responsible."
To find those answers, Migliori's team took more than 250 depositions from myriad players, including security guards, Federal Aviation Administration officials, and corporate employees at both United and American Airlines. He says they also combed through "million of pages" of documents to try and build "an honest and true story about what actually happened that day."
"At the time most people believed the airlines were victims of 9/11, not accountable for it," says Migliori. "Yet the airlines have a very clear obligation to protect their passengers from terrorism. It was our job to break down the defenses of folks who otherwise wanted you to believe no one was at fault."
This ability to distill mountains of data and information into the most compelling and important narrative is what Migliori's peers unanimously cite as one of his greatest strengths.
"He's well suited to David-and-Goliath litigation because he sees the big picture and is able to break the case down into simple propositions that resonate with the decision-makers," says Patrick Jones of Jones Kelleher, who has worked closely with Migliori on a few cases over the past decade. "It's part intelligence, part sensitivity, part fearlessness and part instinct."
For several years, Migliori has served as co-lead counsel and liaison counsel in the Composix Kugel Mesh multidistrict litigation in federal court on behalf of thousands of individuals alleging injury by the hernia-repair patch. He also serves as liaison counsel for the nearly 2,000 Composix Kugel Mesh lawsuits consolidated in Rhode Island state court.
According to Migliori, specific lots of the mesh patch were recalled in December 2005 by manufacturer Davol Inc. after it was discovered the memory recoil ring could break under the stress of placement, causing a wide variety of injuries and complications including severe abdominal pain, bowel obstruction and intestinal perforation.
Since 2007, Migliori has helped nearly 5,000 victims receive hundreds of millions of dollars in total compensation.
"He set the pattern for every successful resolution that came from this," says Mark B. Morse, a Rhode Island attorney who served as local counsel for some of the plaintiffs. "I was very impressed at his leadership skills, his management of the cases and his ability to organize a lot of independent-thinking attoneys to achieve great results."
More recently, Migliori represented more than 50 retired NFL players in concussion litigation, accusing the league of negligence and failing to inform players of the link between repeated traumatic head impacts and long-term brain injuries.
The NFL agreed in 2014 to lift a cap on cash awards to settle more than 5,000 concussion claims resulting in myriad injuries. The settlement not only assured retired players that the NFL would pay them at least $675 million in total, but also included $75 million for medical tests and $10 million for medical research and educational programs.
"We found out the NFL had a very clear pattern of actually telling players that concussions were no big deal. That's when I realized this was exactly the kind of case we handle," says Migliori. "If a player is going to be held accountable [for his career decisions], he needs accurate information. But they were not only being sold inaccurate information but the exact opposite of the medical information that's best for their health."
And that, says Migliori, gets to the heart of why he does what he does.
Suing Big Tobacco helped spur a national shift in the perception of cigarettes. Fighting for victims of 9/11 helped unearth a better understanding of what went wrong and how to better protect citizens in the future. And the NFL lawsuit helped improve everything from helmet technology to the way referee procedures work.
"True learning only comes when you take responsibility, and I have seen through all these cases—Big Tobacco, September 11th, Kugel Mesh—that it does change conduct in the long run," says Migliori. "I'm certainly not taking all the credit, but unearthing truthful, complete information is a big deal. I know I may be an idealist in the way I do things, but that's because I believe in it."
Search attorney feature articles