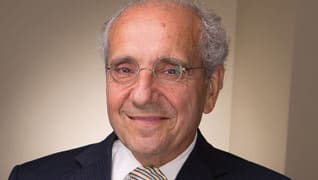 Photo by: Bryce Vickmark
The Intercessor
Bud DeLuca on psychology, storytelling and helping clients be proactive
Published in 2012 Rhode Island Super Lawyers magazine
By Nick DiUlio on October 22, 2012
Amato "Bud" DeLuca was going to be a priest.
Growing up as the second youngest of seven children born to a poor couple in Rhode Island, DeLuca recalls Roman Catholic missionaries making regular visits to his home, where they'd discuss the benefits of salvation and the glories of the church. To the young DeLuca, this seemed like the perfect way to free himself from poverty.
"My mom really liked that, thinking I was going to become a priest," says DeLuca. "I was just a boy at the time, but I thought that was going to be my way out."
The older he got, however, the more he realized the priesthood wasn't for him. But he's carried those values into the legal world.
If a priest's job is to act as an intercessor between humankind and its creator, to close the gap between the individual and the ultimate judge, DeLuca, one of Rhode Island's most celebrated and successful litigators, does something similar every day.
"Where else can you go in the world to find a professional like a lawyer when you're a middle-class, lower-middle-class, or poor individual who may not be able to fight for himself," says DeLuca, who focuses primarily on medical malpractice, catastrophic injury and products liability at his Providence-based firm, DeLuca & Weizenbaum. "That's one of my responsibilities—to intercede for less fortunate people and help make sure they have a say."
Over the course of the last three decades, DeLuca has racked up an impressive list of accolades. He's been the president of the Rhode Island Chapter of the Federal Bar Association, held various positions on the Association of Trial Lawyers of America, served as president of the Rhode Island Trial Lawyers Association and been vice president of the American Board of Trial Advocates Rhode Island Chapter.
In 1974, he and Edward F. St. Onge successfully argued in federal court that the governor could not bar peaceful protestors from using the state House rotunda as a public forum. In 1983, he argued before the U.S. Supreme Court that a nativity scene could not be displayed, sponsored and maintained by the city of Pawtucket. And in 1976, he convinced a federal court to strike down a state election statute that prevented independent presidential candidate Eugene McCarthy from appearing on the ballot.
Yet one of DeLuca's fondest memories came in the wake of his first two cases—both of which he lost.
He was 29 and freshly graduated from Suffolk University Law School in Boston when he tried the two cases, one right after another, in federal court. After he lost, the judge saw him sitting in the corridor and offered some advice.
"He said, 'I want to thank you for bringing your cases before my court. It's really important that you see the court as a way to make things better for people,'" recalls DeLuca. "He made me feel like I did something right, even though I lost."
It's understandable that DeLuca would be drawn to finding the good in sorrow. By the age of 13 he had lost both his parents—his father to a stroke and his mother to breast cancer. DeLuca then went to live with his oldest sister, Rose, who raised him while working long hours at the small restaurant she owned.
He quickly realized that without an education, it would be hard to succeed in the world. So he excelled in school, and Rose worked hard enough that she was able to send him to the University of Bridgeport in Connecticut. It was there that he decided to become a lawyer, a choice informed by the realities of his childhood.
"Because my parents were poor, they were always forced to respond to things rather than be proactive," says DeLuca. "It sounds kind of hokey, but I always had this idea that being a lawyer would allow me to make a difference and not just stand by and watch people react to things beyond their control."
The key to DeLuca's legal success is clear to Miriam Weizenbaum.
"Bud really has an ability to understand the truth of what's important to people," says Weizenbaum, DeLuca's law partner since they founded their firm in 1995. "I think when you really understand the truth of someone's situation you have to really open yourself up emotionally, and that can be really painful. But Bud is actually willing to do that, and I think that's what makes him such a good lawyer."
That quality isn't something new for DeLuca, say his childhood friends.
"He has an innate gift that's been there since he was young," says John Revens, with whom DeLuca started his first practice in 1977. "He always connected with people very easily. I don't know if it was anything conscious, but he's been able to hone that gift and use it to his advantage."
DeLuca has put considerable time into honing his gift. When he's not researching a case, he studies psychology and reads books about the human brain.
"I've learned over the years that being a good trial lawyer is really about knowing psychology," he says. "If you understand how people gather and incorporate information, if you know the way people in the courtroom see things, then you will be able to understand how to put your case together so they will want to give you a favorable verdict."
Consider the case of a man who went in for foot surgery and eventually wound up losing his leg. In telling the story, DeLuca's focus on the order of events is essential. He begins by talking about how successful the surgery was. The doctor, for all intents and purposes, did a good job. Where the physician failed was in his follow-through. After the surgery, DeLuca's client developed an infection that essentially went ignored, which eventually led to the amputation.
What made the case especially challenging was that DeLuca's client unexpectedly died of a heart attack just one week before the trial, which meant jurors couldn't see the client or personalize his loss. It also meant a possible built-in bias against the wife, who would be the only beneficiary of the money even though she was not the one who was injured. DeLuca knew he needed to make the story not about his client—or his client's wife—but about the doctor and his negligence.
"How you tell the story makes all the difference," says DeLuca. "And the story has to be about the wrongdoer, and not my client until much later. If I set it up as a story about my client, you'll be focused on him and what you think he may have done wrong. Whether he's likeable. Whether he should have done more. And the jury will come to conclusions about my client first, when I want them to form an opinion about the other guy first."
DeLuca and Weizenbaum won a $5.8 million verdict for the widow.
"Bud is very disarming in the courtroom," says Robert T. Karns, a personal injury lawyer who has worked with DeLuca on several cases since the early 1980s. "He'll go right around you and tie a knot before you know you're tied up, because he's a student of people's beliefs and philosophies. He's a student of what a jury thinks and what prejudices are and how to get around them. It's a remarkable thing to see."
And it helps DeLuca keep life in perspective.
"I am the luckiest guy in the world. Even though bad things happened when I was younger, it's because of those things that I am where I am today," he says. "I've been successful, I've helped a lot of people, and my kids are good and healthy. How can you ask for anything more?"
Search attorney feature articles