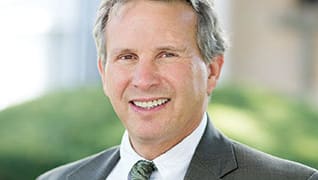 Photo by: Bryce Vickmark
Using All 24
Perpetually busy Providence-based litigator Mark B. Morse never met a practice area he didn't like
Published in 2014 New England Super Lawyers magazine
By Ross Pfund on October 17, 2014
Q: In an age of specialization, your practice is so varied.
A: I've always been interested in learning something new, taking on a variety of cases, getting involved, learning the nuances of a particular new issue, and therefore my practice developed in that fashion.
Q: Do you have a favorite?
A: I enjoy litigation, I enjoy the preparation and the actual trials. It's a lot of work, but when you get in the courtroom, and after you've analyzed all of the issues, one sort of case is almost the same as the next. Obviously every single one is quite different, but in terms of the preparation involved, in terms of the examination of the witnesses, it's all interesting. I can't say one particular area is more interesting than the other.
Q: Is there any type of case that you haven't had the opportunity to try, but would like to someday?
A: The next case that's up is the one that I want to resolve. I'd rather resolve it without a trial, but if need be, then that's the one I want to go with.
Q: Do you have a particular courtroom style?
A: I'm sure I do, but I'm not sure that I'm the one to define it. My associate who recently attended a trial with me said I like to kick myself in the ass and then, after I'm done kicking myself, I go kick the other [lawyer] in the ass. I don't know if that's an apt description or not, but I thought it was pretty funny.
Q: Do you have any specific strategies for communicating with juries?
A: To be as honest and straightforward as possible. I don't try to fool them; I don't think they can or should be fooled. If we've got a problem with the case, I'll tell them that.
Q: What first got you interested in the law?
A: My father always had great admiration for lawyers. I grew up loving to read about the law. I saw lawyers as an instrument to be able to change things, to be able to effectuate justice, to accomplish things.
Q: Did you have any mentors as a young attorney?
A: Judge Ernest Torres. Milton Isserlis and Gerald McOsker became my mentors when I joined the firm of McOsker—at the time it was called McOsker, Isserlis and Davignon. Milton was a very aggressive, and a very well-prepared lawyer, and I think I always tried to be the best prepared, even before meeting Milton. I saw him as a role model in that regard.
Q: Do you do anything unique or interesting to prepare for cases, or is it just a lot of nose-to-the-grindstone hard work?
A: I spend a lot of time on my trial notebook. I organize it with background information, with witness information, with opening statements, closing arguments, and I just try to keep all the material as organized as possible. I think that then makes the trial go very smoothly. 
Q: Do you remember the first case you tried?
A: Like it was yesterday. It involved a young lady who was in an apartment complex, and her grandfather had accidentally shot her. I had indirectly inherited the case from another lawyer who had become attorney general, and then a judge, so he wasn't able to take the case. My opposing counsel had also inherited his case; he represented the defendant from a lawyer who then became a judge as well. So we were both not the original lawyers on the case.
There was some very dramatic testimony. I was cross-examining the defendant, and things were getting a little bit testy, a little bit hot, and this is before there were metal detectors in the courtrooms. So he began to reach into his inside pocket, and out of the corner of my eye, I saw the jury was kind of cowering a little bit, and the sheriff was walking briskly toward him, and I guess people got the impression that he was reaching for a gun.
He wasn't, he was reaching for his eyeglasses. That was kind of a dramatic moment.
Q: I believe it.
A: Another dramatic moment [came] when I was cross-examining his wife, who claimed that the defendant had only shot the gun once. We were able to establish that he had shot the gun a number of times, and things got pretty emotional at that point. We were able to recover against the grandfather, and initially there was a claim that there was no insurance coverage. But after the trial we managed to get some insurance coverage in place to pay for the judgment.
Q: How often do dramatic moments like that happen for you in trial?
A: More often than not. More often than not there's a highlight of the case and you can almost feel the energy in the air. Sometimes on direct examination. Sometimes it's just a client telling their [story], testifying about the situation, and doing it so well and so emotionally that you can just feel it, and the whole courtroom can feel it.
Q: Any other particularly memorable cases?
A: There was one trial in which my participation was supposed to be very limited until the day of the trial, when I had to act as lead counsel on a very difficult intellectual property case in federal court.
I had been retained as local counsel, who in most instances is more or less just shepherding the case through, being at court appearances, but really taking a second seat to the lead counsel, who in this occasion was an intellectual property lawyer from out of state. And he did just an enormous job in the pretrial discovery stages getting all the documents that were necessary, and he also did a terrific job in his opening statement.
Then, after he called his first witness, it became very apparent that he really did not know how to examine a witness or how to put documents into evidence, or exhibits, how to get exhibits entered, and he just didn't know how to do it. And it became necessary for me at that point to take over the handling of the trial.
Q: How often does that happen to you?
A: That was the first time that's ever happened, and hopefully the last.
Q: Many lawyers tell us that fewer cases are actually going to trial these days. Is that your experience as well?
A: Yes. There are various means to resolve cases short of trial and we try to take advantage of them all whenever we can. So I will do my best to try and get a resolution short of trial.
Q: You participated in the Trial Lawyers Care effort. What was that experience like?
A: That was very rewarding emotionally. I met families of some of the 9/11 victims, and it was just a very moving, emotional experience all the way around. I had represented two different families. One of the families' cases eventually wound up in the hands of someone else, because I had represented the mother and there was a surviving widow and children that were entitled to the proceeds, and they had brought a separate claim.
In the other claim, I represented the family of an individual who was a quadriplegic. He had been on the 103rd floor and he just couldn't escape. The family was a wonderful, nice family—very hardworking, very dedicated, and I was able to help them get compensation through the fund.
Q: How did you become legal counsel for Defenders of Animals?
A: That was my wedding gift to my wife. She's a great animal advocate. I've always loved animals, but she really got me involved in that cause. I've now been legal counsel to Defenders of Animals for pretty close to 20 years.
Q: What kind of work have you done for them?
A: The group successfully lobbied for the extinguishment of the use of the gas chamber in the animal shelters. They successfully lobbied for animal rights legislation. In the courtrooms, we were able to save a number of animals that had been scheduled to be euthanized [by proving] they were picked up unlawfully.
Currently we have a case challenging Pawtucket's municipal ordinance that will not allow a person to own or harbor a pit bull in the city. We believe that to be a direct violation of state law, which includes anti-breed-specific legislation, and prevents municipalities from enacting breed-specific legislation. As a matter of fact, I was in court on that case today.
We also have a pending case that is nearing resolution now in which we claim that the city of Providence euthanized a dog improperly—they did not keep the dog for the required holding period. We brought into issue the entire practices of the Providence animal control office, and I think we've effectuated some changes there.
Q: What other organizations are you involved in?
A: The Rhode Island Association for Justice is always near and dear to my heart. I served as president in 2001 and, as a matter of fact, was sworn in just days after 9/11. That was a very moving, very solemn ceremony.
I'm now involved in bar association activities. We have one of the best bars in the country. It's very collegial; I wouldn't trade it for the world.
Q: Last question: How do you find the hours in the day?
A: Well, there's 24, so I use as many of them as I have to.
Search attorney feature articles