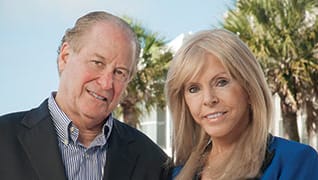 Photo by: Stan Kaady
A Short History of Charleston's Cherished Couple
Robert and Susan Rosen have spent decades uplifting the city
Published in 2016 South Carolina Super Lawyers magazine
By Susan Shackelford on April 22, 2016
At quick glance, Susan and Robert Rosen seem an unlikely couple. Jewish and a third-generation Charlestonian, he's a divorce lawyer who thrives on the drama of family law and writes history books. Episcopalian and a New England native, she revels in connecting the dots in plaintiffs' lawsuits, especially medical malpractice cases. His animated storytelling consumes the oxygen in a room, while she responds quietly but firmly. 
Together, they make up the Rosen Law Firm, have been married for 33 years and are "cherished" citizens of Charleston, says Joe Riley, the city's legendary, recently retired mayor.
The two met in 1982 at a civil rights conference in New York City, and it was anything but love at first sight. Susan spotted Robert doing something she abhorred: smoking. The next day, they unintentionally sat beside each other at a seminar and decided to get a drink. They felt drawn to each other. They realized they shared life goals: practicing law, raising a family. If they were to ever get married, however, Susan told Robert he'd have to give up smoking, a habit that took the life of her father. He did, and in February 1983 they were wed. 
"We like to help people in their time of need; there is a great sense of satisfaction," Susan says. "The ideal thing," adds Robert, "is to have somebody to share your career with. It's a stressful life, both being litigators and raising children."
Shortly after the wedding, Susan gave up her general counsel position at Cranston Print Works in Providence, Rhode Island, where she was the first female officer of a company owned by the Rockefeller family. She moved and became the eighth member of a firm that included Robert; his brother, Richard; and their father, Morris, Charleston's longtime and beloved corporation counsel. "It was a difficult transition," Susan says. "While the family [members] were all very nice to me, they had to be careful not show or appear to show any favoritism."
But their ample connections fueled her introduction. Robert was a well-known young attorney who loved politics and says he "saw law as a way to change society." Robert was an early backer and close adviser of Mayor Riley in the mid-'70s, and the men shared a deep commitment to uplifting the city. 
"Robert provided wise counsel and was a tireless worker," recalls Riley. "He was a visionary. He saw Charleston in a historical context with the possibilities of advancing substantially in human matters and racial progress, as well as in community building and re-rebuilding. I don't think Charleston would be the same if Robert had decided to practice in another city or embark on another career."
"I was a real '60s and '70s activist," says Robert. While majoring in history at the University of Virginia in the mid-to-late '60s, he participated in demonstrations demanding that the university do more to recruit black students, including giving a speech on the steps of the state capitol. The editor of the News and Courier blasted him in print for demonstrating; Robert welcomed the tussle. 
Robert later participated in Vietnam War protests and joined the board of the Voter Education Project, which promoted African-American voting rights in the South. He graduated from law school at the University of South Carolina in 1973 and, during the mayoral campaign in 1975, introduced Riley to organization leaders John Lewis and Julian Bond. "Robert had been out there in the field working for civil rights, and he had great credibility with members of the African-American community that I didn't know," Riley says. 
He's passionate about not only speaking, but also writing. While getting his master's in history from Harvard in 1970, Robert seriously considered becoming a professor. But changing the world through ideas didn't fit his timeline. "That was not immediate enough for me," he says. 
The law seemed more expeditious. After returning to Charleston to practice with his father, he became assistant city attorney and, later, counsel to the city's school board and housing authority. In his early 30s, at the encouragement of a friend in publishing, he tried his hand at writing. He penned A Short History of Charleston, which came out in 1982 and is still the best-selling consumer book about the history of the city. Since then, he has authored or co-authored six books, primarily about Charleston and the South, two of them dedicated to Susan. 
Given his passions for speaking and politics, Robert hoped to be mayor himself one day, but realized his own blunt style was more suited to courtrooms. 
"You have to have a career that suits your temperament," says Robert, 68. "In the '60s, I was angry and upset with injustices in the world, and wanted to confront people. I think with law you can right some wrongs—not the big wrongs most of the time, but wrongs against your clients. Yesterday in court, there was a woman mistreated by her husband. He was supposed to sell some property and get her some money from it. He didn't do it, and I was pumped up, I was angry."
Robert primarily handles divorce cases. He has represented wives of such high-profile entertainers as Bill Murray, Tom Berenger (twice) and the late "Godfather of Soul," James Brown. In his experience, there are two kinds of divorcing husbands: "Ones who walk away and want to do the right thing and the case can be settled, and the men who want to walk away and fight about the children and minimize their financial obligation. I don't have respect for these guys. … I don't like bullies.
"My job is to go to court and back them down, which I enjoy immensely," he continues. "If I can go to court and kick somebody in the butt who deserves it, that's good."
He recently represented a wife in an alimony and custody case in which the husband had "mistreated her, mostly verbal abuse," Robert recalls. "She was so beaten down." The husband wanted her to return to work after they split up, but for various reasons her job prospects were limited.
"There really wasn't a market for her skills," Robert says, noting that she also couldn't relocate if the husband were to visit the child regularly. "The judge whacked the guy, made him pay her legal fees and she got permanent alimony and custody of their child. This guy was a bully."
Robert then received the following message from his client: "You saved my life! I would literally be living in the projects if it weren't for you. I can never thank you enough." 
Susan relished the challenge of private practice when she left Rhode Island in 1983, though she of course ran into gender discrimination. After Cranston board meetings in New York City, for example, she was often the odd person out. "The men would retire to a part of the club that I was not allowed into," she says. When she came to Charleston, she was one of only a handful of female lawyers. She felt welcome, she says, but still got called "honey" or "dear" by judges and fellow attorneys. 
Her northern accent didn't go unnoticed, either. She recalls a moment when she was about to take a deposition from an operator of a feed-and-seed store, and the other attorneys chuckled. "It's John's Island meets Rhode Island," she recalls one of them saying. "He can't understand you, and you can't understand him." 
Fellow Charleston attorney Dawes Cooke, of Barnwell Whaley Patterson & Helms, remembers opposing her in a medical malpractice case many years ago in which she represented a patient suing his client, an optometrist, over an eye infection. 
"I learned a lot from her about how to be firm but civil and professional," Cooke says. "She epitomizes somebody who can be unyielding in pursuing a client's interest but still be collegial and professional. Some people are a bull in a china shop." 
In 1994, Susan got national attention when the show Hard Copy featured a federal civil case in Atlanta that she won on behalf of four adult men whose father was murdered. Susan was able to prove that their stepmother, a bank vice president, had hired a hit man to kill their father so she could collect $1 million in life insurance. The sons got the money instead. 
In one of the largest med-mal verdicts in South Carolina, Susan won $7 million (later reduced to $3.5 million) in 1990 for the wife and two children of a man whose Greenville doctor failed to detect his colon cancer—despite repeated visits and ongoing pain. 
Susan, 63, handles personal injury and a variety of plaintiff work, but particularly enjoys sifting out the details in med-mal suits. The valedictorian of her approximately 700-person high school class in Warwick, Rhode Island, she planned to be a doctor when she went to Cornell University, but instead found the law. She majored in English and played on the women's ice hockey team during her undergrad. After college, she married a pro hockey player and entered law school, graduating cum laude from Boston's Suffolk University in 1980.
It was during law school that she got divorced; Robert was also divorced by '82. "We met each other at the right time," he says. "I wanted someone to be a life partner with and respected her career. She wanted to practice law and spread her wings, and that came naturally to me." 
They have two daughters and a son, all of whom work in Manhattan and live within five blocks of each another. Last fall, they became grandparents for the first time. When raising their children, the Rosens chose to expose them to both Jewish and Episcopalian faiths. "People said that would not work," says Susan. "It did work. We taught them both, and they could make up their own minds."
The Rosens try not to bring work home with them or work together on cases, but occasionally bend on both. "When there is a big issue, we do lean on each other to discuss issues to solve problems," says Susan. "We both have a lot of respect for the other's experience and opinion, so it actually works out well. The positive side of working together and living together is that we can discuss and resolve issues related to cases without violating any confidentiality."
But when they have major disagreements? "It can be the War of the Rose(n)s," Susan says. "Are you familiar with that movie? It's not quite that bad, but we are both skilled in debate and do not like losing." Noting that other family members love verbal jousting as well, Susan adds, "Many people have said our family would make a good reality TV show."
---
'Not Our Charleston'
The aftermath of the shooting at Emanuel African Methodist Episcopal Church
Days after the June 17, 2015 shooting that took the lives of nine African-American Charlestonians, Robert wrote an impassioned editorial for Jewish Telegraphic Agency. "This is not our Charleston. Charlestonians do not believe in hate, lawlessness, racism or violence," he wrote. "These killings have outraged each and every one of us." 
Charleston has led the charge in racial progressivism over the years in a litany of ways, he wrote, and "a heinous murder by an evil person who was not from our city cannot change that. … It is true that Charleston was the city that imported more slaves from Africa than any other in America. It was the place where secession began and where the Civil War started. It was the very heart of the Confederacy. These facts and tragedies cannot be denied, but they do not define us in 2015. It has been a long road from then to now. … We have our issues, as all cities in America do, but all Charlestonians love their city and detest this crime. Every true Charlestonian is grieving now. Somehow, knowing my city and its people as I do, something positive will come of this tragedy."
Both Robert and Susan attended the funeral. Especially powerful, Susan says, was the moment after President Obama's eulogy for Clementa Pinckney—a reverend and senator whom the Rosens knew and cherished—when the commander-in-chief began to sing "Amazing Grace" and the entire congregation joined in.  
"The way our city responded to [the shooting] was an example for the whole country; it was amazing," she says. "So many important legislators as well as the president and vice president were there, but it wasn't about them. It was an outpouring of love and support for the families of the victims and our city. It was a forgiving, peaceful response to a horrendous massacre. It was something I had never seen."
Search attorney feature articles