'An Adrenaline-Flowing, Intense Moment'
When Andrew Lindemann argued a 10th Amendment case before SCOTUS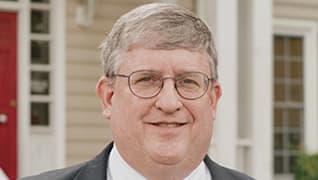 Published in 2023 South Carolina Super Lawyers magazine
By Nicole Wise on April 21, 2023
As an undergrad at the University of Virginia in 1984, Andrew Lindemann was in the gallery at the U.S. Supreme Court Building as a guest of the Tennessee attorney general, who was arguing Alexander v. Choate.
"Part of the tradition of arguing in the U.S. Supreme Court is that the lawyers keep the real quill pens on their desks," says Lindemann, whose father knew the AG. "I got the quill pen from the attorney general, who won, and he sent me a signed copy of the decision."
The experience stayed with Lindemann through his time at the University of South Carolina Law School and as he argued his first case, which happened to be in front of the Supreme Court of South Carolina. Then, 18 years after the first time, Lindemann found himself back at the biggest stage presenting oral argument in Jinks v. Richland County.
In 1994, Carl Jinks was arrested for failure to pay child support. Days later, he died while in the county detention center, from complications associated with alcohol withdrawal. His widow, Susan Jinks, sued in 1996 for wrongful death, but the district court granted Richland County—Lindemann's client—summary judgment and declined to exercise jurisdiction over Jink's state-law claims. Jinks then filed claims in state court and won. The state Supreme Court reversed, finding she did not bring her claims within the state's statute of limitations. The claims would not have been barred under 28 USC section 1367(d), but the court declared the statute unconstitutional.
Lindemann was pleased with the decision, but also knew Jinks would likely petition SCOTUS. She did, and Lindemann presented oral argument in 2003.
"I've never been more prepared for an argument in my life than I was for that one," Lindemann recalls. "I went to Washington and holed up in a hotel room for four days getting ready … poring over cases and how I was going to answer questions. At that point, I'd done a lot of arguments, but obviously not before the U.S. Supreme Court. I was pretty nervous. Who wouldn't be?"
He calls being in front of the justices an "adrenaline-flowing, intense moment"—so much so he felt a bit beside himself. "I remember during my argument Associate Justice Stephen Breyer made a joke and I didn't get it. I didn't know what the heck he said. I didn't even react to it."
Beforehand, Lindemann and his team were told that it's common for Chief Justice William Rehnquist, who suffered from chronic back pain, to walk behind the curtain to stretch, and not to stop arguments if he did so. "I'm really glad they gave us that warning, because right in the middle of my argument he stood up," Lindemann says.
Issues that deal with the 10th Amendment are typically close decisions, Lindemann says. However, their opinion was unanimous that section 1367(d) is constitutional.
"Even though I lost 9-0, I'm very grateful that I had the opportunity, because it was a neat experience," he says. "I never intended to do governmental work when I first went to law school. I stumbled into that, and I'm very grateful that I did. I've handled all kinds of constitutional questions over the years, and it's intellectually stimulating work. I always say I want to go back so I can at least get one justice to rule in my favor."
The Ultimate Family Road Trips
Andrew Lindemann is a first-generation American whose father emigrated from Germany and his mother from France. "My parents were big on making certain my brother and I grew up American," he says, recounting his love of history and travel that he shares with his wife and two children.
In fact, the Lindemanns have traveled to the 49 states accessible by car. In 2007, they took a month-long road trip and saw much of the country. Coupled with a previous trip on the East Coast and a three-week trip in New England and Eastern Canada, they made a heavy dent. In 2011, they took a monthlong road trip from Columbia to Alaska, knocking off the last of the 49.
"It took us eight days to get to Fairbanks, and we spent three days on the Alaska Highway," he says. Most people fish or take cruises in Alaska, he adds. "I always tell them you've missed the best part, because the Alaska Highway is the most gorgeous place in North America. It was built in 1942 at the beginning of World War II. Because of the wilderness, there was no easy way to move troops and equipment up to Alaska. The U.S. Army Corp of Engineers built the Alaska Highway in eight months. It's one of the great engineering marvels of modern time: 1,400 miles from British Columbia to Fairbanks."
Lindemann, who worked remotely during the trip, recalls a moment when he had a motion hearing scheduled for 5 a.m. with a federal judge in Greenville. "Everybody is asleep in the hotel room and it's totally dark. I had all my papers spread out on the bed and, in the middle of the hearing, my daughter does this big flip and kicks all my stuff. There I was, in the middle of a hotel room in Fairbanks, scrambling to pick up my papers," he says.
"You definitely get a lot of good memories with your kids when you road trip. We're the type of parents who said, 'No TVs in the car. You're going to see America, play card games and license plate games.' We did not have a set agenda. If you don't rigidly plan your trip, you give yourself the ability to do things along the way."
For Lindemann's 50th birthday, his wife gifted him a trip to the final state on their list, Hawaii. "I will continue to travel as I get older, toward retirement," he says. "And I will definitely get back to the Alaska Highway."
Search attorney feature articles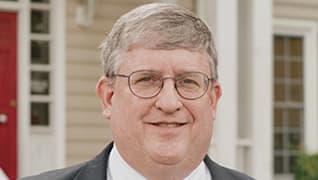 Featured lawyers
Helpful links
Other featured articles
For more than a decade, Cody Allison was a sideline reporter for the Tennessee Titans
Why Jessica Heltsley moved out of courtrooms and into divorce coaching
Stuart Somach is in water law for the long haul
View more articles featuring lawyers
Find top lawyers with confidence
The Super Lawyers patented selection process is peer influenced and research driven, selecting the top 5% of attorneys to the Super Lawyers lists each year. We know lawyers and make it easy to connect with them.
Find a lawyer near you