People Person
Lewis Smoak credits relationships and early education for his success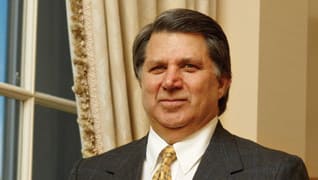 Published in 2011 South Carolina Super Lawyers magazine
By Nyssa Gesch on March 30, 2011
Lewis Smoak, a founding partner at Greenville's Ogletree, Deakins, Nash, Smoak & Stewart, began practicing at a time when National Labor Relations Board issues consumed labor and employment law. More than 40 years later, he's seen the practice evolve, helped his firm grow exponentially, and expanded his passion for working with others through his efforts to help South Carolina kids stay in school.
What inspired you to pursue law?
It was always something I wanted to do. I guess I saw [law] as a business that you could get into, and [where] your interpersonal skills—liking people, liking dealing with people, talking with people—could be a great asset. From probably middle school, high school, I thought it would be the career I would choose.
So you must like working with people.
I really do. I enjoy people; I enjoy meeting different people, visiting with them. That seems to show up in responses back from them, and, I would say, has been one of the reasons for any success I might've had—that people I've met along the way have responded positively and have called with later legal matters.
How did you choose your practice area?
When I was in law school, I thought that labor relations would be really interesting. Back then, labor relations was mainly in NLRB—National Labor Relations Board—matters, and it involved helping companies in union elections and collective bargaining negotiations. I always was intrigued with the political election process, so I thought that would be really interesting.
I went between that and tax, and concluded that tax would be more sitting in the office with a pencil and a piece of paper and some regulations. I thought my personality would be better suited for the other area that was more people-intense.
What are some of the biggest changes that you've seen over your career in your practice area?
Back when I started, the practice before the National Labor Relations Board was almost 90 percent of my practice. That has changed as unions have lost their representation in the private sector. Private-side employees across the country have dropped down now to maybe 7.5 percent of the private workforce being unionized. It's now a practice that's more employee benefits- and employment-related, as opposed to what I would call the old labor practice from the '70s and the '80s. [There's] more litigation now in state and federal court than back then. A lot of class action employment-related litigation, wage and hour, those kinds of practice areas as opposed to an NLRB practice.
Do you have a most memorable case?
Probably our long history of representing what's now FedEx Ground in a long series of battles with the Teamsters union, all across the country from Boston to LA to South Florida and all points in between. That was a really, really intense battle as the Teamsters tried to unionize what was back then Roadway Package System, or RPS, as it grew to compete with other companies in the small package delivery business. Over a period of 20 or so years, we had some 40 NLRB petitions around the country that were pretty hard fought and intense, and important to the company because they felt very strongly that their use of independent contractors was critical to their business model and their business success; the Teamsters were trying to overthrow that. That model, I would say, has recently been approved by the D.C. Circuit Court of Appeals, [which] put a stamp of approval from the court system on that model that was under attack.
There were others. There was a huge wage payment class action with 15,000 plaintiffs in West Virginia against a telephone call center client of ours. [It] alleged $35 or 40 million back pay for unpaid break time under the West Virginia statute for three telephone call centers. We ended up, after three years of litigation, successfully settling that case on a basis that allowed the company to continue in existence. In fact, the stock went up enough the day of the settlement to pay for the settlement costs. So that was a good feeling.
I'd say currently we are pleased with the results and rulings in an employment case against Clemson University. It's been an intense battle with competent attorneys on the plaintiff's side. It's an important case for Clemson and we've received favorable rulings from the federal district court as well as the Court of Appeals. That case involved a lawsuit against Clemson, administrators and the board of trustees, from a former secretary to the board of trustees.
Last year we also received an important decision from the South Carolina Supreme Court which narrowed the scope of discovery for South Carolina. The litigation involved a certification of need for our client, Cancer Centers of the Carolinas.
Those are two very important cases in South Carolina from the past year. Both the Cancer case and the Clemson case were three-year battles and we were pleased to emerge from both cases with very satisfied clients.
What advice do you have for young lawyers today?
Have a passion for their particular practice areas, develop some expertise in those practice areas, then just get out and meet people. Do things in the community that are helpful, and business will come.
In 2006, you received the Ellis Island Medal of Honor. Can you tell me what that represents?
The Ellis Island Medal of Honor is given each year to some 30 or 40 recipients who have made a contribution to the betterment of America. It's given out at Ellis Island in a very moving ceremony. Many of the recipients are first-generational descendants of people who have immigrated to the U.S., many of them through Ellis Island and others through other locations. I think my early childhood education efforts in South Carolina led to my nomination and receiving the award, which I'm very proud of.
What efforts?
I spend a lot of time [with] the South Carolina First Steps to School Readiness board of trustees. I've been vice chairman of that for eight years or so, and was on the [local] board here in Greenville. I ended up serving as chairman because [former] Gov. [Mark] Sanford is the chairman of the First Steps board and he's pretty much left that to our board of trustees to run. That's an effort to be sure we are coordinating as best we can in South Carolina all of the resources for children, get them ready for 5K [5-year-old kindergarten]. That's been a passion of trying to reach, in particular, the at-risk kids. We still have a serious dropout problem in South Carolina. We're trying to figure some ways to get to as many of those kids who have at-risk factors as early as we can, and with as much resources as we can, and help them be successful as opposed to being grammar school, middle school or high school dropouts.
What has helped you succeed in your career?
I attended the public school system down in Walterboro, S.C., and had some world-class teachers there. Then I went to Furman and had some great professors there. So I attribute a lot of [my success] to both my early education and my education at Furman. Then I went to USC law school and have a number of good friends—many of whom have sent us substantial clients down through the years.
Our success was based a lot on that. We received business from existing clients, and then as our business and their business grew, and they moved up the ladder in their corporate jobs within their businesses, they were able to take us to additional facilities and additional locations around the country that they then had responsibility for. They asked us to help them handle legal matters for those new and additional locations. So our business has grown in that manner. For example, we might handle [a matter] for them, say, in Woodruff, S.C., and then that HR manager might end up being in charge of 10 plants across the country and he would ask us to help him at those other nine locations as well. We've been fortunate in that as our friends have progressed up the business ladder, they have not forgotten us.
We now have 40 offices around the country and about 550 lawyers.
How many were there when it started?
Sixteen of us started it in 1977, so we've seen pretty good growth.
What's the most rewarding part about being a lawyer?
I think it's having clients at the end of the day who feel like they got the best service they could possibly get on a matter; that you, as their attorney, gave them the best advice they could have found anywhere; and that it resulted in the best result for their business or their company that they could've achieved.
Search attorney feature articles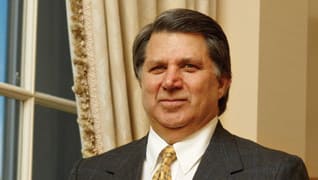 Featured lawyers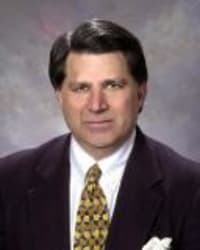 Top rated Employment & Labor lawyer
Ogletree, Deakins, Nash, Smoak & Stewart, P.C.
Greenville, SC
Helpful links
Other featured articles
Vance Goldammer has headed to Augusta every April through a combination of ingenuity, luck and tradition
Four 20-something attorneys on the challenges and the future of law
In 2009, Mark Lewis was working from home and selling assets; within two years, he helped uncover the biggest scandal of the 21st century
View more articles featuring lawyers
Find top lawyers with confidence
The Super Lawyers patented selection process is peer influenced and research driven, selecting the top 5% of attorneys to the Super Lawyers lists each year. We know lawyers and make it easy to connect with them.
Find a lawyer near you