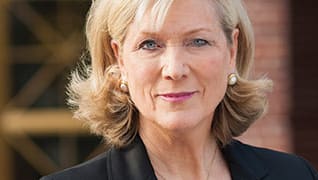 Photo by: Stan Kaady
Undaunted
Whether facing racism, sexism or homophobia, M. Malissa Burnette doesn't back down
Published in 2015 South Carolina Super Lawyers magazine
By Susan Shackelford on March 4, 2015
In 1968, an 18-year-old M. Malissa Burnette walked around Morven, North Carolina, removing illegally placed signs that advertised a Ku Klux Klan rally—all while furious Klan members followed her in their trucks.
"They yelled 'nigger lover,'" she recalls from her law office in downtown Columbia. "They also threatened to burn down my grandparents' home."
The threats weren't realized, but the scene foreshadowed the fearlessness with which Burnette has practiced law for more than three decades—establishing herself as one of South Carolina's top employment and civil rights lawyers. "We are in an age where there are not many truly brave lawyers around," says her law partner Rick Detwiler. "She is one of them."
Burnette, 64, of Callison Tighe & Robinson, is not only a lead attorney in Condon v. Wilson—one of the state's top same-sex marriage cases—she's also played key roles in opening up The Citadel to women and in allowing for girls in South Carolina public schools to play contact sports. "She has never been fearful of being involved in a case because of what someone is saying," says Bev Carroll of Hamilton Martens Ballou & Carroll in Rock Hill, who has both worked with and opposed Burnette in cases. "She is willing to take on things and is always so calm about everything. She also has a wicked sense of humor."
That unflappable personality was on display in the summer of '68 when she was staying with her maternal grandparents in tiny Morven, and waiting tables at Huntley's Truck Stop, the only restaurant in town. She had spent the early years of her life in that highly segregated community, the oldest of five daughters of a homemaker from Morven and a doctor from nearby Cheraw, South Carolina. As the only local physician, her father, Harvey, delivered white and African-American babies. "There were a lot of little black boys named Harvey," Burnette says.
One day in late July that summer, an African-American man bypassed the takeout window where blacks were required to order and entered the restaurant. Similar challenges to segregation had been happening around the South for years, but Burnette doesn't know if that was the man's intent. "I saw him as a hungry man, took his order and served him like anyone else," she says.
But as he began to eat, the restaurant's owner, Frank Huntley Jr., walked up with a paper plate in his hand. Best known as "Frank Jr.," he picked up the man's food, turned it over onto the paper plate, put it down and walked away. "The man looked afraid but finished his meal," Burnette recalls.
The next day, she noticed that the KKK had tacked 8 ½-by-11-inch posters all over town promoting a Klan rally about 15 miles north of Morven. Though Burnette says it was unconnected to the previous day's events, she was incensed. "They had skulked around during the night because they don't want people to know who they are—like we don't know who they are," she says.
She called the local police to see if the signs were legal. Told that it was illegal to post them on public utility poles, she began talking to residents and taking down the illegal fliers. Soon Klan members in their trucks began to follow her and threaten her. When they yelled "nigger lover," Burnette replied, "Yes, I am," and kept going. She removed about 100 signs that day. Later, during her lunch shift at Huntley's, about 25 Klan members showed up in the parking lot. She was gratified when Frank Jr. told them to leave. "That was risky," she says.
After a year at Winthrop University, she transferred to the University of South Carolina, where she earned a degree in sociology in 1971. Burnette's first job out of school was as a prison guard at the state women's correctional institution, then near Irmo. The work further opened her eyes to injustice. "They had shoplifters and murderers all in the same building, and the population was mostly minorities with not much education and little opportunity in life," she recalls. "They eventually made me principal of the [prison] school, and I had no experience. That was not right."
Burnette also knew it wasn't right that female prisoners had to take sewing and cooking classes and weren't allowed carpentry and welding instruction or to take college courses at the University of South Carolina as male prisoners were. It was one of the reasons she went to law school. "I was motivated to further my education in a field where I could be a change agent," she says.
At the University of South Carolina School of Law, Burnette became active in the women's rights movement, joining the League of Women Voters and serving as president of Columbia's National Organization for Women chapter. When national activist Phyllis Schlafly tried to stack the state's delegation to the National Women's Conference in Houston in 1977 with conservative women who opposed the feminist movement, Burnette and others worked hard to thwart the effort. "We won out," she says.
After graduating in 1977, Burnette became an attorney in the governor's office and helped elect Nancy Stevenson as lieutenant governor in 1978 under the slogan "Not one of the good old boys." She became Stevenson's chief of staff, an experience Burnette calls both exciting and strange. "[Male state government officials] were all sure we were lesbians; otherwise, why would we want to be in office; why else would we be there?" she says with a laugh.
In 1982, Burnette worked as Travis Medlock's campaign manager to help him win the attorney general's race, then set up a private practice with Medlock's former law partner. "It was fun being in the political arena," she recalls, "but I really wanted to be a litigator, to put my knowledge to work and test my skills."
A few years later, in 1985, Burnette received a call from the ACLU to take on a gender discrimination case. A 12-year-old girl named Tara Bailey in Gaffney wanted to play on the junior high football team, but the state High School League wouldn't let girls play contact sports. "This was regardless of ability; Tara was a very good football player and the team's coach was her advocate," says Burnette, who filed an equal protection lawsuit under the 14th Amendment. The high school league relented.
Today, her office wall displays a clipping from The Columbia Record, which awarded league executive director Jim Pinkerton the "Golden Oink Award" for comments such as "I'm afraid some mama's daughter will get hurt" and "I've protected these girls as long as I can." Also, like many other men at the time, including fellow lawyers, Pinkerton addressed Burnette as "little lady," a pejorative she would occasionally rebut by calling him "little man."
In the early '90s, Burnette joined a case against The Citadel at a critical time. When plaintiff Shannon Faulkner was unable to continue as the plaintiff in a legal challenge to the state-run school's all-male admission policy, Burnette furnished a substitute plaintiff who allowed the case to continue. Nancy Mellette, who came from a military family, had gone to a military high school and was strong academically. She was an ideal replacement for Faulkner, who had been allowed to attend under court order but dropped out after six days in 1995, citing isolation and the pressure of her fight. "Nancy saved the case," Burnette says. The following year, The Citadel opened the school to women after the U.S. Supreme Court struck down the male-only admission policy at state-supported Virginia Military Institute.
Burnette's current cause is one of the hottest civil rights issues in the country—same-sex marriage.
Working closely with Callison Tighe colleague Nekki Shutt on behalf of SC Equality Coalition, Burnette is a lead attorney and spokesperson in Condon v. Wilson. The suit asks South Carolina to abide by the ruling in Bostic v. Schaefer, which declared Virginia's same-sex marriage ban unconstitutional. In that case, the plaintiffs won in district court, the 4th Circuit Court of Appeals upheld, and the U.S. Supreme Court declined to review the case.
Two days after the Bostic decision, Colleen Condon and Anne Nichols Bleckley sought a marriage license in Charleston but were refused based on the state's same-sex marriage ban. Burnette and other attorneys representing the couple filed suit Oct. 15, 2014, in the U.S. District Court for the District of South Carolina in Charleston seeking a ruling that the ban was unconstitutional in light of the Bostic ruling. U.S. District Judge Richard M. Gergel agreed.
Nonetheless, state attorney general Alan Wilson appealed to the 4th Circuit and then sought a stay from the U.S. Supreme Court on Judge Gergel's ruling, but the stay was declined. Same-sex couples were free to be married in the state on November 20.
The case is still on appeal to the 4th Circuit. The U.S. Supreme Court will issue a decision on a case affecting the South Carolina case by June 2015.
Burnette, thanks to her status as a notary, has even officiated a wedding herself. On Dec. 20, she performed a marriage ceremony for two women in Latta, one of whom was Police Chief Crystal Moore, who received national attention when Latta Mayor Earl Bullard fired her in April 2014, reportedly because of her sexual orientation. Burnette represented her, and outraged local citizens went on to change the town's form of government to reinstate her. In late June, Moore was back on the job.
Taking a key role in the same-sex marriage controversy came naturally to Burnette, who sits on the board of SC Equality Coalition and chairs a legal task force for the LGBT-rights organization. While national gay activists didn't think South Carolina was a top priority in same-sex legal challenges, "Malissa refused to accept that South Carolina was a no-action state," recalls the coalition's former executive director, Ryan Wilson. "She saw there needed to be some action, some attention to South Carolina-specific cases. It was her leadership that helped drive that."
And Callison Tighe didn't blink. "There really weren't any discussions about it," says Detwiler. "I know that sounds surprising. Callison Tighe has traditionally been considered a conservative firm with many business clients. But our feeling was this was important for her and the state. She's fought a lot of battles to give voice to those who don't have one and to fight for justice and equality."
Burnette spends most of her days doing employment law. In 1993, she was one of the first in the state to become a certified specialist in that area. She also has co-authored and edited the four editions of Labor and Employment Law for South Carolina Lawyers, the bible for attorneys on the topic.
Outside the office, she enjoys long walks, especially along the Congaree River near her home. She is married to Michael G. LeFever, president and CEO of the nonprofit South Carolina Independent Colleges & Universities organization. Their daughter, Grant Burnette LeFever, is finishing her master's degree in Southern studies at the University of Mississippi and applying to law schools. "She wants to do public interest law for poor people," Burnette says.
Grant has some big shoes to fill. But she's not alone. "There are many people in South Carolina who welcome progress and change and want to be in the current century," Burnette says. "I tap into that. There is plenty of support. You just have to ask for it—and not be afraid to try."
Search attorney feature articles