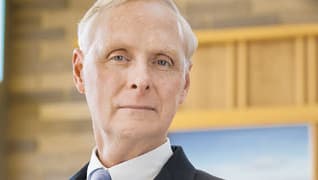 Photo by: Stan Kaady
"You Will Become Like the People Around You"
Henry L. Parr Jr. finds himself at home and in good company
Published in 2013 South Carolina Super Lawyers magazine
By Susan Shackelford on April 25, 2013
It was 1978 when University of the Regents of California v. Bakke reached the U.S. Supreme Court, and Henry L. Parr Jr. was there.
Allan Bakke, a white man, was suing for reverse discrimination, seeking to overturn affirmative action laws that allowed race to be used as a factor in higher-education admissions. The University of California Davis School of Medicine had turned down Bakke twice for admission despite the fact that he had better grades and test scores than some of the minorities admitted.
This became one of the biggest civil rights cases since Brown v. Board of Education. Masses of people demonstrated outside the Supreme Court building; hundreds camped out overnight on the courthouse steps to make sure they got a seat at the trial.
Parr was 26 and clerking for Chief Justice Warren Burger of the United States Supreme Court. Reared in rural South Carolina, Parr had been out of the University of Virginia School of Law for only two years when he found himself watching history unfold.
"I still remember the three-foot high amicus briefs," Parr says. Parr played a pivotal role in helping Burger shape his thinking in the case. The chief justice selected Parr and another clerk to present opposing sides in bench memorandums—memos that in a pre-email era were delivered to Burger through diplomatic channels because he was traveling in Russia.
So what did Parr argue in his memos to Burger? He won't say because the case was so controversial and Burger's personal papers won't be made public until 2026. Parr isn't exactly secretive, but he is not one to chatter. His power in the courtroom comes from this attention to words, and when he is speaking he wants to make sure everything is understood.
The court handed down a mixed decision, declaring affirmative action constitutional but striking down racial quotas as a way to meet the goal. Bakke gained admission to the med school. According to court records, "Since petitioner could not satisfy its burden of proving that respondent would not have been admitted even if there had been no special admissions program," concluded Justice Lewis Powell in the Supreme Court's published decision, "he must be admitted."
Parr, a dapper, slim man who chooses his words carefully, now says he sees that intersection of his rural upbringing and national history as a "miracle." (A devout Presbyterian, the word miracle has weight for him. He once met Mother Teresa and remembers it as "one of the highlights of my life. We had an hour with her.") After his stint with Burger, Parr faced a big decision. Should he accept an offer in Washington or New York, where he held summer legal jobs, or return to the Palmetto State, where he had an offer from the Wyche firm, its Greenville office, located about 70 miles from where he grew up? He decided to go home. Greenville was close to Headspring Farm, which his dad started in 1950 in Newberry County. That farm, a thriving business in itself, caused him to crave the beauty of rural life.
Wyche had 12 lawyers then; it has 34 now. In Wyche, Parr says, he saw a firm "where colleagues were working in close relationship and enjoying their work." He also admired the people in the practice—he knew them well.
"As a young lawyer, someone told me, 'You will become like the people around you even if you don't want to.' I knew they [the Wyche firm] were wonderful people," Parr says. "I thought, 'I'd like to be like them.'"
Today, Parr has been at Wyche for nearly 35 years. He is one of the top business litigators in South Carolina. "I like learning about businesses and what keeps the economy going," he says. "I like taking on challenging litigation." In Parr's world, though, the challenge is always polite—"never lose your temper or be ungracious," he advises young lawyers. He seems to be the type of person who will not raise his voice unless absolutely necessary. Perhaps it is this polite demeanor that is part of his success. He could be litigating multimillion-dollar cases without a hostile edge in his voice.
Parr's current litigation is part of Wyche's representation of South Korea-based LG Display, one of a handful of LCD manufacturers being sued by the state of South Carolina for fines and penalties related to allegations of price-fixing. Wyche is lead South Carolina counsel for LG Display, and Parr is spearheading the firm's effort. He recently filed a petition on behalf of LG Display asking the U.S. Supreme Court to decide whether there is federal mass action jurisdiction under the Class Action Fairness Act in the state's suit against his client. If the Supreme Court agrees to hear the case and rules that jurisdiction exists, the case would be heard in possibly friendlier federal court rather than state court.
"A lot of lawyers would not even think about doing this," says a colleague at Wyche, Wallace Lightsey. "It takes a certain mind and experience to recognize the potential for a case going to the Supreme Court." Yet Parr's clerkship with Burger gave him plenty of insight about what cases the U.S. Supreme Court might take. He wrote hundreds of memos to justices on cert petitions that came in from around the country.
Thinking broadly about cases is one of Parr's tendencies. Lightsey remembers when the two of them represented a chemical company in the mid-2000s. It was a high-risk piece of litigation. Not only was it a contingency case, there was tough evidence to counter. Their client, the chemical company MSI Inc., was being dropped as a vendor by auto parts supplier Stankiewicz International Corp. MSI was on record communicating to Stankiewicz that there was no contract between the companies. Nevertheless, MSI was suing for breach of contract.
Parr came up with powerful third-party evidence in discovery. This evidence strongly supported MSI's breach of contract argument, allowing them to persuade Stankiewicz that it could face substantial financial risk if the case went to trial. Lightsey and Parr were able to mediate the case, get a good settlement for their client and, of course, get paid. "It would not have happened if Henry hadn't been so dogged," Lightsey says.
Wyche's main Greenville offices are located on the banks of the Reedy River. The river was formerly the home of a textile mill village called Camperdown Mills. The mills used the river to generate power. There was a "mill village" where workers lived. The village was demolished around 1959.
You would never know the mill village had been where Wyche's main office is today. The only hint is the name of the street leading to there: Camperdown Way. There is a pedestrian bridge arching over the water. It is an architectural rarity around here. Parr pauses over the view of the bridge often, as if it is another miracle.
"The judges eat him up," says Debra Clements, vice president and senior general counsel for Milliken & Company, an international textiles and chemical corporation based in Spartanburg. "I can tell by the way they lean on the podium and the kind of questions they ask him. When he goes into court, he knows his case well and he knows the law, and he will admit weakness in cases and explain how the law applies. I think the judges trust his integrity."
Milliken hired Wyche in its case against Brian Morin, a former researcher for the company, whom Milliken accused of breach of confidentiality and invention. Milliken prevailed in state and appellate courts. Ultimately, at Morin's request, the South Carolina Supreme Court agreed to address whether Milliken's matters of confidentiality and invention were too broad as defined by the law. Morin claimed the agreements should be treated as noncompete clauses, and therefore unenforceable restraints of trade. The court concurred with Milliken and Parr that the agreements did not represent such restraints.
"The state is keen to attract a large and sophisticated corporate citizenry," says Clements. "To do that, part of the business climate is the judicial system—the courts understanding the needs of business. He argued well for public policy concerns—that industries in South Carolina need to know that the courts of South Carolina will protect their innovations."
There was a time before law school, before that seminal clerkship with Justice Burger, when Parr was pressured to join the family business at the dairy farm. In the 1960s and 1970s, Headspring had turned into one of the country's top-producing jersey cow herds of over 200 cows. The second of four children and the eldest son, Parr knew early on—much to his father's disappointment—that he didn't want to be a dairy farmer.
His son's decision to leave behind farm life provoked his father. This son was his namesake. Yet his mother was supportive. Years later his father visited him during his summer internship following his first year of law school. After that visit, he started to make peace with his son's decision. "He was afraid I'd never amount to anything," Parr says, "but he finally let go."
Search attorney feature articles