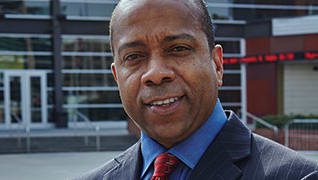 Photo by: Phillip Parker
The Last Word
Memphis lawyer Bruce McMullen connects with juries—and helped bring the Grizzlies to town
Published in 2015 Mid-South Super Lawyers magazine
By Nancy Henderson on November 9, 2015
Bruce McMullen was nervous—and, as usual, over-prepared. Despite his associate status at Thomason Hendrix in Memphis, he was serving as lead counsel on his first medical malpractice trial, a position generally reserved for partners. During the weeklong court proceedings in 2002, as he defended a doctor accused of failing to diagnose a kidney condition that led to a patient's death, McMullen relied on what would become his "secret sauce"—the ability to relate to jurors from all types of backgrounds and win their trust.
"After winning the case, I realized 'I can do it,' and that was a big confidence-booster," recalls McMullen, now 50 and a shareholder at Baker Donelson. "That was one of those watershed moments when you realize you move from being an associate on a case to being the lead and making the calls, and then having to live with the results. And that defined what I would be doing for the rest of my career."
McMullen, who concentrates on medical malpractice, commercial litigation and class action defense, is considered by colleagues to be a master strategist—intuitive and reassuring with clients, intense and aggressive in the courtroom; respectful to all. Over the years, he has represented a gamut of health care providers, utility companies, hotels, municipalities and national insurance carriers in commercial litigation, including some class action suits and multi-plaintiff claims.
"He is an excellent strategist because he sees the big picture, and he is also in touch with the human component of his cases," says Jennifer Sink, 40, a shareholder at Baker Donelson who has worked with McMullen on several cases. "Jurors really like him. He finds a way to connect with them. He actually has quite a bit of objectivity, even when he's very passionate about these cases. He can see a situation from the opponent's point of view and also from the judge's point of view. I think that makes him a very effective trial lawyer."
McMullen says that, while he has encountered racism, he has chosen not to focus on it in his personal life. However, he has had to be mindful that jury members may perceive him differently because he is African-American. "Jurors bring in the baggage of society," he says. "They have viewpoints about people of race, gender, ethnicity. But I do believe every juror can be convinced. You've got to meet them through the lens in which they see you."
The youngest of five children, McMullen grew up in the small, predominantly black town of Sparta, Georgia. Throughout his childhood, he attended the 12-grade school where his mom taught first grade and dad taught high school history. "In a sense," he says, "you were free from dealing with some of the racial issues that others, in an integrated environment, dealt with."
Advice from his older siblings gave him another advantage. "I always knew what the next step would be like," he says. "My older sister was a partner at a professional consulting firm, which operates pretty much like a law firm. When I started practicing law, I understood the value of the client. And I understood the importance of maintaining relationships and connections that you would draw upon in the future. I try to do that as much as possible. Even going into law school, I understood that your classmates could possibly be your clients."
Still, he hadn't intended to become an attorney, even when friends and family teased him for being talkative and joked that he'd make a good lawyer. Instead, he earned an economics degree at the University of Georgia, landed a job in the claims department at Geico insurance company, and got his MBA while attending Georgia College part time.
While at Geico, he met Warren Buffett in 1991, five years before the company became a wholly owned subsidiary of Berkshire Hathaway Inc. "At that time, he was not a pop-culture figure," McMullen recalls. "It wasn't like in the 2000s, when he was kind of a rock star. A lot of the people at the company thought he was some relation to Jimmy Buffett."
But it was working alongside Geico's lawyers that enticed him to switch professions. "Whenever we would propose a new business idea or new strategy, we would always have to bounce it off the legal department," he says. "We could work on something for months and, with one word, the legal department would say 'no.' I thought that was such an awesome power. They had the last word."
To his surprise, after graduating from Knoxville's University of Tennessee College of Law in 1996, McMullen was offered a job at Thomason Hendrix (which later became Lewis Thomason) in the downtown iBank Building, which he can now see—along with a spectacular view of the Mississippi River—from his 20th-floor corner office. At UT Law, he had taken an advanced trial-practice course from the firm's founder, John Thomason, but could never make headway when he tried to strike up a conversation with his professor. "I didn't think he cared much for me," says McMullen. "After I was hired at the firm, he explained to me that he couldn't recruit from the class, and with people he wanted to come to his firm, he kind of overreacted" to avoid the appearance of impropriety.
At first, the new lawyer handled mostly small insurance cases, which he frequently won; as time passed, he defended more and more clients against medical malpractice suits. At his first jury trial, he helped Chris Vescovo, a partner at Lewis Thomason, win a defense verdict in a car accident trial. "He seemed a natural, handling witnesses and analyzing issues," Vescovo says. "I bounce things off of him often, and he never fails to give me good insight."
Eager to serve clients in other parts of the South, McMullen accepted an invitation in 2008 to join Baker Donelson. In one of his most complex cases to date, he successfully defended a public school district in a 2010 jury trial in a $4.5 million breach-of-contract suit. Creating empathy for a governmental entity was extremely difficult, he says. "When you're representing a school system, you've got opinions all over the map," he says. "And you're dealing with an issue that is very, very boring. There were like 3,000 documents. To be able to make your point and keep your jury focused to deliver the verdict that you think is fair is a tremendous challenge."
Last year, McMullen championed a rehabilitation hospital—in a monthlong jury trial against allegations that nurses had been negligent when caring for a well-known former TV weatherman, and that this had caused permanent brain damage. "My takeaway about that case is really humanizing my client, the hospital, by focusing on the people that treated this patient versus the hospital entity."
It worked.
The case McMullen considers his most important was defending the local owners of the Memphis Grizzlies when they, along with other defendants, were sued to stop construction of the $250 million bond-funded FedExForum arena amid allegations that the city could not use government money to benefit a private business. The defendants won the motion to dismiss in Chancery Court, and the Forum opened in 2004. "I am proud to have played a role in having the Griz here," he says. "They mean so much to the city."
Helping jurors understand the facts is vitally important to McMullen. "I'm the child of a first-grade teacher, and she always repeated things because first-graders don't get it the first time or the second time and sometimes the third time. It's a little annoying sometimes to other lawyers, but I'm a real big believer in being repetitive. In some of my earlier cases, when I was an associate, I would go interview jurors after the case was over, and I was always taken aback by some of the details nobody picked up on."
McMullen routinely mentors high school and college students as well as new attorneys at Baker Donelson. "He's not just giving them advice about how to be a good lawyer," says Sink. "He gives them work. And he tests them so that they can grow. There are a lot of young lawyers who have really gotten a lot of substantive experience because he was willing to let go and not micromanage, and let them try their wings."
Despite his thriving practice, McMullen says his wife, Camille (the state's first female African-American appellate judge), and their children come first. "I love spending time with them," he says, showing off the kids' scribbles on the wipe-off board in his office. In his free time, he relishes playing one-on-one basketball with 12-year-old Reese and creating YouTube videos and crafts with Zoe, age 9.
Trial work is a natural fit for someone who loves to explain how things work. "I've always spent a lot of time analyzing situations," McMullen says, "and trying to foreshadow what the next move might be."
Search attorney feature articles