Bock in the Saddle Again
In court or the arena, Bock takes challenges in stride
Published in 2005 Texas Rising Stars magazine on June 21, 2005
Updated on February 28, 2017
Amy Bock knows a thing or two about tricky maneuvering. She has handled federal civil rights class action suits while working in the Dallas City Attorney's Office and –– perhaps more impressively –– she has handled horses in dressage competitions as a member of USA Equestrian and the U.S. Dressage Federation.
"Dressage is like ballet for horses," Bock explains. "They have to perform intricate movements –– it's not just jumping. You have to constantly work on technique. The two of you have to click at the same time. It's like figure skating."
Bock, a commercial litigator at Akin Gump in Dallas, doesn't just compete in dressage. She also trains and raises horses and cattle on her 12-acre farm north of the city. "The horses live on the first floor of my house, and I live on the second floor. We tried it the other way around, but the horses made too much noise at night when they got up for water," she says, laughing.
This is a full-time hobby, to say the least. "Some people just breed a mare, put it out in pasture, and two years later they have a horse," Bock says. "For me, it's staying up at night watching the mare, making sure nothing goes wrong when they foal, making sure the foal nurses, keeping an eye on development and growth, and watching carefully for bone growth.
"A lot of time and money has to go into raising horses," she says. "They're like elite athletes –– they have to be treated just so."
It may seem like a lot of work, but Bock doesn't mind –– her love of horses seems to be an inborn trait. "Before I could walk or talk, I would point at horses out the car window," she explains. "I even had model horses that kicked Barbie out of her townhouse!"
Bock says that Akin Gump has been more than understanding of her passion, allowing her to work reduced hours and travel to compete in events like the Palm Beach Dressage Derby in Florida. "When one of my horses died, I was devastated and had to take a week off, and my firm sent flowers," she says. Bock reciprocates by allowing the firm to host recruiting events out at the farm and by inviting co-workers to a one-of-a-kind party known as "Bocktoberfest."
"You work so hard –– there's so much work and training –– you'll actually spend three months to get five strides of perfection, and that keeps you going for the next three months," she says. "But it's a demonstration of harmony between the horse and rider. It's like art."
Other Featured Articles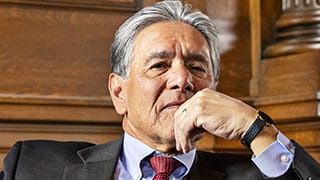 First Served
Sam Alba's long and storied legal legacy Featuring Samuel Alba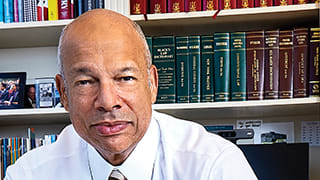 The Public Service Call
Jeh Johnson keeps giving back to his country Featuring Jeh C. Johnson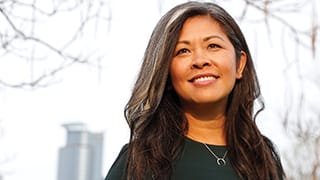 'You're Not Gonna Wear Us Down'
Employment litigator Rachhana Srey rises to every challenge Featuring Rachhana T. Srey