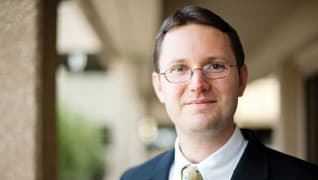 Photo by: Jeremy Enlow
Joshua Skinner and the Candy Cane Case
When can a Texas school ban religious proselytizing on its grounds?
In 2003, during a winter break party at a Plano Independent School District elementary school in the Dallas suburb, the school's principal barred a third-grade boy from distributing pens shaped like candy canes with Christian messages attached. A month later, another Plano elementary school principal stopped a girl from distributing tickets to a Christian play. The boy's parents, along with parents of other students who'd been stopped from distributing religious items as far back as 2001, sued the school district. They claimed the district's policy regulating the distribution of such material violated the students' free speech rights. They also individually sued the principals and a schoolteacher involved, claiming their actions made them personally liable for religious-viewpoint discrimination.
"We do a fair amount of civil-rights work representing local governments and public officials," says Joshua Skinner, an even-toned and boyish-looking junior partner at Fanning Harper Martinson Brandt & Kutchin in Dallas, his hometown. He practices civil rights and employment litigation. 
Along with Thomas Brandt, who hired him after law school and became his mentor, Skinner is fighting to get two of the principals dismissed from the case under what's called "qualified immunity." It's designed, says Skinner, to be granted to public officials who follow protocol when there's no precedent—such as, in this case, for how First Amendment rights apply to elementary schoolchildren with regard to religious material.
"When the law isn't clear, they're really not supposed to sue the individuals," says Skinner—it's a theory from criminal law. "You shouldn't be able to hold a person criminally liable, require them to pay punitive damages, if it wasn't clear that what they were doing would violate the law."
Researching the legal landscape for court decisions on how free speech rights apply to elementary schoolchildren, Skinner and Brandt found little consensus. "In fact, the courts around the country are very confused about how to deal with these issues," Skinner says. "The Supreme Court hasn't even decided to what extent these principles apply at the elementary school level." In Florida, in fact, two years ago, he says, a district court entered an injunction against a school district, requiring it to implement the same type of actions for which his clients are being sued.
Skinner and Brandt pursued their defense of the school officials. They lost at district court, so they took their argument before a 5th Circuit panel. 
In April 2010, a room at Southern Methodist University in Dallas was crowded with attendees for oral arguments. Three Circuit judges traveled from New Orleans to oversee the case.
"It was packed," says Skinner. "Many people were not able to get in because there was a lack of space. The security guards were bringing in more chairs."
The divisive issues of the "Candy Cane Case" drew the interest. "On the one hand, people [are] concerned that there were [some] who might be anti-religious or anti-Christian," Skinner says, referring to public accusations made of the principals and the teacher. "On the other hand, many people are concerned about the degree to which these sorts of claims will interfere with allowing the schools to educate children."
"I think it's gained national attention," says Brandt, "because it combines things that people are very passionate about. People care deeply about their religion and they also care deeply about children. And educators are trying to do the best they can and walk somewhat of a tightrope in the culture wars that rage around them."
The faith-based Liberty Institute, based in Plano, represents the plaintiffs. Brushing aside the media blitzes that surge with the court decisions, and the statements of the plaintiffs, Skinner is trying to piece together what he feels is the real story behind this whole case.
He believes the lawsuits—against the policy and the individuals—are being used as a mechanism by some in the Christian community to highlight the courts' vagueness on how First Amendment rights apply to elementary students—in terms of religion.
It's an action taken before, he says: "A claim against a public entity in order to more fully develop the law, or as a means to help encourage new legislation—that's a practice that goes back certainly to the civil rights movement." Similar to a sit-in, he says, except here, the plaintiffs are seeking money from individual defendants.
He thinks it applies to this case. "Throughout the country there's been concerted effort by various [Christian] groups to try and bring these sorts of cases," he says. "One of the things that's odd, when you look at them, is how similar the facts are between them."
Digging deeper into those facts, "recognizing what might be underlying the concerns of the parties on the other side," Skinner believes is necessary to serving his clients well.
His father, an archaeologist, helped inspire that notion. "He would tell how there were all sorts of things that [archaeologists] were able to determine about a particular campsite that Native Americans had had in some area," Skinner remembers. "And he said, 'But they always have to recognize that there are certain things that they just don't know; they have to recognize that limitation.' And I think that's one of the things that's helped me in trying to deal with these sorts of cases." Skinner tries to minimize those limitations by understanding the concerns of both sides.
Archaeology isn't the only thing that guides Skinner in this case and others. His Catholic faith, which he practices with his wife and five young children, guides him as well.
"Catholicism recognizes that people are naturally social," he says. "In other words, each person will be part of communities at different levels—families and neighborhoods, parishes and social clubs."
As he sees it, his clients have their roles, which need preserving. "Local governments and public officials play an important part in furthering the healthy development of communities," he says. "It makes it difficult for teachers and principals to know what they can and can't do when they're always fearing the possibility of a lawsuit."
To those who might criticize his involvement in religious-based cases, he curbs: "Our work—so long as it's honest—is one of the principle ways that we offer ourselves to God."
Even before Catholicism, early exposure to civil rights issues inspired Skinner to pursue law. His mother, a teacher, told her son stories of witnessing Dr. King's "I Have a Dream" speech. Her father was an attorney in the U.S. Department of State in D.C. and was involved in the efforts to end apartheid in South Africa. "He really understood the importance of taking a stance," says Skinner. "That was very much an influence on my desire to go to law school."
At Ave Maria School of Law, a Catholic institution, Skinner graduated with the school's first class. His courses there—ones that discussed Catholic moral philosophy in relation to the law or the nature of authority—encouraged him to ponder the role of law and government, he says. "In general, there was a recognition that as law students it was important for us to really understand the issues fully—not to be given a one-sided view."
After graduation, he joined Brandt. Beyond Skinner's integrity and work ethics, Brandt credits his legal skills. "I noticed right away that he had a really strong ability to read and analyze and grasp a number of complex issues," says Brandt. "His strength is his legal analysis."
The duo continues to partner on the "Candy Cane Case" and recently were granted a rehearing en banc from the 5th Circuit. "En banc review is a discretionary review and is rarely granted," Skinner explains. It vacates the earlier panel decision that ruled against Skinner's clients and gives their case a clean slate before the court's 15 judges. At press time, the oral argument was scheduled for May 2011.
If the entire 5th Circuit denies their request to have their clients dismissed, Skinner and Brandt may appeal to the U.S. Supreme Court, Skinner says. And if the case ultimately goes forward in the trial court, the real fact-digging and discovery process begins.
"Josh is a man of strong faith and this case does require an understanding, not just of headlines—slogans and headlines—but of the subtleties that exist in the real world of education and how to strike the proper balance," says Brandt.
"People can disagree about whether something is morally right or wrong," says Skinner. "But that shouldn't affect their ability to determine what the correct answer is on the law."
Search attorney feature articles
Helpful links
Other featured articles
Organizations like The Trevor Project are confronting legislation that prevents trans students from joining teams that align with their gender identity
Andrés Correa believes that's an ideal worth striving for
Local Counsel with Diego A. Gutiérrez
View more articles featuring lawyers
Find top lawyers with confidence
The Super Lawyers patented selection process is peer influenced and research driven, selecting the top 5% of attorneys to the Super Lawyers lists each year. We know lawyers and make it easy to connect with them.
Find a lawyer near you