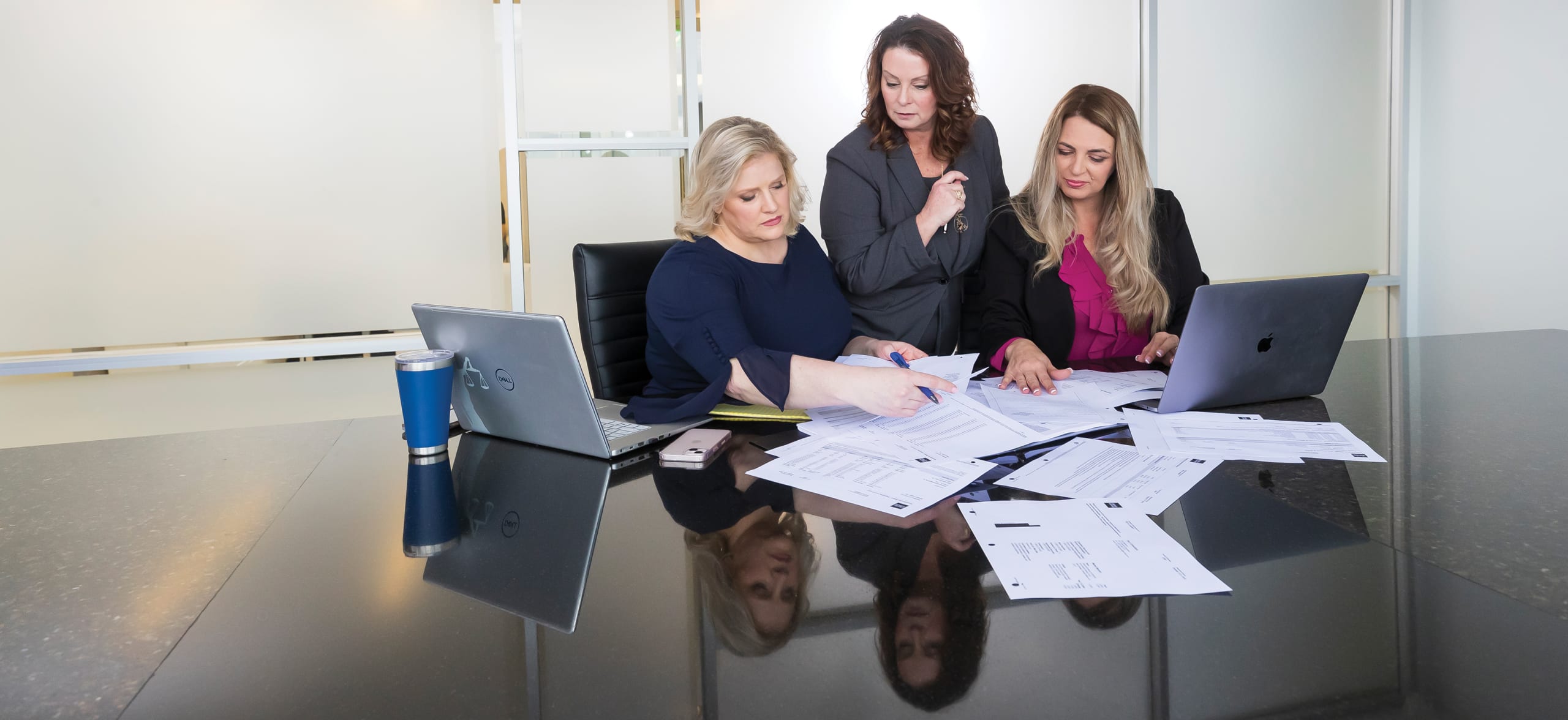 'Paralegals Make the Best Lawyers'
Three attorneys credit their passion, resolve and success to their paralegal pasts
Published in 2023 Texas Rising Stars magazine
By Trevor Kupfer on March 17, 2023
As Karri Bertrand was working toward becoming an advanced certified paralegal in 2005, a close friend started going through a bad divorce.
"It was devastating to me," she recalls. "It was a domestic violence situation where, over years, I talked her into leaving him. Then she got victimized by the court. She didn't have any money, so no lawyer. She lost her kids, her house, and ended up paying him child support. Everything that could go wrong did."
It was then that Bertrand decided to get her undergraduate degree and J.D., while working full time. "I decided to buckle down and say, 'I'm getting the license. I can't help people without it.' I was on a mission," she says. And, 15 years after becoming a paralegal, she did, becoming a family law attorney in Dallas.
After 10 and 20 years, respectively, Jacqui McNutt and Christy Lynn Hester became lawyers, too.
"I had this fear of, 'Could I do it?' I was very shy, so it was not a field my personality would have gone into. But seeing lawyers do it is what spurred me on to say, 'I think I can do this, too,'" says McNutt, a San Marcos estate planning and probate attorney. "It's a big dream. Nobody else in my family went to college, so it was a little daunting at times. I just worked super hard. This was my goal, and I wasn't taking my eyes off of it."
All three say their experience was invaluable to their professional development, and success, as attorneys.
"I become good friends with my clients after we're done, because I've been in their lives for so long," says Hester, an attorney in Mesquite. "The girl I just signed a confidential settlement for today was pretty rewarding to me. She was sexually assaulted at 14, and she's 19 now. She was one of my very first cases when I became a lawyer, and she's kind of like family. They tend to like being around you and having you on their side, especially with my background. I love the background that I have. I wouldn't be one-eighth of the lawyer I am today if I didn't have those 20 years under my belt."
Getting a Foot in the Door
In Hester's high school yearbook, under what she wanted to be when she grew up, it says lawyer.
"It just took me a long time to get there," she says. "I was young, got married, had kids, and I decided to deal with that instead of going away to school."
Hester's first job after high school was as a hairdresser, "but I decided that was too much standing, so me and my best friend signed up for secretarial classes, and then started working in law firms as receptionists and assistants," she says. "It progressed from there to taking competency exams, and then board certifications. Once I got into it, I really liked it, because it changed all the time."
McNutt thought she'd be a teacher. But when she became a foster parent, then adopted children, she started thinking about law.
"There are a lot of flaws in the system," she says. "A lot of kids that are left behind fall through the cracks. Each of the kids that came into the system, there was a legal case for all of them. I naively thought I could make a huge difference or impact, knowing that I had been a foster parent and seen it from both lenses."
After becoming a legal assistant in 2002, McNutt took paralegal studies courses, then did a distance-learning program at Ashford University in criminal and social justice. "My husband worked the night shift and I worked during the day. By that time, the kids had already graduated high school, so they weren't little anymore. It was hard, but definitely worth it in the end," McNutt recalls.
Meanwhile, when Bertrand graduated from high school in 1992, she followed her parents' wishes to go to Brigham Young University. "But that same year, they divorced," she says. "I dropped out because my parents were fighting over who was going to pay for what. I didn't get back to school full time until 2014."
For the first decade of her adult life, Bertrand was heading toward the medical field, as the majority of her family had. But she quickly realized it wasn't for her. "I fell back on all those assessment tests they give you in school that always told me to be a judge or lawyer. I was like, 'You know what? I'm going to find a job as a legal secretary somewhere, just to get my foot in the door.'"
Soon after, Bertrand worked her way up from legal secretary to assistant to paralegal. "That's when I started thinking, 'Why don't I just go all the way and go to law school at 40? That's fun.' Anytime I speak to paralegal groups, I'm like, 'Look, I started from legal secretary with no degree. I literally took every step. If I can do it, anyone can. You just have to be diligent.' I went to school at night for eight years straight. Every time I say it out loud, I'm like, 'How did I do that?'"
Finding What Fits
Hester got her start with an entertainment lawyer in the early '90s, but didn't find her fit until she met trial lawyer David G. Hart.
"I've been on the plaintiff's personal injury side ever since," she says. "As a paralegal, I got to go to depositions, mediations and sit at counsel table in the courtroom. I think both David and Jay J. Murray valued my input, so I was always kind of right there as the lawyer's right hand. I became a sponge."
Though Bertrand started a decade later than Hester, it didn't always feel like it. "I learned real old school. The attorneys literally dictated into a tape player, so I would transcribe their letters. They did time slips on little pieces of paper. I had to type on a typewriter," she says of her stints with Graham, Bright & Smith and Colven & Tran. "But then I started doing a little drafting—a couple of wills—and I got to notarize documents."
As a paralegal, Bertrand got to sample transactional work as well as litigation, and even spent a year supporting the general counsel at Intrepid USA Healthcare Services. "That was an interesting job—not really my thing," she says. "I wanted to get back to litigation, so I went to Glast, Phillips & Murray and, from there, to O'Neil Wysocki."
In 2002, McNutt got her start doing exactly what she wanted—family law work—as a legal assistant with Frances Dunham in San Antonio.
"I went to court, helped her with jury trials, and she kept me in the loop, telling me everything I needed about the case instead of, 'Draft this document, make this phone call,'" she says. "Both of the offices that I worked at were very much for including the paralegal as a team with that lawyer—really being hands-on from the beginning to the end."
The other office, Lionel Sawyer & Collins, came in 2007, when McNutt moved to Nevada and gave estate planning a try.
"What a difference it was going from a solo to the three top floors of a building in downtown Las Vegas," she says. "They were working until midnight, they had showers and places to lay down, because sometimes they didn't go home until the next day. Watching and seeing how hard it was for new attorneys was a little terrifying in a big corporate firm. Good perks and a lot of benefits, but it was clear that was not the path for me."
Mentorship and Making the Leap
All three credit understanding employers and mentors with helping them make it.
"There were days that I was like, 'Can I finish this assignment?'" Bertrand recalls of O'Neil Wysocki. The firm promoted her from paralegal to associate, then, after she took the bar, allowed her to practice while supervised. "I had about 30 cases before I even got my bar results," she says.
In Hester's case, working for solo practitioners made a big difference.
"It made me respect the lawyer a little bit more whenever I saw how hard they had to work, and how important the role between us was. It made me want to go further and help people even more," she says.
Hester now works at Ted B. Lyon & Associates, and still keeps in touch with mentors. "They're just a wealth of knowledge," she says. "Our community seems to want to help every lawyer that's in it, especially on the plaintiff's side. Nobody is shy about sharing their war stories or their tricks of the trade, and it's very helpful—especially to a young lawyer.
"Being a paralegal helped me out in 95 percent of the job. Then there's that 5 percent where I get up and talk in front of a judge and think on my feet that you have to develop."
Working for a solo attorney made an impact on McNutt, too.
"Frances was the one who was like, 'Jacqui, you can go to law school. You can be a lawyer. You can do it,'" McNutt says. "Even after I left her, and all through law school, she was saying, 'You can do it. I'm right here. I'll help you.' She's more of a mediator now, but to this day she's still the person I call and say, 'I don't know what to do.'"
After getting experience developing a firm's family law practice, McNutt decided to go out on her own. "I was above where I think some are, because I knew how to file pleadings and other things as a paralegal. But really running it alone, it took me a few years to decide, 'OK, I'm ready.'"
Last September, Bertrand also went out on her own, and KB Family Law has already made a name for itself.
"Having been through two divorces with two ex-husbands, I am now engaged to a female," she says. "My partner's story actually got me started on this area of law that's somewhat undefined—the parentage issue with her ex-partner, and the son that they had together during the relationship. At the time, only one of them was able to adopt him. When they split up, the other person was withholding the child from my partner. Now, LGBT custody law is a really big part of my practice—60 or 70 percent."
An Invaluable Step
A common sentiment amongst lawyers is that law school doesn't prepare students for the real thing. But being a paralegal, these three agree, does.
"It put me strides ahead of the rest, just because of all that knowledge I had and how much of it is important to practicing law," McNutt says.
"I think paralegals make the best lawyers," says Bertrand. "Baby lawyers haven't done the practical stuff: calendaring deadlines, filing pleadings, serving them to parties, drafting discovery responses. Even as a paralegal, I helped train a lot of associates."
They also know how to build relationships, McNutt says, with everyone from clients to clerks and coordinators.
Hester agrees: "The world experience helps a lot with dealing with people. Some lawyers don't have that, and they learn it, but it definitely was a huge advantage for me."
Summer clerkships and associateships have their place, Bertrand says, but it depends on the tasks. "The ones that really learn are the ones doing more paralegal work. You might be researching more than drafting. You might get to see a lot of hearings, and see what lawyers do in court, but anyone can go watch court. Also, very little of what we do is in court. A lot is in the office. So if you can get a bit of both, you'll be a lot better off."
Another advantage, Bertrand adds, is that paralegals already understand the stresses of the job.
"Lawyers have the second-highest suicide rate to medical practitioners, and a lot of people are alcoholics. They give you all these alarming statistics. But if you've worked in a law office, and you've seen what attorneys do every day, you have more realistic expectations. Otherwise, you're just going off whatever Law & Order looks like. You have more a romanticized view. I went to law school knowing how stressful this is and seeing it firsthand. I didn't have any delusions of grandeur."
The Strong Survive and Thrive
In Texas right now—especially in family law—experienced paralegals are in high demand, and can practically name their price, Bertrand says. "Historically, though, there have been periods where paralegals were undervalued, and probably not paid well."
"They're treated sometimes like a secretary," says McNutt. "A paralegal and attorney are like Batman and Robin. You have different jobs to do, but you work together. Attorneys see the big picture, and paralegals see the small details. Together, that's the whole picture."
The life of most cases is long and slow, Hester adds, "so we're involved in every communication and act as a team, but as a paralegal, I was probably more involved in [clients'] lives."
"When you can't be reached, they're the ones that clients are going to get in touch with," Bertrand agrees. "Someone who's not skilled enough—that can really be a disaster."
Great paralegals, Hester says, also help bring in business. "If you find someone that cares for the clients, who will sit there and listen to their stories even though they could have said 10 minutes ago, 'We don't do that kind of case' … then find someone to help them, then the [client will] come back."
Hester keeps her door open for those seeking advice, and speaks to organizations and classes when asked. And she's supportive of those who want to follow her example—to a point.
"It's a very tough road. You've got to really want it," she says. "If you don't have the passion for it, you're going to hate your job every day. Not everyone is cut out to do it."
Unsurprisingly, all three have had support staff they speak fondly of—paralegals who have made their jobs as attorneys easier—and they're reminded regularly of just how important supporting roles are in the profession.
"I appreciate a really good paralegal, having been one. I understand how stressful their job is, I understand the pressure they're under. It's not any less pressure on this side of it, but attorneys have different pressures," says Bertrand. "I had an amazing paralegal at Wysocki who anticipated my needs, would draft like me—she was amazing. A really strong paralegal makes you a better lawyer."
Search attorney feature articles