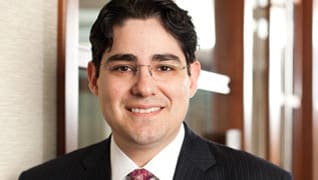 Photo by: Jeremy Enlow
The $100 Million Closer
Joel W. Heydenburk brings commercial deals across the finish line
Published in 2012 Texas Rising Stars magazine
By Michael Corcoran on March 9, 2012
When Joel W. Heydenburk was hired in the real estate division of Jackson Walker's Fort Worth office seven years ago, he didn't realize that he was the only male in the group of five attorneys until he heard the office's nickname. "I was the newest member of 'the Dirt Chicks,'" Heydenburk, 34, says with a laugh.
Heydenburk had no problem with that. In fact, as a descendant of the Kuna tribe of Panama, he may even be culturally predisposed to that role. The Kunas are a matriarchy, in which men take the woman's surname at marriage and move in with her family.
"When I found out about that aspect of the [Kuna] culture, it all makes sense," says Heydenburk, who works with partners Susan Halsey and Ginger Webber. "I've got some great female mentors."
He came aboard with zero experience in real estate law so he was relieved when Halsey told him on the first day that there are no stupid questions. "No one's going to judge you," says Heydenburk. "Because I don't feel self-conscious, it allows me to be more creative."
Just four years into his time at Jackson Walker, Heydenburk was trusted enough to handle the closing of a 460,000-square-foot office building while Halsey was on vacation with her daughters in Europe.
"The deal had a lot of hair on it," Heydenburk says of Chesapeake Energy Corp.'s  purchase of the Pier 1 Imports Inc. headquarters in downtown Fort Worth. "Susan worked on it for three months, and then I shepherded the transaction over the goal line."
When he emailed the title company to "fund and file, please," $100 million changed hands.
"It was pretty exhilarating," he says. "It was the real estate counterpart to a litigator winning a long jury trial."
Heydenburk's focus, however, has become commercial leasing, with a client list including Crescent Real Estate Holdings, Jackson Walker's landlord at 777 Main St. "I am trained to look at real property records and tell my client what they can or can't do: These are the ground rules for this particular piece of property," he says.
He has developed a skill for writing and interpreting complex commercial leases.
"It's contract law, but there are a lot of nuances," he says. "Every piece of land is completely unique in and of itself. So when I'm drafting a lease, I can't imagine that this is going to go the way my clients want it to go," he says. "I have to write something that deals with [the] worst-case scenario. If this thing takes a left turn and then a right turn and then goes upside down, this contract still provides for that particular situation. I like to think that what we do is keep people out of court."
It was Heydenburk's distaste for litigation—and love of Fort Worth—that brought him to Jackson Walker. After law school at Texas Tech University, Heydenburk got a job at a small firm in North Dallas. "One day I was telling a co-worker that I hated the endless back-and-forth paperwork in discovery," says Heydenburk. "And he says, 'Well, you'd better get used to it if you're gonna work here.'"
Around the same time, Heydenburk heard from a friend from law school that Halsey had been asking around for a young associate to work in Fort Worth. "I had been militantly interviewing in Fort Worth," says Heydenburk, who fell in love with the city as an undergraduate at Texas Christian University. "Susan was looking for someone who 'got' Fort Worth and didn't see it as a stepping stone."
The Heydenburks—Joel, his interior designer wife, Courtney, and 2-year-old daughter, Asher—live less than a mile from the TCU campus. "The connection between the university and the town is something I've always loved about Fort Worth," he says. "It's a small town in a big city."
The Heydenburks are heavily involved in community functions and Joel, a self-proclaimed political news junkie, was a member of a Fort Worth committee, which recently wrapped up, that was in charge of redrawing districts as a result of the 2010 census. "I follow politics like some people follow sports, but politics is a game with real consequences beyond who won and who lost," he says.
Attending TCU made Heydenburk feel like he'd found his hometown, but it was during the summer between high school (Southlake Carroll class of '96) and college that the 18-year-old discovered where he had come from. With his grandfather Claudio Iglesias, a Baptist missionary, Heydenburk visited the Kuna Yala reservation on the San Blas Islands on the Caribbean coast of Panama. "I saw the house where my mother grew up and met so many relatives," he says. "It was just an awesome experience."
Most significant was the time Heydenburk spent with his grandfather, whose son David Iglesias is believed to have been the first Kuna descendant to practice law in the U.S. (A Navy JAG prosecutor, Iglesias worked on the 1986 case that later became the basis of A Few Good Men, starring Tom Cruise and Jack Nicholson.)
"My grandfather was the youngest of 13 children and his parents decided that he would be the first to go to the U.S. to get an education," says Heydenburk, whose father, a former pilot for the Air Force, then United Airlines, is of German-American ancestry.
Claudio Iglesias was sent to an orphanage in Oklahoma, where he lived until he was 26, then married a woman from Georgia and moved back to Panama to convert other Kunas to Christianity.
The Kuna language had been strictly oral until Heydenburk's grandfather, who passed away in 2005, painstakingly translated it into written form. He wanted his people to be able to read the New Testament. Using the English alphabet and devising new letters for sounds that had no counterpart, Iglesias drafted the rule of the written language. In a way, his grandson excels in a similar practice.
Heydenburk's office, decorated by wife Courtney, is a mix of stylishly modern and Kuna culture. The Heydenburks collect molas—the colorful, layered textile art Kuna women stitch and sell. Molas figure heavily in the Kuna matriarchy because they give women financial power.
"The reason Susan was looking for someone who had an affinity for Fort Worth [was] because she was looking for someone who would stick around long enough for her to train up," says Heydenburk, who has learned much, he says, from his devil's advocacy sessions with Halsey and Webber.
"I've found that one of the best ways to learn is to argue with someone who knows more about the subject than you do," he says. "I'll go into their offices and say, 'Try to poke holes in the position I'm taking,' and there's a lot of give and take. That's the beauty of a law firm. You're not just getting one lawyer's opinion. There's a value to having a lot of lawyers in one spot, especially if there's a lot of mutual respect."
Search attorney feature articles