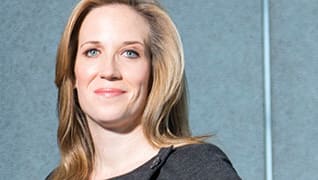 Photo by: Felix Sanchez
The Closer
How Suzette E. Selden quietly eviscerates witnesses
Published in 2014 Texas Rising Stars magazine
By Pat Evans on March 7, 2014
When a San Angelo couple's home was severely damaged by a propane-tank explosion a mile away, their insurance company refused to pay, insisting the blast was too far from the house to have shaken things up. Suzette E. Selden's Austin firm, George Brothers Kincaid & Horton, was called in by lead counsel Guy Choate to lend its expertise in insurance coverage.
Choate, with Webb, Stokes & Sparks in San Angelo, says people are sometimes misled by Selden's soft-spoken style.
"Given Suzette's quiet demeanor, she can tell someone to go to hell and make it sound so much nicer," he says. "She is smart and resourceful and has intimate knowledge of insurance law that is a tremendous resource. Clearly, judges listen when she talks because she is honest, she is correct and she is knowledgeable. That's a trifecta for judges."
The insurance company ended up paying the couple's claim.
Blond-haired, blue-eyed Selden, recently named a partner at her firm, has the looks of a TV news anchor. Which isn't far off the mark, since she originally majored in broadcast journalism and started out in that industry. She says the experience prepared her well for the law.
"In journalism, I learned how to convey messages succinctly, focus on key issues and meet hard deadlines," she explains. "A lawsuit is one big news story that, as an attorney, I get to piece together. In a sense, I get to be the reporter who gathers the information, the editor who decides what the important issues are, and the producer who puts the issues in the order they are presented at trial."
Selden's boss and mentor, Mark L. Kincaid—a founder at Kincaid & Horton, which merged with George & Brothers in October 2012—remarks about Selden, "In depositions, she is so pleasant, sincere and intelligent, [yet] she simply eviscerates witnesses. There's no hidden tiger that comes out, but she knows exactly which questions to ask and how to ask them."
Selden was one of Kincaid's top students in an insurance law class he taught at the University of Texas School of Law. Selden asked Kincaid for advice about which firms to contact for a job, but Kincaid says the more he spoke with her, the more he asked himself, "Why don't we hire her?" Although he interviewed other candidates, he says Selden was clearly the best. She came on board in September 2006.
"On a lot of our cases, Suzette is the 'closer,'" Kincaid says. "I think her sincere and pleasant approach helps get egos out of the way. She's very disarming and candid."
Selden says her goal is simply to keep negotiations open. "I always discuss what would be reasonable and try to build good relationships with opposing counsel … not be offensive in my demands. The key is listening. I just think that listening can make you more aware of your risks in a case, and can help you to best evaluate what's the best option for your client. I'm not opposed to going to trial, but when everyone is being reasonable, things usually work out."
Selden majored in communications at Brigham Young University, where she met future husband, Jon Selden, but when he graduated and started law school in Spokane, Wash., they had to date long distance.
After finishing college, Selden landed an internship at Dateline NBC in Manhattan. Then she moved to Spokane, where she worked the overnight shift as an assistant producer for a morning news program and eventually landed her own show.
Once the two married, Selden realized that the odd hours and frequent job changes of a broadcast news career were incompatible with her husband's legal career. So she took the LSAT.
The leap from TV news to law was abrupt but natural. Selden's father, Lynn C. Grebe, is a personal injury attorney in Bay City, Texas, where Selden grew up.
"I was the oldest of six children," she says. "Our dad used to talk about his cases at dinner, and it was so enjoyable to hear his stories. He really loves helping people, and that's the true benefit of plaintiff's work."
Selden was accepted by the University of Houston Law Center, so she and her new husband moved to Houston, where he worked in maritime law. But his career did a 180 when he landed a job in Austin as a legal reporter for the Austin Business Journal, so Selden decided to complete her final year as a visiting student at the University of Texas School of Law. Eventually, Jon  returned to law, so the Seldens are again a two-attorney household.
Her primary focus is insurance litigation, mainly representing plaintiffs in life insurance, property damage, fire, flood and health-related claims. She also litigates business disputes and handles cases in securities fraud and construction defects.
"Sometimes I am amazed when an insurance company will deny coverage," she says. "In one case, an insurance agent had not informed my client that his health policy had very low limits for outpatient treatment like chemotherapy. When my client later developed cancer, that small amount did not go far to treat his debilitating disease. We settled that case based on the fact that my client's agent had misrepresented the coverage in a number of ways."
Selden's clients like her style. "Suzette helped us when a drunk driver drove their car into our house and almost killed my husband," says Beth Welfel of Austin. "I cannot say enough good things about her as an attorney and as a compassionate person. She is a gentle person but a hard fighter when it comes to her clients."
Medical expenses far exceeded the driver's limited coverage, so Selden helped the Welfels recover more compensation through underinsured motorist coverage.
Outside the office, Selden is on the executive committee of the Capital Area Trial Lawyers Association. She is also active in her church and serves on the board of the Maverick's Miracle Babies Foundation, a nonprofit that helps families afford infertility treatments. "Each quarter we give a grant to qualifying couples who are struggling to have a child. It's tough to decide who receives the assistance. Everyone is so deserving," Selden says.
She represents clients in health insurance disputes and is a firm supporter of the Affordable Care Act. "If someone has not experienced illness, they cannot fully understand what happens to families who think they are insured but are heartbroken to find out don't have the coverage they thought they had. Most people cannot navigate complicated insurance policies, but unless they analyze their policies, they do not understand what is included or excluded. Most people rely on their insurance agents."
In addition to Selden's father, she acknowledges her mother, Debra Grebe, a high school English teacher, as an inspirational force in her life. She also credits Kincaid for his mentorship. "He's the most enjoyable person I could have hoped to work for. He has a very positive perspective," she says.
One of her favorite cases involved helping the owners of a chocolate shop in Bastrop recover compensation for losses to their shop and home after the horrendous Bastrop fires of 2011.
"I'm grateful to have the opportunity to lift someone's burden," she says, "to help them through the process and hopefully recover what was rightly theirs in the first place."
Search attorney feature articles